The bouncer who claims he pepper-sprayed Jeremy Kyle after he was seen filming at a Magaluf nightclub has spoken out and says he would do it again.
The TV presenter was believed to have been out and about in the partying destination to film an 'on location' version of his talk show following the controversial 'Magaluf girl' video - which sees a British tourist performing a sex act on 24 different men.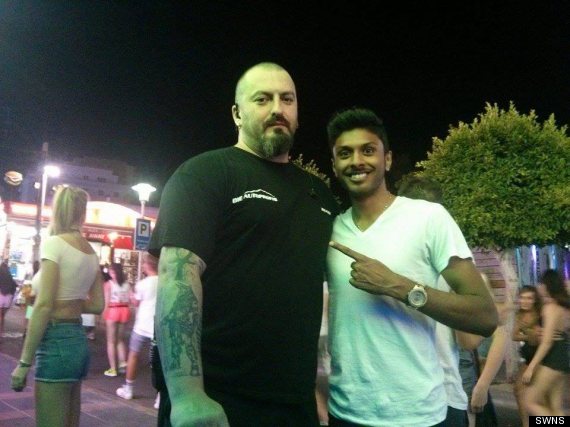 Bouncer Leon, 40 from Romania (left) with TAB reporter Abhinay Settipalli in Magaluf
But while Jezza was hoping to interview holidaymakers about the raucous shenanigans they get up to in the Magaluf sunshine, he reportedly ended up with a face full of pepper spray, according to 'Gogglebox' star Scarlett Moffat in her column for the Daily Star.
"One bouncer from one of the busiest bars warned Jezza that he couldn't come into the club," she wrote. "It ended with Jezza being pepper-sprayed by the bouncer and the poor fella was as confused as one of his show guests getting a full-house on the lie detector machine."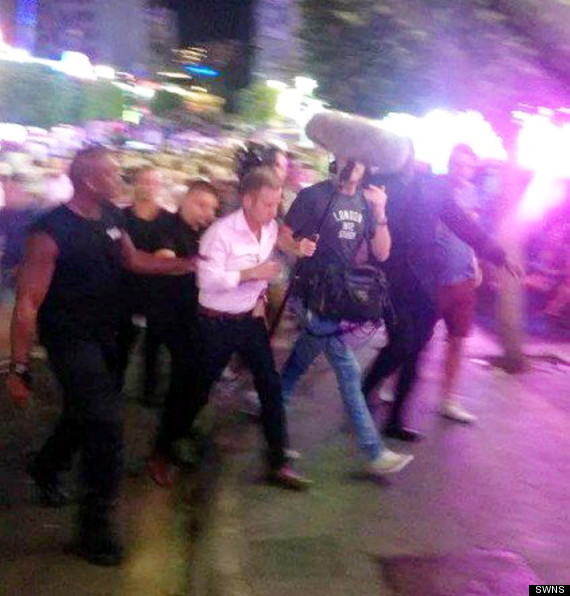 Jeremy Kyle is seen rushing away from the club following the incident
Now the bouncer, known only as Leon, has defended his actions to Oxford University's student newspaper The Tab, saying he sprayed the TV star because he was making Magaluf "look s***".
"He wasn't showing the good side of Magaluf," he told the newspaper.
"I don't like that sort of publicity – it's not good. It's been happening for a while now and it's definitely not the way to promote a place.
"His show is only commercial rubbish, it's not reality," he added.
"I really don't care about him or what anyone does to him."
Meanwhile, an ITV spokesman told The Mirror: "The production crew, including Jeremy, were part of a large crowd on the main strip, which was affected by what may have been pepper-spray, going over their heads.
"No prior incident involving anyone from the crew had occurred and it was not clear where the spray came from."
LIKE US ON FACEBOOK | FOLLOW US ON TWITTER