Fears are growing that the Middle East crisis could spiral into violent clashes across Europe, with Jewish activists and pro-Palestinian groups fighting on the streets of Paris.
A video has emerged showing dozens of Jewish men waving iron bars, chair legs and shooting pepper spray at pro-Palestinian demonstrators in the French capital, while shouting racist slogans, like "Fuck you Palestine".
The video emerged in the days after Hamas supporters stormed the Synagogue de la Roquette in Paris, when three Jewish worshipers were taken to hospital, but is believed to have been shot on the same day.
Entitled "Pro-Israelis who break everything in front of the synagogue on Rue de la Roquette," the clip appears to show pro-Israel rioters throwing furniture at their opponents, striking one man. The Jewish attackers are thought to be linked to the vigilante "Jewish Defence League".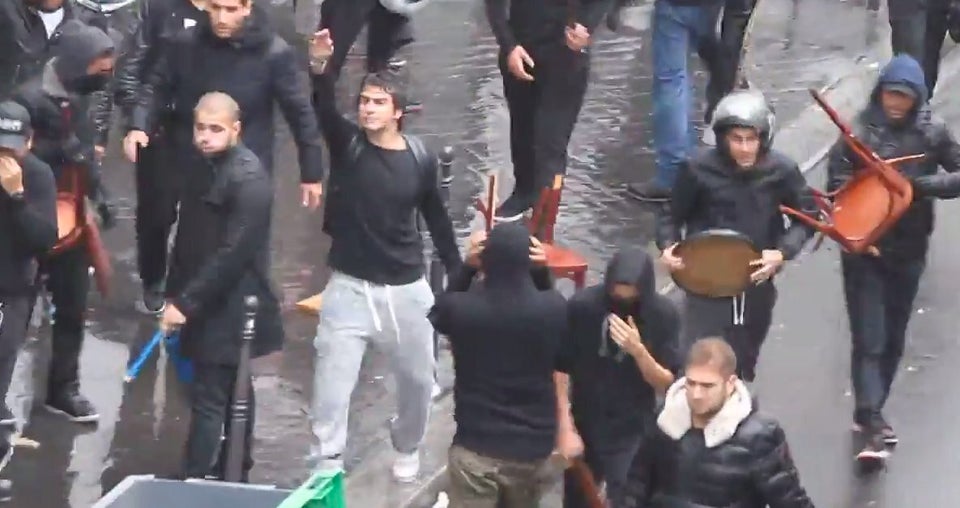 Paris clashes
Alain Azria, a French Jewish journalist, told the JTA that protesters chanted anti-Semitic slogans and hurled objects at the synagogue and the guards during the attack on Sunday. More than 200 people were inside at the time.
Daniel (who asked that he be identified by only his first name) told the Jewish Daily Forward that the synagogue prayer event was being held for peace in the Middle East. "Once the event started, hundreds of pro-Palestinian protesters came from the right and left sides of the street with bats, knives and chairs," he said, adding that protesters shouted "Hitler was right".
France's prime minister, Manuel Valls, who lives in the neighbourhood said there would be a clampdown.
"France will never tolerate people trying in words or deeds to import the Israeli-Palestine conflict on to its territory," he said.
His words were echoed by French president Francois Hollande. "We cannot have intrusion or efforts at intrusions into places of worship, whether they are synagogues, as happened yesterday, but I would say the same thing for mosques, for churches, or for temples," he said. "Religions should be respected, all religions. These places of worship should be protected."
France has Europe's largest Arab and largest Jewish community. There has been a vast increase in the number of French Jews leaving for Israel in recent months, with antisemitism cited as the reason. The Jewish Agency for Israel and Israel's Ministry of Immigrant Absorption estimate that more than 5,000 French Jews — 1% of the community — will immigrate to Israel this year.