At HuffPost UK Lifestyle, we've been talking a lot about digital detox - the idea that we could all benefit from banishing our mobile phones every now and again.
In her most recent book 'Thrive', HuffPost founder Arianna Huffington argues that while the always-on digital world has led to great advances - including her own website - it has also led to the creation of a culture which is unsustainably demanding of our time and attention.
With our Third Metric focus, we're not surprised at the results of a recent major global study, which found that most people people admit they are "constantly" looking at a screen, but crave a simpler, slower lifestyle.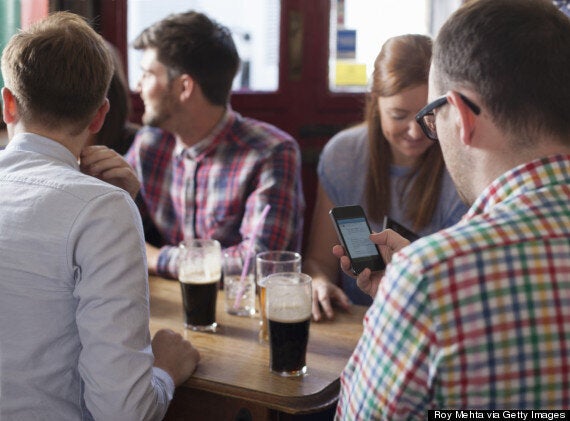 The findings emerged in a survey of more than 16,000 participants in 20 countries including the UK, described as the largest of its kind.
The inaugural Ipsos Mori Global Trends Report covered attitudes to technology, privacy, tradition, health, simplicity, globalisation, inequality, trust and brands.
Giving an insight into the huge role played by technology in our lives, an average of six in ten people quizzed agreed with the statement "I am constantly looking at screens these days".
Britons appear to among the most glued to smartphones, computers and tablets, with seven in ten concurring - one of the highest proportions of all the nations studied.
Overall six in ten said they wished their lives were simpler, three in four (77%) believe the world is "changing too fast" while more than half (55%) wish they could slow down the pace of their lives.
However, those living in the UK are less likely than the average to hanker after a more straightforward lot, with 53% saying they wish their lives were simpler.
An average of two in three (64%) of the respondents around the world and 61% of Britons said they believe people led happier lives "in the old days when they had fewer problems to cope with".
Just under half of those surveyed reported feeling "overwhelmed" by the choices they have as a consumer and "all the choices about how to live my life".
Despite an apparent frustration with the influence of technology in their lives, the report suggests most people acknowledge how crucial it has become.
Across the countries six in ten people agreed that technology is necessary "because only this can help to solve future problems".
Ben Page, Chief Executive of Ipsos MORI, says: "We have put the complex, and sometimes contradictory attitudes of connected citizens and consumers in an international context - whether it is trust in government, views of marriage or migration, and everything from personal ambition to advertising and from society to social media.
"We have used survey findings alongside other sources to highlight what we see as ten key trends.
"The intention here is to spark a conversation about 'what next'. We discuss the implications of the results for people leading in government, in brands and in business."
The report also revealed a conflict between the way people want to live and the way the way they feel society is actually operating.
Although most people living in 2014 want to live life on their own terms, traditions are still seen as an important part of society by more than three in four respondents.
Britain appears to value traditions higher than most nations, with 80% saying they are important - the third highest proportion.
Just under half of those quizzed said they feel under pressure to "make money", but materialism is not seen as the path to happiness by most - 61% disagreed with the sentence "I measure my success by the things I own".
The study also suggests low levels of satisfaction among the public in those governing them.
Across the 20 countries, 31% was the highest level of satisfaction with the way the government is running the country.
The survey of adults aged up to 64 was conducted in September last year in China, India,Turkey, Brazil, Argentina,South Korea, South Africa, Italy, Australia, Poland, America, Russia, Canada, Britain, France, Sweden, Spain, Germany, Belgium and Japan.
Related