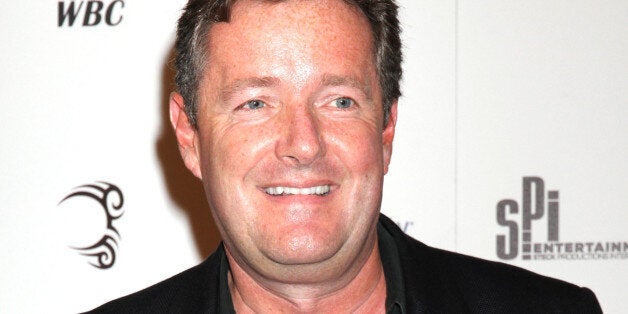 Piers Morgan, divisive and inflammatory on Twitter at the best of times, decided to wade into the debate on the escalating crisis between Israel and Gaza and, somewhat unsurprisingly, it went horribly wrong.
The TV personality demonstrated just how easy it is to spark rage over the conflict, posting some rather banal comments, and in return, was branded "Zionist scum" and called a "f**king fat, ugly, ignorant c**t."
Morgan told the The Huffington Post UK that "the extreme nature of the reaction to my impartial call for both sides to be freed from endless fear and death says it all."
Morgan, who boasts over four million followers, chose to engage Twitter in a "sensible debate" about the ever-worsening crisis, using the hashtag "#FreePalestineAndIsrael."
Unfortunately, Twitter did not want to discuss the matter with the chat show host and instead just chose to mercilessly maul him.
Like piranhas gathering around the corpse of a drowning zebra, Morgan fed Twitter with chunks of troll bait including "I like Jews. I like Arabs" and by suggesting the country finds itself a "Nelson Mandela."
Incredibly, the bloody crisis was even compared to Morgan's spats with TopGear host Jeremy Clarkson.
But despite a barrage of wince-inducing abuse Morgan remained defiant in his argument (we're still not exactly sure what it was) and refused to bow to demands that he delete his tweets.
It started off with the rather bland and ambiguous:
Following a flood of tweets, impressively kept to 140 rage-filled characters, Morgan "did a Rihanna" and tried to stay firmly on the fence over the matter.
The singer also managed to provoke fury after she apparently tweeted "#FreePalestine", then swiftly deleted it after just eight minutes. But, in a more middle-of-the-road tweet RiRi later posted: "Let's pray for peace and a swift end to the Israeli-Palestinian conflict! Is there any hope?...."
But an undeterred Morgan went further and tried to explain his original #FreePalestineAndIsrael post:
This was seemingly a big error, and the full wrath of Twitter was unleashed on the former Daily Mirror editor.
Morgan accused furious users on both sides of the debate of being unable to engage in "sensible" debate, which made them even more angry:
But then, like waving a pot of honey at an angry bear, Piers posted this follow up tweet:
The words digging and hole spring to mind at this point...
On Wednesday, more than 70 rockets were fired from Gaza into Israel, with the Iron Dome missile defence system shooting down 23, according to Israeli officials. IDF troops remain amassed at the Gaza border, with Netanyahu threatening a ground invasion should the rockets into Israel not stop.
On Tuesday, Hamas dismissed a peace proposal, brokered by Egypt, in which a 12-hour de-escalation was proposed. Israel agreed to the cease-fire plan, however Hamas, weary of the new regime in Cairo, rejected the plan, firing scores of rockets into Israel at the time the cease-fire was proposed to start.
Since the offensive began, 207 Palestinians have died from the Israeli air assault, mostly civilians. One Israeli has died from the daily rockets fired from Gaza into the Israeli heartland.