Airlines had been warned to avoid the route over Ukraine because of the violence below, however many carriers continued to use it because it was shorter and therefore cheaper, according to aviation experts.
Almost 300 people have died including up to 10 Britons after a Malaysia Airlines passenger jet was apparently shot down near the Russia - Ukraine border.
Graphic images and footage showed a pall of smoke, charred wreckage and bodies at the crash scene in the rebel-held eastern Ukraine village of Grabovo.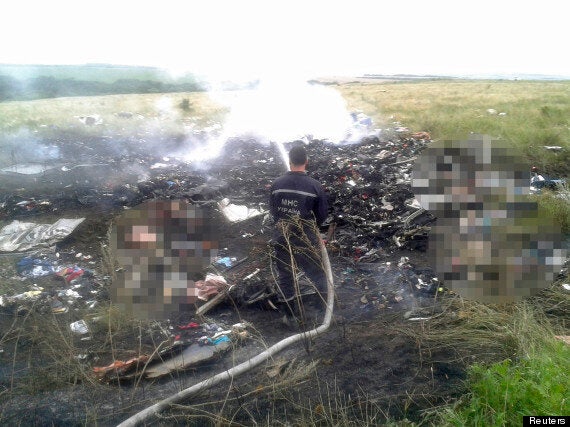 A general view shows the site of a Malaysia Airlines Boeing 777 plane crash in the settlement of Grabovo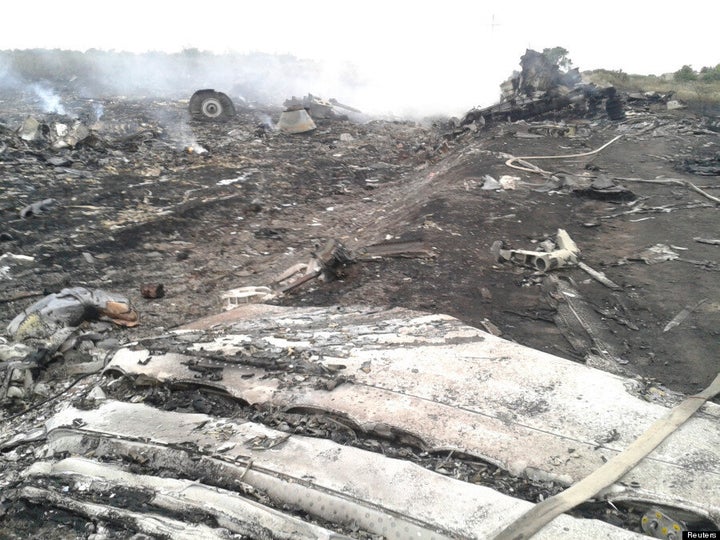 The Malaysian airliner was shot down over eastern Ukraine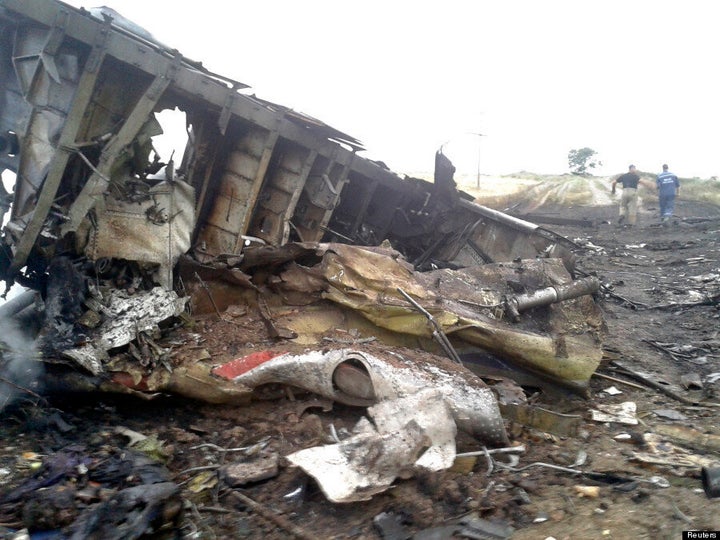 A close-up of the debris from the Malaysia Airlines plane
But according to Norman Shanks, the former head of group security at airports group BAA, and professor of aviation security at Coventry University, the route would now likely be closed to commercial carriers.
He said: "It is a busy aviation route and there have been suggestions that a notice was given to aviators telling airlines to avoid that particular area. But Malaysia Airlines, like a number of other carriers, have been continuing to use it because it is a shorter route, which means less fuel and therefore less money. I expect the area will be declared a no fly zone and aircraft will have no choice but to take a different, longer route."
Prof Shanks said it was "extremely unusual" for political disputes to spill over and endanger the lives of civilians travelling in commercial flights in the skies above. And he suggested those behind the shooting "deliberately" targeted a passenger plane as it would have been obvious from its appearance that it was a commercial aircraft and posed no military threat.
He said: "This is probably the first time this has happened in recent history. The aircraft was flying at such a height that it is unlikely to have been a military aircraft. You would be able to tell it was a civilian aircraft not a military aircraft with the naked eye because of the jet plumes behind it.
"This would almost certainly have to be a deliberate act, for whatever reason - we can only speculate. It should have been quite visible to people on the ground that it was a civilian aircraft, by the size of it and the shape of it. Anyone who has looked at a civilian aircraft or large military aircraft will know the difference."
He said the plane's black box could contain vital clues to help piece together what the pilots knew during their final moments in the cockpit. But he warned that tracing the flight recorders could be very tricky as they are probably "now in a war zone" somewhere in the Ukraine. He added: "The pilots and passengers could well have been totally unaware that this missile was heading for them."
The suspected shooting down of a large passenger plane while flying at altitude presents airlines and their passengers with an extremely serious new development in air travel. They also question the future of Malaysia Airlines - caught in the global glare of bad publicity following the disappearance of flight MH 370 earlier this year.
If today's incident is confirmed as a deliberate act then Ukraine airspace could well be closed down, meaning diversions for UK carriers who currently fly to and over the area. "This could be a very serious development," said David Kaminski-Morrow, air transport editor of Flightglobal magazine.
He went on: "If reports are true, we are not talking about small-arm fire but serious weaponry. Normally even if planes fly over a war zone they can go high enough for the conflict not to be a worry. Any decision about the opening or closing of Ukranian airspace will be a matter for the Ukrainians. It could well be that part or all of that airspace will now be closed. Also, individual airlines, including UK carriers, could decide to detour around Ukraine."
Story Continues Below Slideshow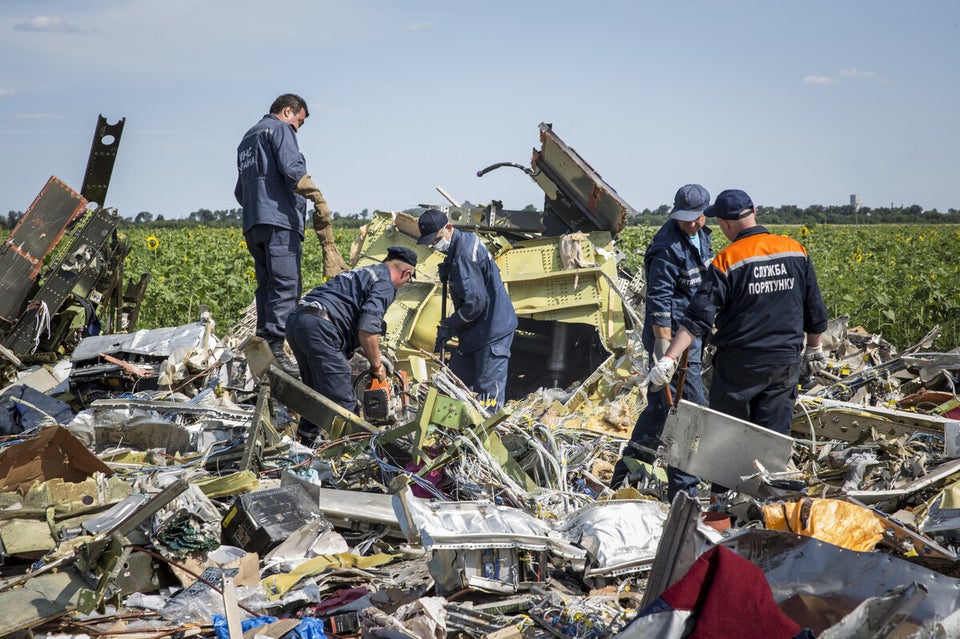 MH17 Malaysia Airline Plane
Mr Kaminski-Morrow continued: "It's really quite incredible that it should be Malaysia Airlines involved in this, after what happened earlier in the year. This is not a small airline on a faraway route. This was a major airline flying from a European destination to a capital in the Far East. There must be serious concerns about how the airline can recover from this. There will obviously be political as well as aviation concerns from all this. This will run and run."
Interfax news agency said the plane came down 20miles (50kms) short of entering Russian airspace. It "began to drop, afterwards it was found burning on the ground on Ukrainian territory," an unnamed source said.
Reuters quoted emergency service personnel at the scene who said body parts from the plane's passengers are scattered around up to 15km from the crash site, and at least 100 bodies were on the ground.
Andrew MacDonald, at defence analysts Vision Gain told HuffPost UK initial reports that pro-Russian rebels were responsible for downing the plane were "quite plausible".
He said: "Earlier today separatist fighters claimed to have shot down a Ukrainian Su-25 ground attack fighter in the area, so the goal may be to create a de-facto no-fly zone in the east of the country in a show of force after their ousting from Slovyansk.
"However, the aircraft will at that stage in its flight will have been cruising at a very high altitude – around 30,000 feet – so would have been well out of range of any shoulder-launched MANPADS weapons you might expect insurgent groups to possess.
Popular in the Community