A total of 19 migrants have reportedly suffocated while making a desperate attempt to cross the Mediterranean for a better life in Europe.
The migrants are thought to have choked on fumes from an old engine in their overcrowded boat, while they were confined below deck as the boat made for Italy from North Africa, has Italian news agency Ansa reported.
Rescuers found 18 dead bodies and another person is said to have died during the evacuation.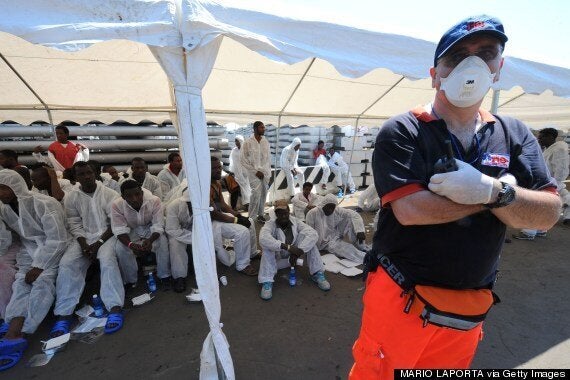 Survivors from a boat that made the same crossing, receiving food and water in Italy earlier today
They are the latest migrants to die trying to cross the sea from Africa to Europe, a problem that has become so bad a couple has given their life savings to establish a charity to save people from dying on the sea before they reach their destination.
In the space of one week alone this month, the Italian Navy rescued 1,500 people from rickety boats.
Of those rescued from the boat where the 19 migrants died, two have been taken to a Sicily hospital for treatment.
The boat was heading for the Italian island Lampedusa. It sent out an SOS signal before it was intercepted.
There has been a sharp rise in migrant landings in recent weeks because of the calm summer weather and growing lawlessness in Libya, with hundreds of migrants now being intercepted by Italian authorities every day.
Most of them come from Eritrea, Somalia and Syria.
The United Nations refugee agency (UNHCR) says more than 500 migrants have died in the Mediterranean so far this year, compared to 700 during the whole of 2013, Reuters reported.
Italy's navy has been patrolling the seas conducting "Mare Nostrum" or "Our Sea" rescue operations since October, when 366 people drowned just a mile from Italy's coast.
Popular in the Community