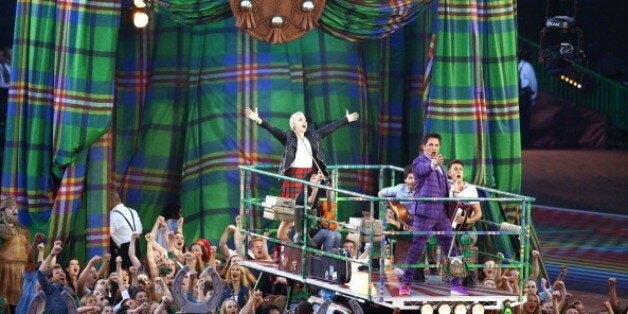 The opening ceremony of the 20th Commonwealth Games is under way in Glasgow, with Scottish comedian Karen Dunbar welcoming the sporting nations to Scotland. An audience of around 40,000 have gathered at Celtic Park to witness the arrival of the Queen's baton and mark the official start of the 11-day competition. Dunbar, wearing a kilt, told the cheering crowd: "Welcome to Scotland."
In the opening act, Glasgow-born Dr Who actor John Barrowman and Dunbar, star of the comedy sketch show Chewin' The Fat, sang "Welcome to Scotland" and took viewers on a trip round Scotland with a colourful cast and props representing places and culture. Dressed in a purple suit, Barrowman made his entrance from beneath a giant kilt and kissed a veil-wearing male "bride" at a mock Gretna Green before being carried along on a sea of "heather".
The Loch Ness monster, Glasgow's history of ship-building and the Forth Rail Bridge all featured in the act, which also celebrated the great Scottish inventions. The fast-moving "Kingdom of the Scots" sequence featured the firing of the One O'Clock Gun at Edinburgh Castle, a giant haggis and Tunnock's famous teacakes.
A tyre - included as a tribute to pioneer John Boyd Dunlop - was transformed into Nessie and the Standing Stones of Callanish were represented by giant slabs of shortbread. There was singing on top of whisky barrels and St Andrews was celebrated as the home of golf. The cast gathered under the Forth Rail Bridge, which was supported by cans of Irn-Bru - known as Scotland's other national drink - and Barrowman finished the number standing on top of a replica of the iconic Finnieston Crane.
Dunbar sang: "It's a land of invention and culture that's true; But all that matters really; Is that Scotland's full of people just like you." She said: "This is our home and you're all very welcome. Whoever you are, wherever you're watching, come on in and meet the people of Glasgow."
Speaking in an earlier video message on the stadium's 100-metre wide screen, Unicef ambassador Ewan McGregor told the crowd and an anticipated one billion television viewers: "I'm proud to say welcome to Scotland, welcome to Glasgow, welcome to the opening ceremony of the 2014 Commonwealth Games."
Glasgow 2014 organisers have teamed up with Unicef to ask viewers across the nations to donate to its Children of the Commonwealth Fund.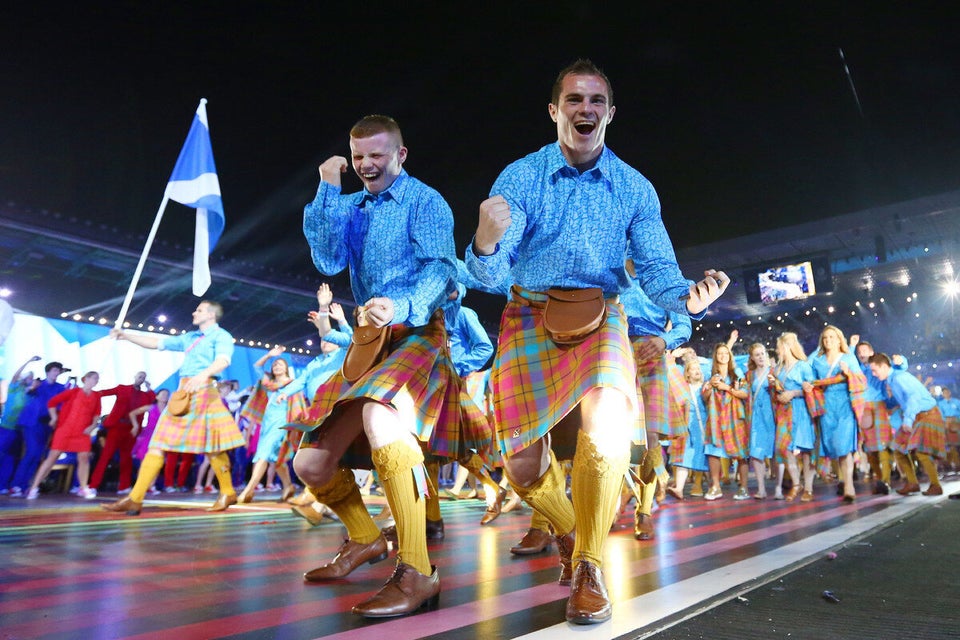 Commonwealth Games Opening Ceremony