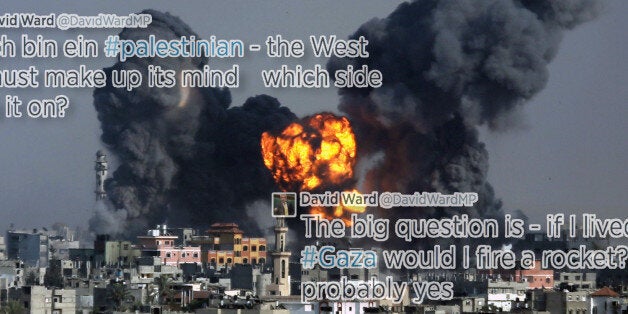 A Lib Dem MP may be disciplined by his own party after he was accused of making "vile comments" on social media about the Israeli-Palestinian conflict.
In the first message on the Bradford East MP's account, David Ward said he would "probably" fire a rocket at Israel if he lived in Gaza.
In the second message, Ward doubled down and posted his own take on John F Kennedy's famous "Ich bin ein Berliner" speech:
The Tories have now reported Ward to the police for "encouragement of terrorism as defined by Section 1 (2) of the Terrorism Act 2006."
In a letter to Bernard Hogan Howe, MP Nadhim Zahawi wrote:
Freedom of speech is an important right, but it is not an unqualified one. This is especially true for public figures who have the capacity to influence the actions of others. Mr Ward's tweets would appear to be prima facie evidence that he has committed the offence of encouragement of terrorism... Mr Ward may or may not have intended this statement to encourage others to fire rockets from Gaza into Israel, but regrettably he would appear to at least have been reckless as to whether others would be encouraged to commit such acts.
Ward has had a long-running dispute with the Lib Dem leadership over his use of language with regard to Israel.
Now his future is once again in doubt after he used social media to give his verdict on the violence currently rocking the Middle East.
A Lib Dem party spokesman told the BBC the MP's latest remarks were "clearly vile, crass and offensive."
The comments have, somewhat unsurprisingly, sparked outrage from members of the public and MPs.
The comments came as the United Nations Secretary General Ban Ki-moon urged Israel and the Palestinians to "stop fighting" and "start talking" to end the conflict in Gaza.
More than 600 Palestinians and 30 Israelis have been killed in the past 14 days of fighting, officials say.
Tory chairman Grant Shapps urged Mr Ward to withdraw the "appalling" comments.
Labour said the tweet was a "vile comment from a desperate Lib Dem MP".
A spokesman said: "At a time when all sides should be working for a ceasefire and a peaceful settlement, it defies belief that a Liberal Democrat MP should tweet something so vile and irresponsible."
A spokesperson for the Liberal Democrats told Sky News Mr Ward's comments are not representative of the party and that he could face disciplinary action over the remarks.
"Nick Clegg has been at the forefront of calling for peace in Israel and Gaza," the spokesperson said.
"We utterly condemn David Ward's comments, they are not representative of the Liberal Democrats.
"The party takes this matter very seriously and will treat it as a disciplinary issue."
Another Lib Dem MP, Stephen Williams, distanced himself from his party colleague's views.
"I think Israel's response is heavy handed but Hamas rocket firing is deplorable too," he told him. "I've seen school bomb shelters in S Israel."
Former Liberal Democrat MEP Edward McMillan-Scott had to apologise after he waded into the row in Mr Ward's defence with a Twitter attack on the Board of Deputies of British Jews and editor of the Jewish Chronicle Stephen Pollard.
Mr McMillan-Scott, a former vice-president of the European Parliament who defected from the Conservatives to the Lib Dems in 2010 before losing his seat earlier this year, wrote:
His comment sparked a storm on Twitter, with some posts accusing him of anti-semitism - a charge he denied.
Ed McMillan-Scott has since apologised about the now deleted Tweet, but accused the editor of the Jewish Chronicle of a smear campaign.
Mr Ward also posted a tweet earlier this year calling Israel an "apartheid state" and saying that "Zionists" were "losing the battle".
He also spoke to BBC Radio Leeds about the latest conflict, saying: "There will be a ceasefire, then there will be a period of calm.
"But during that period of calm when hopefully people are not being murdered, there will still be Palestinians who are being shot by the Israeli forces, they will still be beaten up, there will still be child detentions, that to the Israelis is peace.
"When someone is not firing a rocket at Israel, that is peace."
His latest comments come after Israel turned its social media guns on Westminster, mocking up a stark image to try and put outsiders in their shoes.
Recent images of the carnage on the ground - particularly the shelling of Gaza's Shejaiya district yesterday - have dominated western media and done little to win Israel much support.
But the IDF is fighting back - @IDFspokesperson has tweeted this image that asks Londoners a stark question.
With rockets raining down on the Houses of Parliament, the tweet asked: "Hamas terrorists just fired rockets at southern and central Israel. What if they were attacking your home?
Prime Minister David Cameron has urged Israel to "exercise restraint" in its military operations and to avoid targeting civilians.
But he has defended its right to self-defence and said the "fastest way" to bring about a ceasefire would be for Hamas militants in Gaza to stop firing rockets into Israel.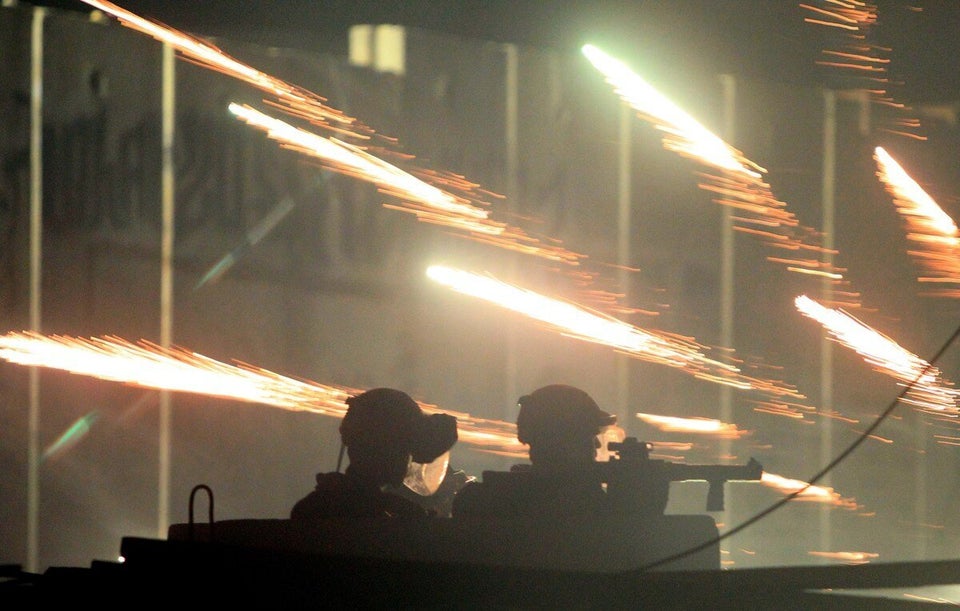 Israel Invades Gaza