Can the magic of Tinder work across the West Bank separation wall? Could it lead to a love story as beautiful as Romeo and Juliet? Maybe, but probably not.
A group of Americans, some with dual Palestinian nationality working in the West Bank wanted to know what would happen if they messaged Israelis and said they were from Ramallah. So they started the Tumblr 'Palestinder'.
The results were pretty diverse. Some wanted to ask questions, others fired back ugly insults, a lot were downright racist. And some just wanted sex.
One of the founders told HuffPost UK: "It was really a group effort. It started out when my roommate and I were checking out the "Tinder" scene here in Ramallah one evening on the couch in our apartment.
"We were shocked to receive some overtly racist responses from Israeli matches once they found out that we were teaching Palestinian kids in Ramallah for the summer.
"So that blossomed into the idea for this 'social experiment'. It started as two of us, then expanded to four and onto Grindr as well, and now we are about seven people who contribute to the Tumblr. It went from an inside joke, to dinner conversation between a group of friends and then to the Tumblr."
The responses generally fall into two categories, the founders say. "The idea for the Tumblr was born out of the surprise and shock of the initial responses we had on Tindr," they told HuffPost. "Now there are two kinds of ridiculous things that we have seen. Some that are morbidly funny like those that will call us "terrorists" etc and then still ask if we want to sleep with them.
"And then ones like the Grindr conversation featured on the Tumblr because it came completely out of left field and escalated into crazy racism so quickly. We have a ton of examples of 20-screen shot examples of those kinds of conversations."
The medium of Tumblr doesn't lend itself to nuanced debate, they concede, but they hope the Tumblr plays some part in raising awareness. "I don't think that we are looking to engage in meaningful debate," one of the founders told HuffPost by email. |I think that this is a different medium that has allowed people to see that the racism that is part of the Israeli occupation of Palestine is real.
"It is shedding light on the pervasiveness of racist sentiments within Israel. We would hope that meaningful debate would come from the massacre that is happening in Gaza right now and not from our Tumblr, but if the Tumblr reaches people and leads to these conversations then it has served a purpose."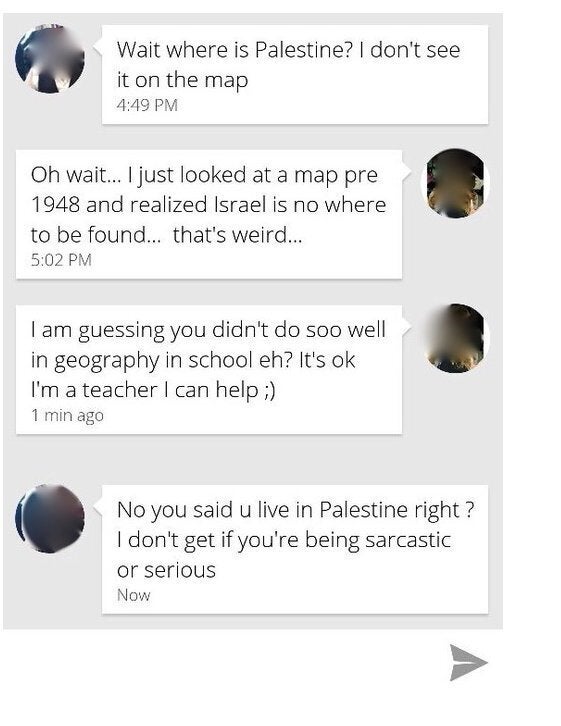 Palestinder
Related