The Park View Brotherhood sent WhatsApp messages to each other saying the Boston Marathon bombings and the Lee Rigby murder were hoaxes and gay people were "animals" with "satanic ways".
More disturbingly, the Park View Brotherhood were teachers at the Birmingham schools where an alleged "Trojan Horse" plot was hatched to push an Islamist agenda in the classroom.
In his government-ordered report on the matter, former counter terror chief Peter Clarke said that he "came into possession" of a print-out of more than 3,000 postings sent from April 2013 until the group was shut down in March.
The "core contributors" were identified as mainly teachers at either Park View School or other schools within the Park View Educational Trust and all were men.
The messages were sent by teachers at Park View School or schools within its educational trust
The report said the group was established by Monzoor Hussain, the acting principal at Park View, while Razwan Faraz, a former teacher at the school, was allegedly one of the two "most prolific" contributors.
Mr Hussain confirmed that he set up the forum but said the purpose was solely to discuss items that could be included in school assemblies, Clarke said.
The inspector found that the majority of postings were "innocuous and often mundane".
However, he added: "A number of topics are discussed, often by a small group of contributors, which reveal the members' attitudes towards education, homosexuality and gay marriage.
"There is also an undercurrent of anti-Western sentiment, explicit antagonism towards the British military, a sceptical reaction to news of terrorist attacks (Lee Rigby and the Boston bombings), and numerous links posted to extremist speakers."
Some of the messages were linked to conspiracy theory videos about the killing in May last year of Fusilier Rigby and the explosions at the Boston Marathon that killed three people a month earlier.
One post above a YouTube link attributed to a poster identified as Teacher L on 24 May last year said: "ATTACK ON ISLAM! Plz watch and share ASAP before they remove it!!!!! London butcher incident; It's is a hoax And this is the link to reveal it."
A message sent by Teacher C on 19 April said: "Watch PROOF! Boston Marathon Bombing is Staged Terror Attack on YouTube."
In May last year Mr Faraz allegedly posted a link to a news article about gay marriage followed by the message: "These animals are going out full force. As teachers we must be aware and counter their satanic ways of influencing young people."
In September a discussion took place when Teacher A posted a link to an item which described how a shrine in Karachi, Pakistan, is used as a meeting place by gay men.
A message accompanying it said: "IF YOU HAVE JUST EATEN READ AFTER 2 HOURS ... CAUTION ADVISED."
Two discussions revealed "disparagement" of British armed forces, the report said.
One in May last year was triggered when a group member posted a link to an article about a Birmingham mosque raising funds for the Help for Heroes charity.
Teacher M wrote: "How about a fundraiser to equip the soilders (sic) with more condoms so they don't leave our sisters pregnant after ravaging them!"
In a discussion about a scheme designed to generate opportunities for veterans to become teachers, Mr Faraz allegedly wrote: "So the government wants killers to now teach our children."
Anti-Israeli images showing toilet rolls imprinted with the Israeli flag were also said to have found in the postings.
Speakers mentioned in the WhatsApp exchanges included one who reportedly advocated wife beating and another said to have called on God to "destroy the enemies of Islam", the report said.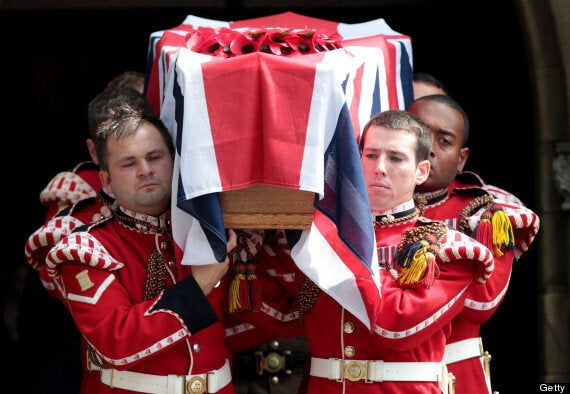 The teachers said the murder of Lee Rigby (funeral pictured) by two radical Muslims was 'a hoax'
It said that the discussion group "gives a clear and disturbing insight into the attitudes and mind-set of a group of teachers within the Park View Educational Trust".
The report went on: "The contributions, in terms of links to both news items and images, are overwhelmingly anti-Western, anti-American and anti-Israeli."
Mr Clarke said the "only possible conclusion" from an analysis of the participants in "particularly inappropriate" discussions "is that intolerant attitudes are deeply embedded within a significant number of staff at the Park View Educational Trust".
It concluded: "The only sensible and appropriate conclusion is that Mr Hussain and his associates who display such intolerant attitudes are not representative of the communities whose children they teach."
When interviewed Mr Hussain said he closed down the group because of some of the comments being posted, adding that he "didn't want to start creating animosity between people".
Mr Clarke noted that "it is certainly true that Monzoor Hussain challenged some posts".
Related