Thousands of protesters have marched in central London against Israel's military campaign in Gaza.
Activists and supporters of the Palestinian cause gathered outside the Israeli embassy in Kensington, west London, before marching towards Parliament Square.
Israel's latest campaign, dubbed Operation Protective Edge, has claimed hundreds of lives since it began on July 8.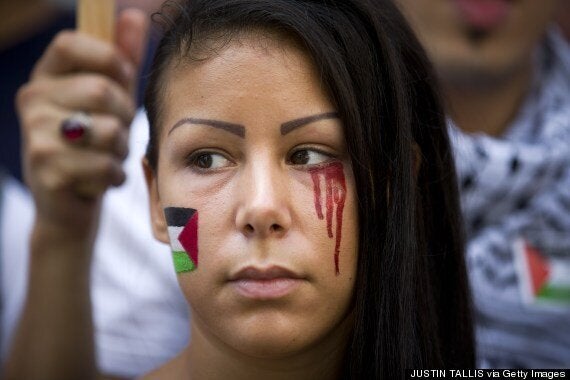 A demonstrator with a painted face marches through the streets
Carrying Palestinian flags and placards with slogans such as Stop the Killing and Free Palestine, the protesters chanted "Israel is a terror state", "Gaza don't you cry, we will never let you die" and "Allahu Akbar" (god is great).
The rally brought central London to a standstill as protesters filed past Hyde Park, down Piccadilly to Trafalgar Square and Whitehall and ending in Parliament Square.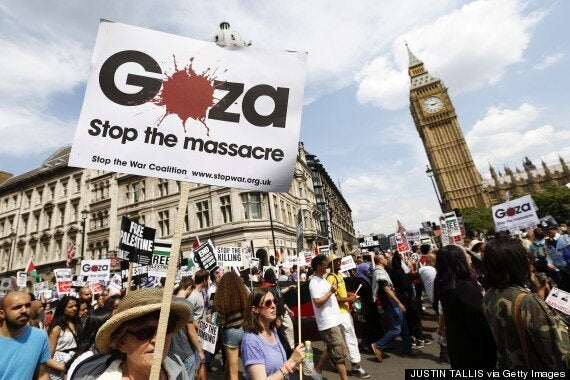 Demonstrators march through the streets to outside Parliament
As the march went past Downing Street there were boos and chants of "David Cameron shame on you" and "How many children have to die?"
The statue of South African anti-Apartheid leader Nelson Mandela in Parliament Square was draped with the Palestinian flag as protesters listened to speeches.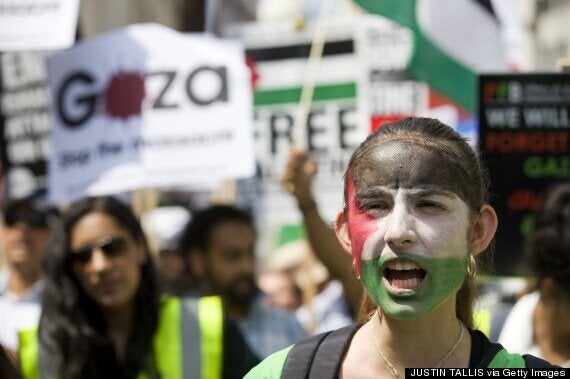 At least 10,000 pro-Palestinian protesters opposed to Israel's military action in Gaza
Medical student Zahra Legris said she had joined the marching because she was "outraged" at the situation in Gaza.
The 22-year-old Londoner said she had been planning to work in a hospital in the West Bank city of Bethlehem this summer but had been turned away at Ben Gurion airport in Tel Aviv by the Israeli authorities.
She said: "I think it is a shame that has taken so many deaths for people to notice but it's great that there is such an outcry and there are so many people here today. That's really important."
Young protesters chanted against Arab leaders and US president Barack Obama, while others carried a banner which read: "Zionism: Godless & Inhumane".
Aamer Mushtaq, a 28-year-old school IT manager, was selling T-shirts at the protest in support of Palestine.
"We're supporting Palestine because they are being slaughtered, Israel are being unfair the way they are treating the Palestinians," he said.
"We believe the Government should raise their voice and tell Israel to stop killing innocent civilians. This is not a war, this is a slaughter against the Palestinians.
"Everybody can see that this is a human rights issue, it's not a religious issue.
"People have come here from different backgrounds, different cultures, and everybody is united against Israel."
The protest comes amidst a 12-hour ceasefire in the region.Foreign Secretary Philip Hammond flew to Paris Saturday morning for talks with US secretary of state John Kerry along with foreign ministers from other EU nations, Turkey and Qatar. Israel looks set to extend Saturday's ceasefire by a further four hours.
There is an "absolute humanitarian necessity" to see the 12-hour ceasefire currently taking place in Gaza extended, Hammond said, speaking after the meeting, where it was agreed that a longer truce was needed to prevent further loss of life.
"Everybody understands that there is an absolute humanitarian necessity to see this ceasefire extended," he told Sky News.
"The necessity right now is to stop the loss of life and you stop the loss of life by getting this ceasefire to roll over for 12 hours, or 24 hours or 48 hours, and then again and again."
Nearly 900 Palestinians, mainly civilians, have been killed over the past 18 days while Israel has lost 37 soldiers and two citizens. There were reports today that the total figure had reached more than 1,000.
The Israeli military said the 12-hour ceasefire began at 8am local time (5am GMT) but warned the military "shall respond if terrorists choose to exploit" the lull to attack Israeli troops or civilians.
The halt in fighting is taking place to allow civilians in Gaza to receive aid and evacuate to safer areas, but there are fears that an upsurge of violence could follow.