Rents in London have reached double those across the rest of the UK for the first time ever, according to new research.
Average rents across the country went up 6.3% over the last 12 months and now stand at £862 a month compared to £811 a year ago , the study found.
But tenants in the capital face average monthly rents of £1,412, compared to £694 for the rest of the UK once London is excluded, and saw prices soar 11.2% in the year up to June 2014.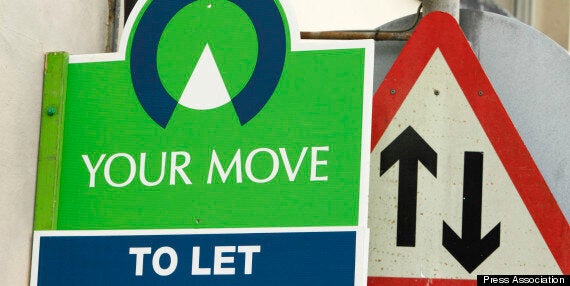 After months of the cost of renting and buying in London exploding, the cost of renting has reached double the average for the rest of the UK for the first time
It means that London has "pushed beyond the boundary" of what is affordable amid increasing concerns about a cost-of-living crisis, experts said.
Out of the country's 12 regions, only the North East of England and Scotland witnessed minor falls in rental prices, with year-on-year drops of 2.3% and 3.8% respectively.
Scotland had an average monthly rent of £578, while tenants in the North East pay £507 on average, specialist insurer HomeLet's Rental Index showed.
Martin Totty, chief executive of parent company Barbon Insurance Group, said: "The private rental sector continues to show strong growth with rental values increasing year on year across the country, with little exception.
"Although average incomes have also been rising, there are parts of the country where we are seeing affordability getting tighter.
"As a rule of thumb, for a rental property to be affordable, a tenant's gross income must be at least two-and-a-half times his or her annual rent.
"Our data shows that rents in London have pushed beyond that boundary, with the South East and South West of England close behind."
Housing Minister Brandon Lewis said: "Figures from the Office for National Statistics clearly show private rents falling in real terms - while inflation currently stands at 1.9%, nationally rents have risen by just 1%.
"Building more rented housing will be the most effective way of controlling rent levels in the future - excessive red tape would just push up rents and reduce choice.
"That's why we're investing £1 billion in our Build to Rent fund, which is on track to have work started on 10,000 newly built homes specifically for private rent.
"On top of this, we're also introducing a range of measures to give landlords and tenants the confidence they need that they're getting a fair deal, including through a new 'How to Rent' guide so those renting privately know their rights and what to expect."
Region / Annual variation in average rental value / Average rental value per month (per year)

Greater London 11.2% £1,412 (£16,944)

East Anglia 6.4% £781 (£9,372)

South West 4.6% £813 (£9,756)

South East 4.4% £863 (£10,356)

West Midlands 4.3% £625 (£7,500)

North West 2.9% £665 (£7,980)

Yorkshire & Humber 2.2% £600 (£7,200)

Northern Ireland 2% £567 (£6,804)

East Midlands 0.2% £579 (£6,948)

North East -2.3% £507 (£6,084)

Scotland -3.8% £578 (£6,936)

Overall 6.3% £862 (£10,344)
Related