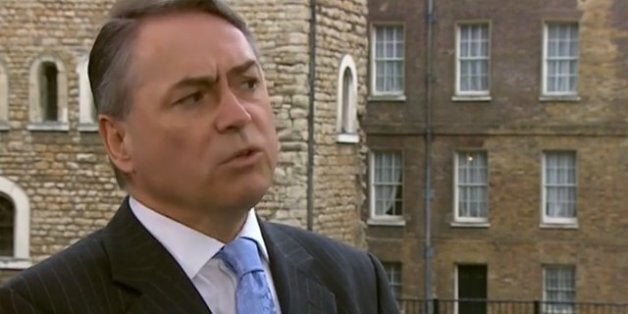 A Tory MP who apologised after receiving a police caution for domestic assault involving his former partner will stand down at the 2015 general election. David Ruffley confirmed in a letter to his local Conservative Association that he will not stand for re-election next year, saying the "protracted media debate" on his private life would not serve the interests of the party in his constituency.
Mr Ruffley also said he was not willing to continue to sustain the "unrelenting orchestrated intrusion into my private life". The MP for Bury St Edmunds revealed last week that he had apologised to his former partner for the March incident, which led to him accepting a caution for common assault.
Mr Ruffley said the woman had accepted his apology and stressed that he did not condone domestic violence "under any circumstances".
Today, writing to Andrew Speed, the chairman of the Bury St Edmunds Conservative Association, Mr Ruffley said: "Sadly, although I have apologised for a very regrettable incident last March and both my former partner and I considered the matter closed, I have reluctantly come to the conclusion that a protracted media debate on my private life, whatever the motivation or however misinformed, would not serve the wider interests of the Conservative cause in East Anglia.
"Nor at a human level am I prepared to continue to sustain the unrelenting orchestrated intrusion into my personal life." The former shadow police minister went on to say he was standing down with a "heavy heart".
Mr Ruffley was referred by the Conservative Party to chief whip Michael Gove for investigation last week after he revealed his apology to his former partner. Mr Gove said tonight he was sorry to see Mr Ruffley standing down.
The chief whip said: "David Ruffley MP has given a huge amount to Parliament both on the Opposition front bench and as an outstanding member of the Treasury Select Committee. I am sorry that he will be standing down at the general election in May 2015, but fully respect his reasons."
Mr Ruffley, who has represented the seat since 1997, was given leave from the party in 2010 after suffering minor injuries when he was hit by a train at Victoria station in London. At the time he was reported to be suffering from depression. He said in his letter tonight that he will never forget how his constituency stood by him.
Mr Ruffley wrote: "I will never forget the way the constituency stood by me while I recovered from a particularly difficult period of ill health four years ago. Equally I have been enormously grateful for the kindness and generosity of spirit shown to me in recent weeks by so many constituents and most of all for the loyal support from the tremendous members of the Bury St Edmunds Conservative Association."
Mr Ruffley had been under pressure in his constituency over the incident, with a senior Church of England cleric warning that he had "lost the confidence" of voters in the Suffolk town, while the county's police and crime commissioner described behaviour of the kind for which he apologised as "inexcusable".
Jonathan Isaby, chief executive of the TaxPayers' Alliance, said Mr Ruffley's decision not to stand for re-election showed that voters should be given the power to recall their local MP and trigger a by-election in certain circumstances.
He said: "The fact that constituents don't have a say in whether David Ruffley should stand down immediately shows how desperately we need a real recall mechanism for MPs. Instead of the grubby little compromise offered up by the Coalition, the Government must put democracy back in the hands of the people."
An online petition set up last week on change.org calling for Mr Ruffley to resign has garnered over 41,000 signatures. In the wake of the MP's decision to stand down next year, petition organiser Jo Costello is calling for his immediate resignation, saying it would be "unthinkable" for him to continue in office until next year's election.