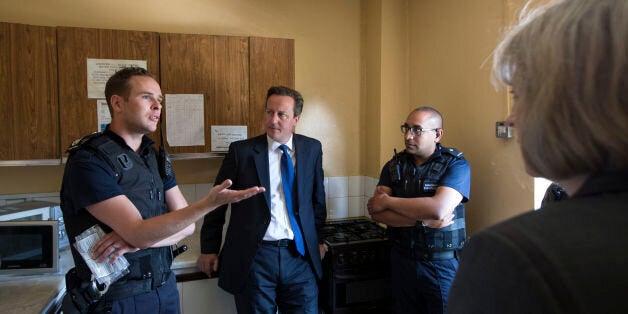 David Cameron has come under fire from civil rights group Liberty for visiting the scene of a dawn raid just hours after immigration officers detained suspected illegal migrants.
The Prime Minister and Home Secretary Theresa May chatted yesterday with officers at the address in Slough, Berkshire, where they had found four Albanian illegal immigrants living in a single bedroom, along with a Kenyan woman who had overstayed her visa and an Indian man with a false Portuguese passport.
But Liberty director Shami Chakrabarti condemned the visit as "constitutionally inappropriate" and said Mr Cameron's position did not give him the right to enter private property without permission.
"At the very least, it's bad taste and constitutionally inappropriate for elected politicians to intervene in law enforcement," said Ms Chakrabarti. "Who gave Mr Cameron permission to look round these premises? Being Prime Minister doesn't give you the right to enter private property willy-nilly. Are we going to see politicians electioneering by taking part in immigration searches?"
Mr Cameron used the visit to unveil new restrictions on EU migrants, which will see the maximum period they can claim out-of-work benefits without having the serious prospect of a job cut from six to three months. There was no immediate response from Downing Street or the Home Office to Ms Chakrabarti's comments.