Russell Brand has made an emotional appeal for Sean Hannity to "return to humanity," after the Fox News anchor said Israel has shown "too much restraint" over the Gaza conflict in an acerbic rant against the British comedian.
Hannity and Fox news, Brand said, have trivialised one of the "worst conflicts on the planet" that has so far claimed the lives of more than 1,100 Palestinians, mainly children - while Hannity's "vitriol and propaganda" is only exacerbating the crisis.
"To them it is just a game, to them it is just entertainment, that's what I find most difficult," Brand said, in a moving video appeal.
Speaking directly to the camera, Brand gently addresses Hannity directly saying "Sean, you are a human being, come back to humanity. You've lost yourself mate."
"Tonight when you go home, look in the mirror for a little while, take a deep breath, remember how you were as a child, remember how you feel about the people you love… try and speak from a perspective of love not from vengeance and hatred."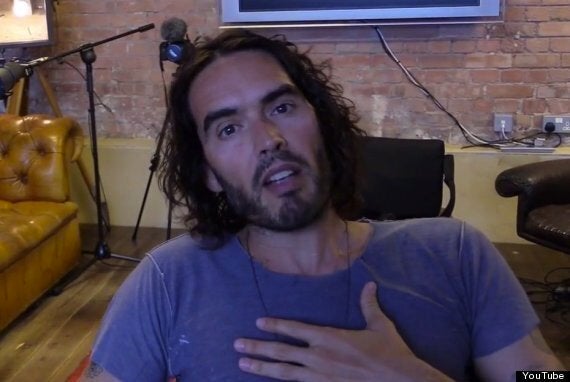 For British readers unfamiliar with 'ranty Hannity' - the "incendiary" Fox presenter has struck an aggressively pro-Israeli line over its three-week offensive in Gaza.
In the latest instalment of his video series The Trews, Brand accuses Hannity of pushing "disinformation" in order to justify his own agenda.
Hannity's argument, Brand says, is a "combination of speculation, conjecture and highly contextualised and selective information, that's not reality, that's piecing together a narrative that fits in with Fox's world view and his own bigoted world view."
Back in reality, at least 47 people were killed as Israel launched fresh attacks on Gaza overnight amid the continued hunt for a "kidnapped" Israeli soldier.
Israeli forces, backed by heavy tank fire and airstrikes, moved deeper into southern Gaza late Friday in search of a soldier apparently captured in a clash with Hamas militants earlier in the day.
At least 70 Palestinians and two Israeli soldiers were killed in the fierce fighting in the area that quickly shattered an internationally brokered cease-fire.
As the crisis escalates, political commentators like Hannity, Brand says, are not helping the situation.
The world "isn't screwed up beyond the point of recovery", Brand says, "recovery is possible… but you are not helping Sean, you're making it much, much worse."
Hannity responded with a bile-filled rant, stating: "Russell Brand, a D-list actor, better known for his failed marriage to Katy Perry recorded himself going on a 12-and-a-half minute tirade against... little old me."
The trouble with Hannity's immediate argument, Brand argues, is that he tries to present himself as "sympathetic" - despite starting off his show by "mendaciously and vindictively" playing one of Katy Perry's pop songs.
Referring to the political commentator's jibe at his former marriage, Brand said: "That's a mean-spirited approach." Stepping it up a notch, Brand clarified his 'Ken doll' comparison wasn't in reference to the news anchors looks, but rather because he is "plastic, stupid, superficial and vain."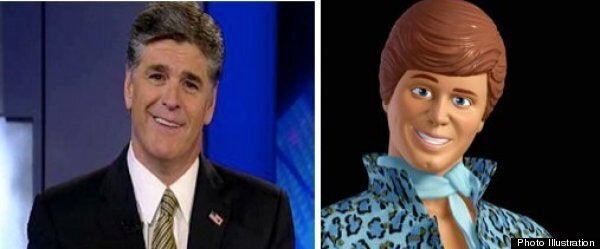 Brand, a recovered addict, also reacted with disgust to an accusation by one of Hannity's panellists – Bernard McGuirk – that he "looks like he cooks meth and sleeps in his car."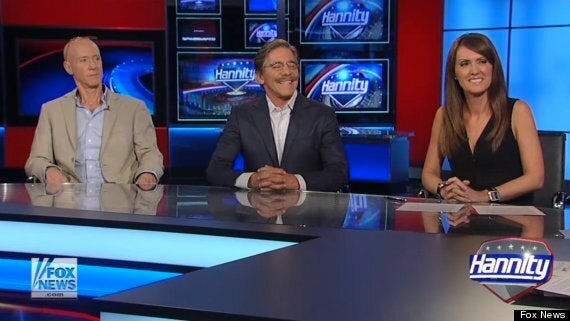 Hannity's panel McGuirk, Rivera and McDowell (L-R)
"Drug addiction is a real issue, that's not a derisory issue to be banded around. I'm 11 years clean… people are dying of drug addiction all the time, it's an attitude of non-compasion, of hatred and antipathy."
Mocking Hannity's panel, Brand pulls together his own - comprising of a figurine of Jesus on the cross, a pot of flowers and a doll of Ghandi (who probably would have been called a terrorist by Hannity, Brand points out.)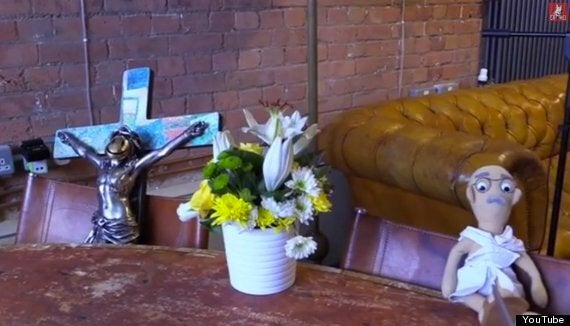 The host repeatedly shouted loudly, demanding to know: "Is Hamas a terrorist organisation? What part of this can't you get through your thick head?"
Story continues beneath video
Brand mocked Hannity's aggressive pointing and shouting at guests who invites on for debate. "You're already being unreasonable. This isn't the normal terms or terms of a debate."