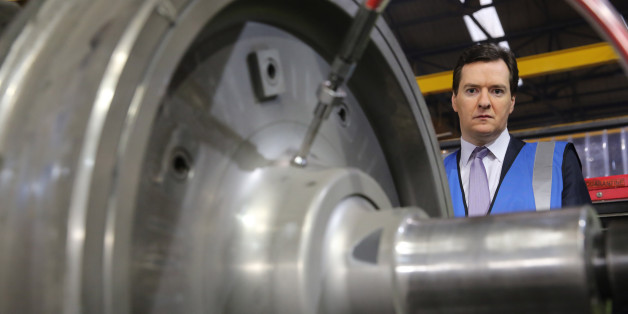 Christopher Furlong via Getty Images
The impressive recovery by Britain's manufacturers slowed last month as new figures pointed to the sector's weakest performance in a year.
Data from the closely watched CIPS/Markit purchasing managers' index survey for July gave a weaker-than-expected reading of 55.4, down from 57.2 a month earlier - but still well above the 50 threshold indicating growth.
This comes after George Osborne promised in 2011 to usher in a "march of the makers" thanks to the government's raft pf measures to help Britain's manufacturing sector.
The latest update from the manufacturing sector does raise fears that businesses are starting to feel the impact of sterling's strength, as well as jitters over looming interest rate rises and a drag on some European export markets due to the crisis in Ukraine.
The Bank of England's monetary policy committee is due to vote on interest rates next week, with most experts predicting no change from 0.5%.
However, economists said they were not overly worried by the figure, which comes on the back of one of the sector's best quarters in two decades.
Markit senior economist Rob Dobson said: "Policymakers were expecting growth to slow slightly from the impressive rate seen in the first half of the year, in part due to expectations of higher borrowing costs next year.
"Importantly, the rate of growth remains historically very strong to help contribute to yet another robust expansion of the economy in the third quarter."
CIPS said that production and new orders both continued to rise at a robust pace, albeit with the pace of expansion cooling from earlier in the year.
Growing demand from developing economies in the Middle East, Africa and Asia meant exports showed the 16th consecutive month of growth.
Job creation also remained strong - but the rate of increase in staffing levels slipped to a nine-month low, CIPS added.