Alex Salmond has been urged to reconsider his drive for an independent Scotland by a member of his own party.
As the SNP leads the charge for a yes vote in September's referendum, Alex Murray, a former Lord Provost of Perth for the SNP and member of the party for 53 years, has written to Salmond to urge him to stop pushing for independence, saying the party is "not really too sure" how the country would operate if it were independent.
Murray previously pushed for independence but, in a letter to Dundee's Courier newspaper he said he had been "definitely a bit naive" and asked whether "we have the experience required to run a country".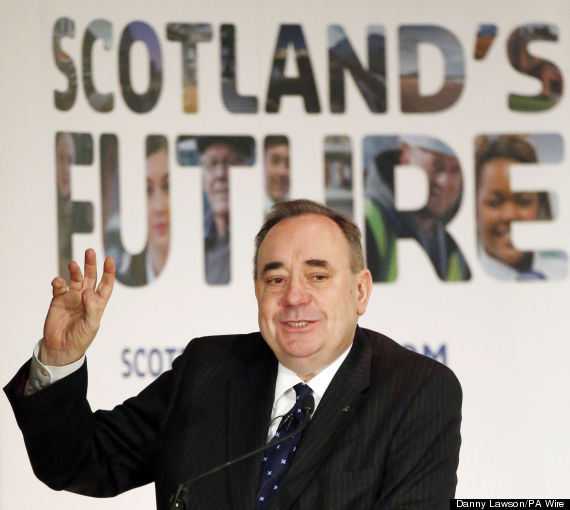 Alex Salmond 'seems to be having doubts' about how an independent Scotland would work, a party colleague said
"I would hate to think that future generations would regard our action as isolating Scotland from the rest of the world as a retrograde step from which, I doubt, we will benefit," he concluded.
"Alex Salmond is a very able person and he is very, very convincing but over the last number of months he seems to be having doubts about things," Murray told The Telegraph.
"I look at his performance – we don't have an answer with regards to the currency, no answer at all. We don't have any answer on whether we will be in the Common Market (EU) or not."
He said federalism - where Scotland would remain in the UK with greater powers for its parliament while Westminster continued to run its defence and foreign affairs.
He said: "I appeal to the powers that be to slam on the brakes and go for federalism.
"Every change is going to cost a big, big lot of money. If we went federal, we could carry on the way we are and gradually introduce any new idea we need for independence."
SCOTTISH INDEPENDENCE:
In response to Murray's comments, the SNP said voting for independence was the only way to guarantee more powers for Scotland, because there was only one question on the referendum.
The September 18 referendum will give voters one yes or no question: should Scotland be independent, rather than include other questions such as whether there should be more devolution of powers to Scotland.
"The Westminster parties specifically refused to allow a 'more powers' option to be on the referendum ballot paper - which underlines their lack of enthusiasm," an SNP spokesman told The Huffington Post UK.
"(This) means that the only way we can achieve the powers Scotland needs to build a fairer, wealthier country is to vote Yes on 18 September."