If you know any avid gardener, at some point you'll likely be invited round for dinner and leave with a bundle of excess vegetables.
But while growing veg at home often leaves gardening enthusiasts with more food than they (and their friends) can eat – a new campaign aims to put all that leftover fruit and veg to good use.
Introducing Crop for the Shop, an initiative aiming to get more people growing their own produce and selling surplus to local food retailers.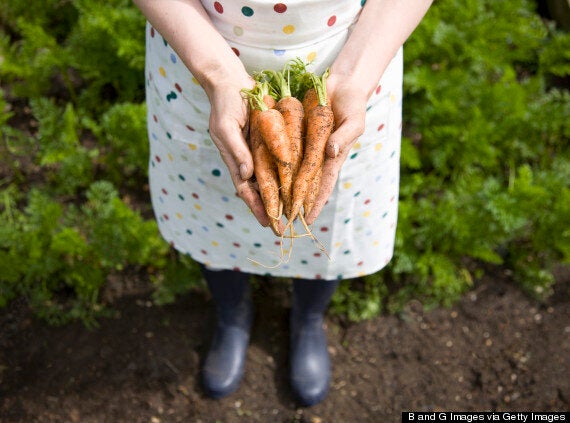 As this week marks National Allotment Week, HuffPost UK Lifestyle thought it would be the perfect time to catch up with Anthony Davison, founder of local food and drink website BigBarn, which launched the Crop for the Shop campaign.
Anthony says the initiative is "all about building a new social local food industry to replace the anti-social one."
"No one knows where their food comes from and there's no connection between the producer and the consumer," he adds.
"What we're trying to do is show people where their food comes from and actually get them to have a say in what grows locally."
The initiative is designed to be mutually beneficial, helping the producer, retailer and the consumer by shortening the supply chain and making food cheaper and fresher for all.
"We want to encourage more people to grow their own food, and what better way to encourage people to grow their own produce than to show them how they can sell their produce to local shops," Anthony explains.
"It's also great for local shops as some of them are too small to get good veg from a wholesaler, whereas if they've got local people bringing in something they've picked that morning they can have food that's better than the supermarket."
The idea for the scheme had simple beginnings - Anthony met a man called Alan Wyle at a conference.
Alan said he had an idea called Crop for the Shop which he'd been thinking about since helping a local community to establish a village shop. Alan asked Anthony to take the concept on under BigBarn - the rest is history.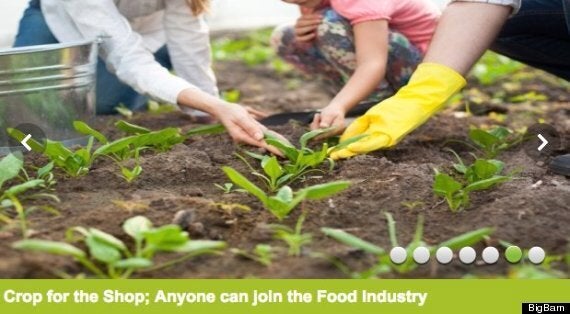 Now two years from that meeting there are over 800 people signed up to the scheme, including over 500 retailers.
Anthony puts the scheme's growing popularity down to the public's "hunger for better food. People have lost trust in the supermarkets with mad cow disease, then foot and mouth then the horse meat scandal," he says.
So what are the finer details of the scheme?
Although Crop for the Shop gardeners and greengrocers can exchange cash if they wish, Anthony and his team encourage the use of credit notes, which guarantee profit will be kept in the community.
"We supply everyone on BigBarn with a supermarket price list every month and the idea is we say 'what you want to do is undercut the supermarket price a little bit' then you give the grower 70% of the retail price in credit notes if you sell their produce.
"So it's a good deal for the shop because it means that person has to spend their money in the shop again. It's about town developing and we think 70% of retail price is incredibly fair.
"We're not here to make a big profit, we're a community interest company – we want this to become a long-term local food system so any profit we make is rolled back into the business."
The small profit BigBarn does make from the scheme comes from the £10 per month subscription fee retailers pay to take part.
Anthony says: "I had one person say to us the other day 'I've found this wonderful farm shop on your website.'
"This person said they'd be going there every week from now on and reckoned they'd spend overall about £5,000 in the shop a year – so we think paying £120 a year for membership is a pretty good deal for retailers."
It's hard to find fault in the Crop for the Shop initiative, and Anthony encourages even novice gardeners to get involved.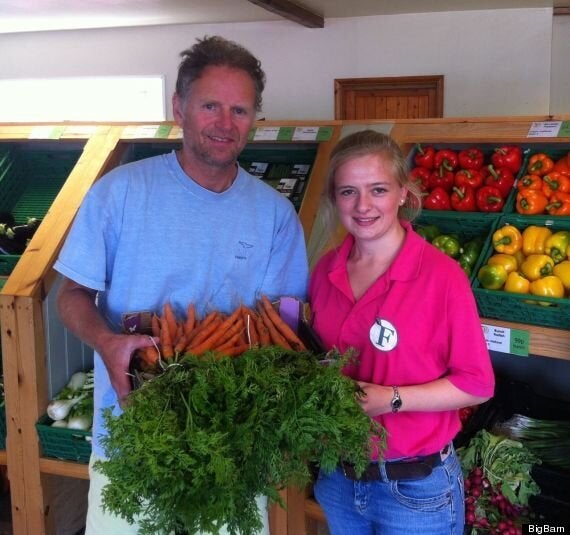 Friday Street Farm Shop's Crop for the Shop section
"Growing food is actually a lot easier than a lot of people think – sometimes it may not seem it when your rocket gets eaten by beatles as mine did this year – but when everything does come out and it's really tasty and you share it with friends, it's incredibly satisfying."
Anthony admits we need more allotments and temporary test allotments to help green-fingered folk stuck in the city get involved in growing. But for now BigBarn are focusing on taking their message to schools.
"If we could get every school in the country growing veg, cooking with it or pricing it up and taking it to a local shop, it would be fantastic.
"We also want to give all signed up shops 30 packets of seeds to give to parents and kids, to say 'whatever you've grown, bring it back and we'll sell it for you'."
To find a participating Crop for the Shop store near you, visit BigBarn's website at www.bigbarn.co.uk