An Indian photographer who released a fashion shoot echoing the 2012 gang rape and murder of a young woman on a bus has defended his work, saying it was intended to create debate around the treatment of women in the country.
Raj Shetye's photograph, called "The Wrong Turn", show a woman in designer clothes being groped, held back and pinned to the floor by a group of men in a bus.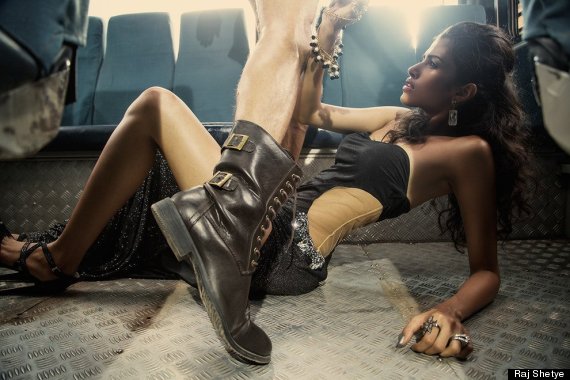 The images have a clear echo of the 2012 rape and murder of an unnamed woman dubbed Nirbhaya ('fearless one' in Hindi) on a bus in Delhi, in a case which shocked the world for its brutality and sexism.
Shetye received hundreds of angry tweets accusing him of glamourising rape and trivilaising sexual assault in his photoshoot. Tweeters accused him of being "sick", "cheap" and "insensitive" and some called for him to be arrested.
We strongly oppose and condemn the gross act of photographer Raj Shetye !!

You CANNOT glamorize a hideous crime... http://t.co/ucptFFQhsw

— Madhur Chawla (@ruhdam) August 6, 2014
One user tweeted: "I'm actually disgusted. Raj Shetye you're sick and twisted".
http://t.co/0p24FF9a5x Raj Shetye's Disturbing Fashion Shoot Evokes Delhi Bus Gang Rape | pic.twitter.com/JMZIJfIbP3

— anti-inertia (@antiinertia) August 6, 2014
Shetye has since removed the photos from online portal Behance, a site where artists can showcase their portfolios, and from his own website.
"@Telegraph: Indian 'bus gang rape' photo shoot sparks outrage http://t.co/f7clFXGtE0 (Photo: Raj Shetye) pic.twitter.com/Bwr8JBEgb4" Awful!

— John Flood (@JohnAFlood) August 6, 2014
But Shetye told The Huffington Post in a statement that he has been misunderstood and that his intention was in fact to highlight the mistreatment of women in India and to spark debate.
"I have been planning a series of photo shoots around gender insensitivity and this particular photo shoot around sexual violence against women was the first one of those. Dowry, domestic violence, marital rape are some of the other I have been brainstorming over."
"I still strongly stand by my work. People are allowed to have their opinion and express it on social media, but one has to understand that so do I. The only difference is my medium of expression is not the social media but it's my camera."
He added that his work was not created for commercial gain, or for a client, but as a piece of artistic expression to gather opinions on gender issues in India.
Despite taking the images down, Shetye feeIs he has achieved his goal of "starting a dialogue on these issues."
He said: "If the cost to set the ball rolling is that I have be the bad guy here, be it that way. I believe that this has become a controversy because of misinterpretation of my images and misrepresentation of its intent."
He added that his aim had been to challenge the attitudes of some Indian men who believe that well-dressed and attractive women travelling on public transport can be targets for assault.