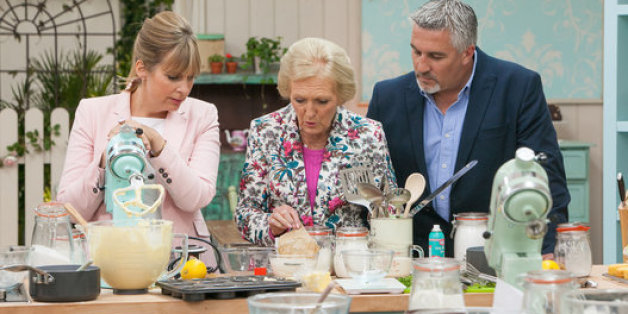 BBC
'The Great British Bake Off' made a welcome return to our TV screens on Wednesday night and as the fifth series got underway in its new home of BBC One, the Great British Cake-Loving Public had plenty to say about it on Twitter…
But first it was time to get the official handover out of the way…
Goodbye, Great British Bake Off. Have a great time on @BBCOne. Never forget where you came from.

— BBC Two (@BBCTwo) August 5, 2014
Which was graciously accepted by BBC One, complete with a puntastic tweet of thanks…
@BBCTwo Bless you, Two. We hope we haven't bitten off more than we can choux... #GBBO

— BBC One (@BBCOne) August 5, 2014
And it was nice to see the GBBO official Twitter account being all responsible…
5 minutes to go. Stop whatever you're doing and watch @BBCOne... RIGHT NOW!* #GBBO

*Unless you're a member of the emergency services.

— British Bake Off (@BritishBakeOff) August 6, 2014
Paul Hollywood's baby blues were as icy as ever.
Little known fact: Paul Hollywood slices cakes with deadly precision using only a withering glare and a rhetorical question.

August 6, 2014
But it seems hygiene standards in the GBBO kitchen may have slipped this year.
you'd think the hairy one on #GBBO would wear a hairnet over his beard

— holly (@m0wglisroad) August 6, 2014
And it wasn't long before the double entendres began…
Cracks being filled - it's time for innuendo drinking #GBBO

— Lauren Baines (@Miss_Baines) August 6, 2014
Maybe it's just me but the innuendos on #GBBO are UNBELIEVABLE. "Bring your magnificent rings to the alter" yes vicar. #itsjustmeisntit

— Gareth Case (@gareth_case) August 6, 2014
In a show which beautifully embraces innuendos, I'm devastated that it's 'Star Baker' and not MASTER BAKER. #GBBO

— THOMAS PICKLES (@picklesthomas) August 6, 2014
Heck, even the Beeb were getting in on the innuendo act (thanks Sue)…
Ladies and gentlemen, here's our #BakeOffInnuendo Of The Week. #GBBO pic.twitter.com/ErImGj2Jgv

— BBC One (@BBCOne) August 6, 2014
And as the tension built (it didn't)...
Good on the Bake Off composer for increasing dramatic tension by 8% and plinky wistfulness by 15% already this series #GBBO #GBBO14

— Andrew Lansley (@AndrewLansley) August 6, 2014
It all got a bit too much for one of the bakers, resulting in the first tears of the series. Some were sympathetic...
Claire, you are crying over cake because this is #gbbo. This is serious business.

— Sarah Batten (@sarahabatten) August 6, 2014
"I don't know why I'm crying over cake" we've all been there don't worry #gbbo

— Charlotte (@charlotteLW_100) August 6, 2014
Trust me love. We've all cried over cake. #GBBO

— Adam (@Sublime_Sophism) August 6, 2014
Others less so…
WE'VE FOUND THIS YEARS CHATTY CRIER #GBBO

— Carlos Spiceywiener (@DavieLegend) August 6, 2014
Especially when you dare question Queen Mary.
Oy, zany-bird! NEVER argue with Mr Hollywood & Mary, Queen of Cakes. Foolish, foolish girl. #GBBO

— Ali H. (@AphroditeBoy) August 6, 2014
But there wasn't quite so much love for Mr. Hollywood.
Holywood: This cakes a bit dry

Contestant: Your marriage

August 6, 2014
And, of course, we all thought we could do a much better job than any of 'em…
They've missed a trick with the British classics, I could knock up 36 identical rice crispy cakes no trouble #GBBO

— Mr Burns (@supernoodle76) August 6, 2014
You can't get away with using hundreds and thousands on the bake off.

GET OFF. #GBBO

— Amy Grace Nagy (@amygracenagy) August 6, 2014
Anyway, back to the cakes. Oh.
HOLLYWOOD. DON'T BE JEALOUS OF THE BEARD. #iainsbeard #GBBO

— David Bedwell (@DavidBedwell) August 6, 2014
Northern Irish hipster with sad eyes here to promote his cook book Mumford and Buns. #GBBO

— Aisling Bea (@WeeMissBea) August 6, 2014
LIKE US ON FACEBOOK | FOLLOW US ON TWITTER