The Daily Telegraph was forced to quickly change its main front page headline between editions last night after an unfortunate picture and story combination appeared to link Prince William and the Duchess of Cambridge with extremists targetting toddlers.
The headline "Toddlers at risk from extremists" appeared at the top of The Telegraph's front page on an early edition of the newspaper, above a large picture of William and Kate with their young son, Prince George.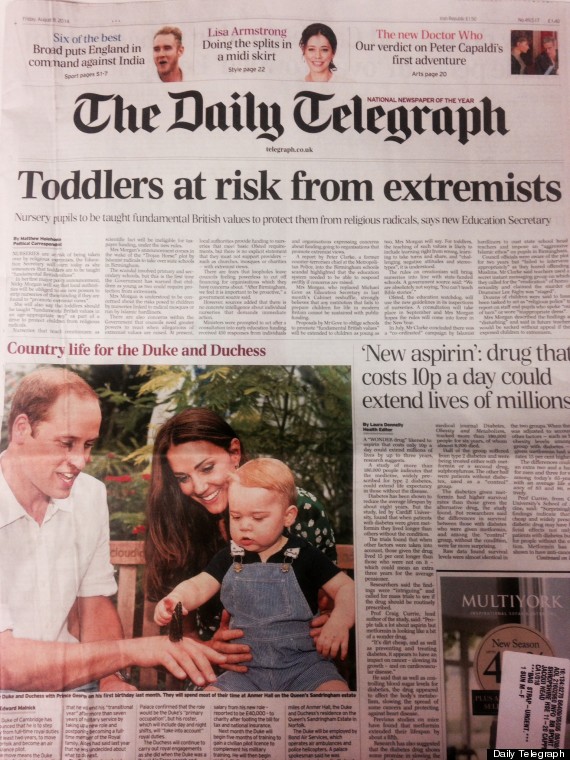 The Daily Telegraph's first headline this morning
The headline related to a story about education secretary Nicky Morgan's speech about the risk of extremism in nurseries.
The picture of the royal couple and Prince George was, in fact, part of a separate story about the Duke of Cambridge taking up a job as a pilot for East Anglian Air Ambulance, with its own smaller headline.
But the juxtaposition with the main headline caused amused readers pointed out the unfortunate layout on Twitter.
The Telegraph scrambled to update the headline in a later edition of the newspaper, changing the word "toddlers" to "nurseries" to remove the implication that William, Kate and George were involved in a toddler extremism plot.
What a shame. The Telegraph has updated its front page after that unfortunate picture/headline combo in first edition pic.twitter.com/ePV1BiJctn

— Nick Sutton (@suttonnick) August 7, 2014
The Telegraph updated its first edition. But I wonder which will be delivered to Kensington Palace this morning? pic.twitter.com/9T7JnjRq8W

— Mark Stephens (@MarksLarks) August 8, 2014
It's not unusual for newspapers to update their front page between editions as news develops after deadline.
But in The Telegraph's case this morning, the position of both the extremism story and the Prince William and Kate story stayed the same - except for the tiny headline change - showing that the edit was a quick correction to the awkward cock-up.
READ MORE: