Baroness Warsi has said resigning over the government's stance on Gaza was the only way she could "live with" herself - and denied it was "revenge" for being overlooked for promotion by David Cameron.
The Tory peer quit as Foreign Office minister earlier this week, branding Cameron's position on the latest Gaza conflict "morally indefensible".
She said: "Long after politics has come and gone, I want to be able to live with myself and by resigning and stepping down, I can live with myself."
Presenter Mishal Hussein asked Lady Warsi whether her resignation was "revenge" for being passed over for promotion within the cabinet and "not serving at the level in government that you would have wished to".
Lady Warsi replied: "If people really want to make this about politics, that really is a matter for them.
"What I'm very clear about and have been clear about for a number of weeks and have made clear in formal and informal meetings with colleagues - it is on record within government - is that I had real reservations about where this policy was.
"I had concerns about the language we were using. I was increasingly finding it difficult to hold to collective responsibility.
"In the end, I felt the only way to be able to reconcile that was to stand down and that's what I did."
She repeating her demand - backed by the Liberal Democrats and Labour - for an immediate suspension of arms exports to Israel and said she had hoped the three-day ceasefire agreed just before her resignation would hold.
"For me at that moment the concern that I had was that even if the ceasefire had held, and I sincerely hoped it had, there was still no clear language from the government in relation to the condemnation of what had happened," she said.
"There was no clear commitment that we would lead the international effort on accountability on both asides for what had happened."
Lady Warsi went on: "Our language was not there. It was lagging behind. I don't think it was just words that would have stopped me from doing what I did.
"I think it was a combination of issues. It was the language that we were using, I think it was our lack of support for international justice and accountability for the crimes that had been committed."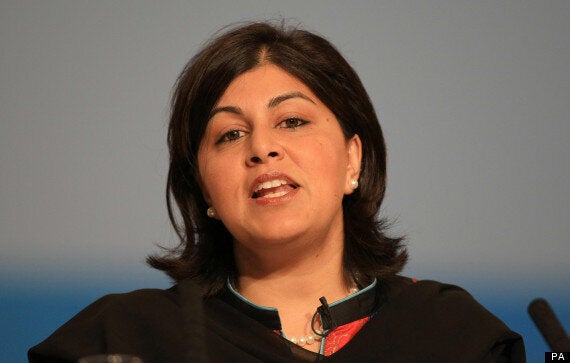 Lady Warsi said, by resigning, she could 'live with myself'
She said the government needed to "move towards a Middle East policy that is in the long term sustainable" and she cited the UK's decision to abstain when the UN General Assembly voted in November 2012 to recognise a Palestinian state as symptomatic of the problems.
"There is no point in us talking about a two-state solution if we don't do the simple things like recognising Palestine in the way that the majority of the world has at the UN," she added.
Lady Warsi dismissed complaints that she had failed to condemn thousands of rocket attacks on Israel by Hamas, or the actions of Islamic extremists in Iraq.
"This dispute in Israel and this crisis is not a crisis between two religions. It has therefore got nothing to do with whether or not someone is a Christian or a Muslim or indeed Jewish," she said.
"I have a very long and proud history of speaking out on the issue of anti-semitism, on speaking out against the persecution of Christians worldwide. I led the government effort on freedom of religion and belief.
"In relation to Hamas, as I said in my very first interview, Hamas is a terrorist organisation and I have no doubt they have not acted in the best interest of the Palestinian people.
"But I also made it clear that Israel as an occupying power has a responsibility not just to the Israelis but also to the people that it occupies.
"I have always believed in the right of Israel to exist - not just exist, but exist in a secure way.
"I do not believe that this is a way they needed to conduct themselves in order to achieve their aims."
Lady Warsi said her resignation meant she could "live with myself", and she hoped it would bring together a "broad coalition" to address the issues behind the conflict.
Last night Labour upped pressure on the Government to suspend arms exports to Israel as rocket fire and air strikes resumed.
Shadow foreign secretary Douglas Alexander called for the publication of a Whitehall review of existing licences. He also insisted that Lib Dem ministers should act to block exports, rather than merely posturing in public on the issue.
The Disasters Emergency Committee (DEC) said its appeal for Gaza has raised over £4.5m in less than 24 hours.
DEC chief executive Saleh Saeed said: "The fact that the Gaza Crisis Appeal has reached more than £4.5m in under 24 hours from launch is a testament to the amazing generosity of the British public. We have also benefited from the kind support of DFID (Department for International Development), which matched the first £2m donated by the public.
"The funds are desperately needed, with on-going fighting in Gaza creating an unbearable situation for families and children. Hundreds of thousands of people have been forced to leave their homes, the healthcare system is on the verge of collapse and many people have little or no clean water.
"Despite the end of the ceasefire, aid is getting through and many of our member agencies are still working on the ground. But with the scale of the humanitarian crisis in Gaza, they urgently need more money to scale up their life-saving work."
Popular in the Community