Katie Hopkins has given 'Great British Bake Off' fans something to be more angry about than an unrisen Victoria sponge cake, after branding series judge Paul Hollywood "easy prey", and saying that she could steer him away from his wife if she wanted to.
Paul and his wife Alexandra temporarily split up last year, following his admission that he'd had an affair with his co-host while filming the American version of 'Bake Off', which he later described as "the biggest mistake of his life".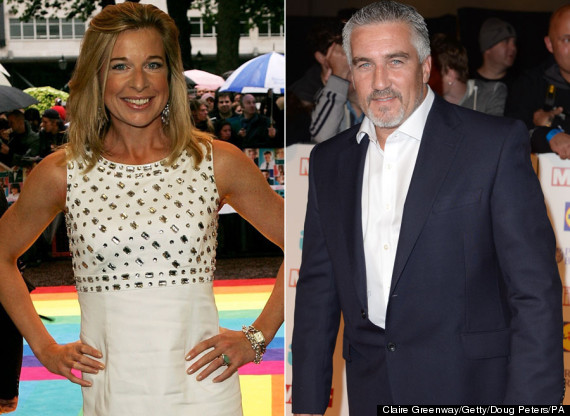 Katie Hopkins and Paul Hollywood
The couple have since reunited, with a source telling The Mirror: "He is now totally assiduous. He rings her three times every day when he is working away, he buys her flowers every week, he buys her little things from artisan chocolates to really old recipe books he's come across."
However, it would seem Katie is less than convinced that Paul is a changed man, taking to her Twitter over the weekend to say:
Paul Hollywood is one of the husbands I call easy prey. They have a 'tell' as in poker. if you wanted, you could prise them from their wives

— Katie Hopkins (@KTHopkins) August 10, 2014
When one of her shocked followers advised her to "think of his wife and child when you write things like this", she sarcastically hit back:
Sure, because he did - sure thing https://t.co/Y9y0CbTd9C

— Katie Hopkins (@KTHopkins) August 10, 2014
Katie has spoken candidly in the past about "stealing" her husband from his wife, writing in a column for Now magazine last year: "I don't apologise for stealing my husband Mark from his wife.
"Our affair was exhilarating, our time together has been a hoot and we're happy.
"If you aren't happy with your partner, an affair can be liberating."
Meanwhile, Paul's isn't the only marriage that Katie has been dismissive of on her Twitter page in the past.
Last month, when Cheryl Cole announced that she had tied the knot with her new French beau, the former 'Apprentice' star was among the naysayers on social media claiming Chezza had been too quick to say "I do".
Pulling no punches as usual, Katie wrote: "That's right up there with the decision to turn her a*** into a bush of roses."
LIKE US ON FACEBOOK | FOLLOW US ON TWITTER