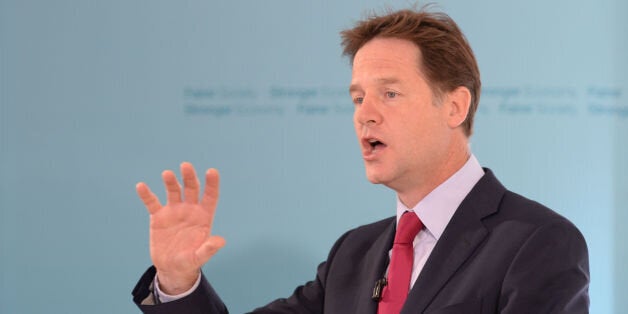 The UK should be leading the way in understanding and treating mental illness, Nick Clegg has said.
The Liberal Democrat leader called mental health issues a "sort of Cinderella", adding: "I want people who are dealing with depression to be as effectively treated as if they had diabetes."
He made the comments as his party pledged to establish a £50 million a year research fund to help bridge the gap between physical and mental health treatment under manifesto plans announced today.
Clegg went on: "I want to see Britain become the world leader in the next breakthrough in mental health research just as we have always been a country that is a world leader in research into physical health.
"We're the country where penicillin was invented, where DNA was discovered, where IVF fertility treatment was developed, I see no reason why we can't lead the world in mental health research and treatments as well.
"To that end, the Liberal Democrats will commit in our manifesto to a new research fund which, by the end of next Parliament, will be worth £50 million per year."
The fund would be set up with the aim of supporting cutting edge research to further understanding of the causes of mental illness and the most effective treatments.
All research would be published in an open access format and made freely available so that the public and health and care communities could benefit from the most up-to-date peer-reviewed studies.
According to the NHS Confederation's Mental Health Network, o ne in four people in the UK experience a mental health problem each year, yet only a quarter suffering from a common mental disorder get treatment, mostly in the form of medication.
In addition, more than two million people with a mental health condition are out of work and mental health conditions are the primary reason for claiming health related benefits.
Just four in 10 employers say they would hire someone with a mental health condition compared to six in 10 for a physical health condition.
In 2010, the Mental Health Foundation and the Institute for Psychiatry estimated that around £74 million is currently spent annually on mental health research.
Related