The No campaign's lead has reached a record low among people who are certain to vote in the independence referendum, a new poll suggests.
But support for No among all 1,003 people polled, including those who may not vote, took a big swing upwards in July, suggesting Better Together has work to do to physically get its supporters to the polls and extend its lead among those certain to vote.
Support for Yes has risen to a high of 38% among people who will definitely vote on September, and No has held steady at 46%, the same position it held as far back as November in a previous TNS poll. Those who say they do not know how they will vote has reached a record low of 16%.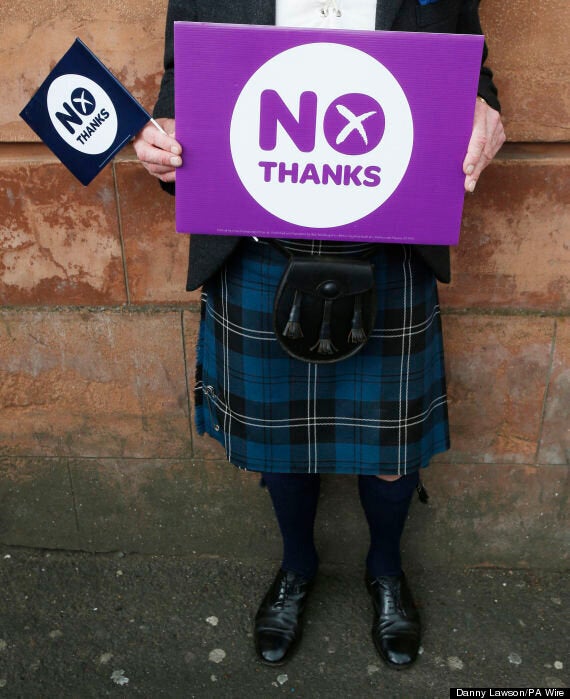 A Better Together campaigner outside the launch of the organisation's 100 Days to Go campaign at Community Central Hall in Glasgow
No rose four points to 45% while Yes remained stuck on 32%, a position it also held in November, among all people polled.
The survey was largely conducted during the Commonwealth Games in Glasgow, with some interviewing taking place after the August 5 televised debate between First Minister Alex Salmond and Better Together leader Alistair Darling.
Tom Costley, head of TNS Scotland, said: "The fact that opinion among those certain to vote is holding steady is consistent with our previous polling, which has shown that voters on both sides are firmly committed to their views.
"With only a few weeks until the referendum, the hopes of the Yes campaign rest on winning over most of the dwindling number of undecided voters - at the end of last year, 25% of those who said they were certain to vote had not made up their minds: that important pool of voters is now a third smaller."
In all the TNS pre-referendum polling, one consistent theme is that the voters in Scotland are unhappy about the amount of information they have been given to help them make a decision.
The latest poll shows that even after months of debate and discussion and with only weeks to go until the vote, neither campaign has succeeded in giving a clear picture of what will happen after September 18.
Only 29% say they have enough information about what will happen after a Yes vote and 36% about what will happen after a No vote.
Costley added: "While it would appear that there is still a lot of uncertainty about what will follow a Yes vote - as highlighted by the ongoing discussions about currency - the lack of clarity about a No vote suggests many are still unsure about the additional powers being offered to Scotland by the main unionist parties."
In another poll, support for independence has increased despite growing anxiety about how a Yes vote would affect Scotland's economy and international standing.
The latest Scottish Social Attitudes survey found support for a Yes vote increased from 36% to 39% during the last 12 months, while No support fell from 64% to 61%, excluding undecided voters.
Despite this, 38% now feel an independent Scotland's influence on the world stage would be weaker, up from a quarter in 2013.
Fears have also increased over the state of the economy under independence, with 44% believing it would be worse, an increase of 10 points since last year.
The survey was carried out between May and July this year.
Yes Scotland chief executive Blair Jenkins said: "These are encouraging findings - among those in the TNS poll who are certain to vote, the gap has narrowed further this month, putting Yes at a new high.
"Once don't knows are excluded, Yes is at 45%, and two other recent polls put Yes support as high as 47% - within touching distance of a majority in September.
"And the Scottish Social Attitudes survey shows that the Scottish Parliament making all the decisions for Scotland is by far the most popular option - having increased by 10 points since last year. That is exactly what a Yes vote will deliver, and what the referendum is all about.
"A Yes vote is our one opportunity to protect the NHS from Westminster privatisation, create more jobs in Scotland, and transform childcare instead of wasting billions of pounds on Trident nuclear weapons."
Better Together campaign director Blair McDougall said: "The momentum is clearly with the campaign to keep Scotland in the UK. This is just the latest poll to show more and more Scots are saying no thanks to independence."
Related