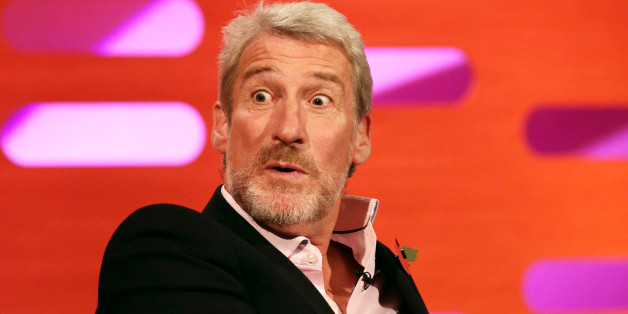 Yui Mok/PA Wire
Jeremy Paxman has faced the wrath of the elderly and been called a "horrible little man" by Piers Morgan after saying that there should be Dignitas clinics "on every street corner" to bring down the UK's elderly population.
The former Newsnight presenter's stand-up debut has somewhat backfired after OAP groups reacted angrily to his euthanasia jokes and claims that Britain has too many old people.
Paxman - the master of angry, combative interviews - finally bowed out of presenting the BBC politics show after 25 years at the helm in June this year.
Trying his hand at comedy in a one-man show at a warm up gig for his new Edinbirgh Fringe show, Paxman, 64, said this week that old people are "bloody everywhere".
The veteran journalist, who will qualify for a state pension of his own next year, said: "The dislike of old people - I share this prejudice despite almost being one myself.
"The problem with old people is they are bloody everywhere. You cannot get on a train or go to a country pub. They are all full of old people," the Evening Standard reported Paxo as saying.
"Through no fault of their own, they believe the state owes them a living.
"They are under the illusion they have paid to a pension fund all their lives. But they haven't."
He went on: "Successive governments have comprehensively mismanaged the whole pension arrangements in this country. Their pensions are being paid out of what you earn. So we all have to keep working so they can stay in that state of euphoria.
"I would like to invite you all to join my crowd-funded project for franchises of Dignitas clinics.
"We will have them on every street corner. It would be rather like Sweeney Todd's pie shop and will be disguised as tea shops. You will take Aunty Doris there and drop her off and she will say 'see you next Tuesday' and you'll say 'probably'."
Many took to Twitter to slam Paxman's "tasteless" jokes.
Horrible little man > http://t.co/w9vxz85vEL #Paxman

— Piers Morgan (@piersmorgan) August 15, 2014
Jeremy Paxman should just euthanise himself and save us all his daft rants.

— Zoe W. (@mrs_moog) August 15, 2014
Surely better thigs for jeremy paxman to make jokes of than disposing of "too many" older people

— Jon Barrick (@JonBarrick1) August 15, 2014
@Daily_Express \a dignitas clinic for every tasteless Paxman

— Finn McCann (@successcvs) August 15, 2014
@piersmorgan You're not surprised are you Piers? #Paxman has always been an #obnoxious #turd

August 15, 2014
However, others defended him:
If we printed an article on every single controversial thing a comedian said there would be no trees leeft on Earth http://t.co/TPnU2fy7v9

— Keumars Afifi-Sabet (@Keumars) August 15, 2014
He's correct, choice is good "Jeremy Paxman on stand-up debut: 'We need a Dignitas on every corner'" http://t.co/ze9FjmawLP @MailOnline

— Onésimo here (@onesimohere) August 15, 2014
George Durack, chairman of the Islington Pensioners Forum, told the Standard that Paxman is "ostracising" old people.
"He's going to be old himself, and I hope he regrets every phrase that he has made about old people.
"I'm nearly 90 and I cherish the idea that I can still get about.
"I see the people much younger than myself, who have done a wonderful job in their lives, and now they are being ostracised by that man."
The Newsnight presenter's show 'Paxo' is promoted as "a spontaneous roller-coaster ride inside the mind of a broadcasting icon ... with surprises galore and a guarantee that no two shows will ever be alike".
It runs at the Pleasance Courtyard in Edinburgh from 18-25 August.