More than 10,000 Israeli demonstrators marched through the streets of Tel Aviv to call for an end to the Gaza conflict which has seen almost 2,000 Palestinians killed.
The demonstrators, under the umbrella of several left-wing parties called for a return to peace negotiations, two days after another march called on the government to keep up the bombardment of the Hamas-controlled Gaza Strip and for solidarity with southern Israeli communities under rocket fire.
"Following a painful month of war and death, in view of waves of incitement and hatred that are tearing apart Israeli society, we call for a demonstration for peace and democracy," the group's Facebook said, according to Haaretz. "The next round (of violence) can be avoided. We don't have to sink into an abyss of ever-crueler wars, of extreme hatred and a destruction of our neighbors and ourselves.
"Only an agreement will ensure long-term security and quiet for residents of the south and of the entire country. There is another way – immediate dialogue with Palestinians to ensure a fair peace, the opening of Gaza and a determined stand of Arabs and Jews against racism and for life. Only a two-state political solution will guarantee independence, justice, security and hope for all people living in this land."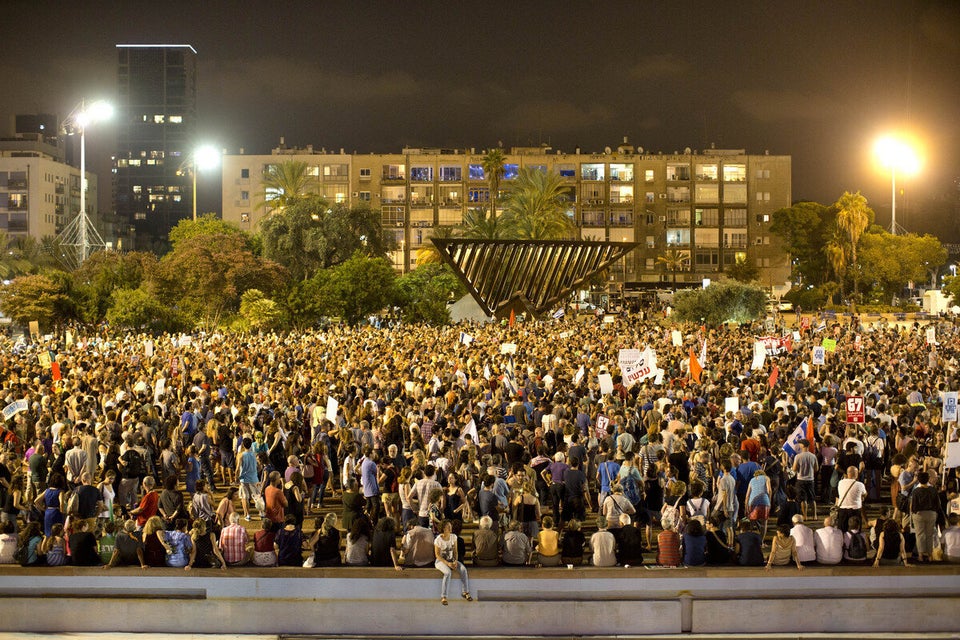 Israelis call for peace
-----------------------------------
In the square named after assassinated President Yitzchak Rabin, speeches were made by Israeli author David Grossman, the left-wing Meretz party chair Zahava Gal-On, the Jewish and Arab socialist Hadash party chair Mohammed Barakeh, as well as Naomi Tzion, a resident of the southern town of Sderot which has borne much of the brunt of Hamas rocket fire.
Gal-On accused prime minister Benjamin Netanyahu of failing his citizens. "You could have achieved the framework you're willing to accept now without paying the price of 64 dead soldiers and civilians, the death of 2,000 Palestinians, and the horrible destruction in Gaza, including almost half a million people uprooted from their homes," she told the crowd, according to a Haaretz report.
"Neither side in this war has a victory picture. There are only indescribable images of death and destruction. Every image depicts defeat for both peoples," Grossman said.
"There is no military solution for the conflict between Israel and Hamas. There is no military solution that will end the suffering of Israelis in the south and the inhumane suffering of people in Gaza. People in Israel won't be able to breathe freely either, until the stranglehold on Gaza is lifted."
"We won't be able to breathe deeply in Israel as long as people in Gaza feel choked.
"We will always be neighbors with people in Gaza. We must live together."
The protest was heavily policed after right-wing protesters said they planned a counter-demonstration.
The EU is prepared "to play a strong role" to ease the blockade of the Gaza Strip, and prevent the illegal flow of weapons into the beleaguered nation, according to the EU's foreign policy chief, Baroness Catherine Ashton.
"The situation in the Gaza Strip has been unsustainable for many years and a return to the status quo prior to the latest conflict is not an option," the EU foreign ministers said in a statement.
Israel and Hamas are observing a five-day temporary cease-fire in an attempt to allow indirect talks in Cairo. Hamas is demanding the lifting of the blockade, with Cairo pushing for Palestinian Authority President Mahmoud Abbas' forces to take responsibility for border control.
The fighting has so far killed more than 1,900 Palestinians, the majority of them civilians. Israel has lost 67 people, three of them civilians.
Popular in the Community