An international investigation is under way into a man's death after a shipping container full of immigrants arrived at the Port of Tilbury.
Police are trying to piece together how the 35 men, women and children came to be in the container, which arrived at the Essex dockyard on a P&O Ferries container ship from Zeebrugge in Belgium this morning.
Superintendent Trevor Roe said the stowaways, both adults and children, were found in a container that arrived on a P&O ferry from Zeebrugge in Belgium at about 6.30am. One man died and the others were taken to three hospitals.
"All we know at the moment is that we believe them to come from the Indian subcontinent, but it is still early days. It is a homicide investigation from the police point of view at this time," Roe said.
The group was discovered after port staff heard "screaming and banging" coming from a container, he added. He said there were about 50 containers on the ferry and searches were continuing to establish whether any others contained people. "This is a humanitarian issue and the welfare of these patients is a priority," he said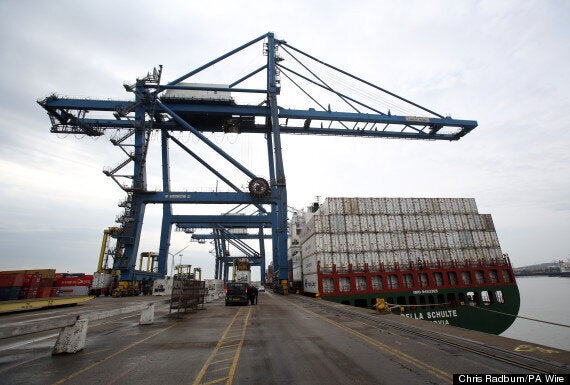 The quay side at Tilbury Docks in Essex
Describing them as victims of "people trafficking", Roe said they had been in the container a "significant amount of time" and that now police were working with international agencies to establish their movements prior to arriving in the UK.
"Exactly where they travelled from and their intended destination remains unclear. My understanding on the update of the 35 people is this - they are recovering fairly quickly in most cases and are being detained under immigration powers and will be taken to a reception centre. A handful of individuals might be kept in overnight for observation but my understanding is most of the persons are recovering well.
"Once the victims - and I will call them victims - of this crime, people trafficking - we need to understand the origin of that, and we need to establish through investigation what offences have been committed."
James Brokenshire, immigration and security minister, said the incident was a "reminder of the often devastating human consequences of illegal migration".
He said: "We know that criminal gangs are involved in what amounts to a brutal trade in human lives. We also know that illegal migration is a Europe-wide issue. That is why we work closely and collaboratively with law enforcement and port authorities, in neighbouring countries, to target criminal networks and ensure that the organised gangs behind trafficking and people smuggling can't operate with impunity.
"This incident is now a criminal investigation. Border Force officers are fully engaged with Essex police and the Tilbury port authorities as the necessary steps are taken towards bringing those responsible to justice. Local NHS staff have been providing the adults and children with the urgent care they need."
Shadow immigration minister David Hanson said:"The tragic death at Tilbury is a stark reminder of the human consequences of the trafficking trade and why we need now to take effective action in the House of Commons to bring this to an end. It is important that we also continue to put in place effective measures across Europe to identify those who are involved in this trade before individuals reach the UK."
Basildon Hospital said it was "responding to a major incident", and a spokeswoman said the hospital was providing treatment for 19 people including seven children. She added that "they are all currently being assessed," and that the hospital's accident and emergency centre is still open.
A spokeswoman for Public Health England said it was not involved in the response to, investigation of or anything to do with the incident at Tilbury Docks.
She said: "If it was ebola, health care professionals are so alert at the moment to signs and symptoms that should there have been anyone who was showing symptoms we would have been notified immediately. I think we can be confident that we are not dealing with that."
She added: "We are not involved in any investigating or testing of viral hemorrhagic fever in relation to this incident."
Darent Valley Hospital in Dartford, Kent, said it was "currently on standby to receive cases". A police officer at the scene said they are still trying to determine the nationalities of those on board the container but they are believed to be of Indian origin, possibly Punjab.
A spokesman for East of England Ambulance Service NHS Trust confirmed that 35 people were involved in the incident and that one patient had died at the scene while others were suffering from severe dehydration and hypothermia.
"After initial treatment by ambulance crews, all patients have now been conveyed to surrounding hospitals for further care; seven have been taken to Southend Hospital, nine to London Whitechapel Hospital and 18 to Basildon Hospital," he said.
The service sent a hazardous area response team to the docks after it was called out at 6.37am to treat people who had been found in a container. A statement said: "We sent seven ambulances, two rapid response cars, a patient transport services vehicle, two duty operational managers, two Basics doctors and our hazardous area response team (Hart), a number of which are still on scene."
"We are working closely with other members of the emergency services at the scene, with our priority to ensure patients receive the medical help they need as quickly as possible."
Staff from the Port of Tilbury and UK Border Force are also dealing with the incident. The BBC reported that Belgian police believe they have identified a lorry which delivered the container to Zeebrugge on CCTV footage, but currently have no information about where it originated from.
Natalie Hardy, from P&O Ferries, said the immigrants were in a container on board the Norstream, a commercial vessel which carries freight between Zeebrugge and Tilbury.
She said the ship was scheduled to leave Zeebrugge last night at 10pm and arrive at Tilbury today at 6am, and was carrying 64 containers, 72 trailers and five lorries and drivers. Hardy said: "They (port authorities) found 35 clandestines on a container in the ferry. They had been in there overnight, because the ship was an overnight freight ferry.
"This morning when they went to unload containers there was a noise heard, a banging. One unfortunately was dead and others were taken to hospital. UK Border Agency and all emergency services were called and went to the scene and have been handling it since."
Hardy said the container arrived on the quay at Zeebrugge yesterday at 6.56pm and was loaded on to the ferry at 8.07pm.
According to the website MarineTraffic.com, the 180m by 25.5m Norstream was built in 1999 and its registered in the Netherlands.
Yves Le Clef, harbour master at the Port of Zeebrugge, said he he had no information about the incident. "This is the first I have heard," he said.
The port's website describes it as an "ideal location to serve the markets of continental Europe as well as the British Isles" and the "main gateway to Europe". It says the port's total cargo traffic has tripled from 14 million tonnes in 1985 to 43.5 million in 2012.
Essex Police have set up a casualty bureau for people to call if they are concerned about relatives, which are 0800 056 0944 for those calling inside the UK or 0207 158 0010 if dialling from outside the UK.