Campaigners have threatened the Government with legal action over its failure to suspend exports of military equipment to Israel.
A review of existing export licences ordered by Prime Minister David Cameron amid pressure from the Liberal Democrats and others over the violence in Gaza found 12 were for components which could be part of equipment used by the Israel Defence Forces in its offensive against Hamas. With both sides presently observing a ceasefire, Cable signalled that they will be suspended in the event of the "resumption of significant hostilities".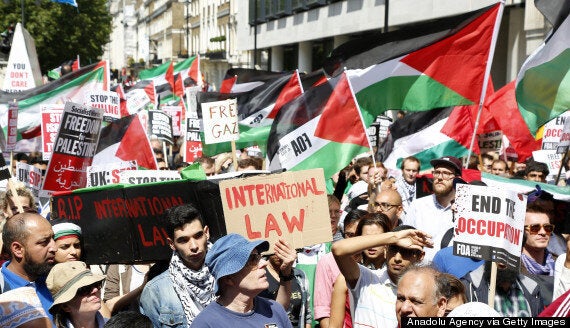 Tens of thousand people have demonstrated against Israel's Gaza attacks
But CAAT says no proper definition has been given of that threshold or of whether any of the materials which have already been exported may have been used in illegal acts. "The concept of a 'resumption of significant hostilities' is not defined or explained nor, indeed, is the rationale for such a threshold given that conduct occurring outside significant hostilities (such as a single airstrike) could equally violate international humanitarian law or human rights law," the lawyers' letter to Cable said.
Neither was there sufficient clarity over when the issuing of new licences - which has been suspended as a precaution - would be resumed, it said. CAAT says 131 such licences have been granted, with £41.5 million worth of UK components being sent to Israel that can be used in drones, radar, targeting systems and other military hardware.
It said they "may have been - and may continue to be - used in the commission of grave breaches of international humanitarian law and/or international human rights law". The deaths of 10 civilians in a strike on a United Nations school in Rafah - cited by UN Secretary General Ban Ki-moon as a "gross violation" of international law - were an example, the letter said.
"Subject to any new information you provide us, we consider that the failure of the UK Government to suspend existing licenses for the export of arms to Israel is unlawful where there is a risk that such arms may be used in hostilities in Gaza," the letter concluded. "Unless the UK government agrees to suspend existing licences, we are instructed to consider issuing judicial review proceedings."
Rosa Curling, from the human rights team at Leigh Day, said: "If arms from the UK are being used to commit crimes against humanitarian law, and human rights law, then export licences for these materials must be revoked immediately. If this is not done, the Government's current policy is unlawful and susceptible to legal challenge.
"We have asked the Government to clarify the review of the arms export licences and requested details of all current licences to understand what is being sent so we can get a better picture of whether any of the arms supplied by the UK have been, or may be, used in criminal acts."
CAAT parliamentary co-ordinator Ann Feltham said: "After the slaughter of recent weeks, it beggars belief that the UK Government is continuing to allow the export of components which it admits could be part of equipment used by the Israel Defence Forces in Gaza.
"Such equipment containing UK components has been used in Israeli attacks in the past and the licences should never have been granted in the first place. This is another example of the UK Government doing everything possible to facilitate arms sales, overlooking human rights and conflict considerations."
Popular in the Community