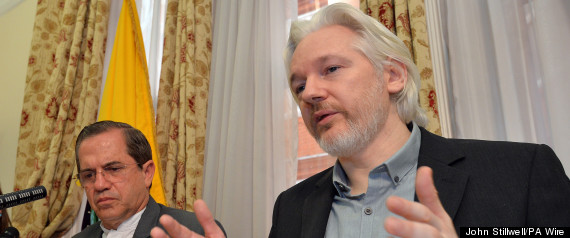 He's out! Almost!
Yes, Julian Assange announced at a press conference today that he will be leaving the Ecuadorian embassy in London "soon".
St Julian of Assange has held a press conference saying he would like more attention and sympathy "soon" without giving further details.

— fleetstreetfox (@fleetstreetfox) August 18, 2014
Well, we say Julian Assange announced it...
Julian Assange looks nervous about leaving the Ecuador embassy pic.twitter.com/c6WsdAJkoH

— Unnamed Insider (@Unnamedinsider) August 18, 2014
Totally not the point but never seen a man with so many diff hairstyles as Julian Assange. Today: the Richard Branson pic.twitter.com/weptLC73B6

— Felicity Morse (@FelicityMorse) August 18, 2014
Julian Assange reveals plans to replace Noel Edmonds on hit tv show 'Deal or No Deal' #NoelorAssange pic.twitter.com/uZo3kHFWn5

— Mike Cripps (@crippsma) August 18, 2014
@HuffPostUKPics more proof! pic.twitter.com/7UUXGGxicu

— Andrew Bannister (@andrewbannister) August 18, 2014
Yes, in case you hadn't spotted it:
Julian Assange has grown a beard to disguise him when he leaves the embassy.

Oh shit, sorry.

— Bao Bao (@fiatpanda) August 18, 2014
Unfortunately, the press conference wasn't quite as exciting as some had hoped:
Julian Assange bursts onto the balcony of the Ecuadorean embassy, reaches into his pocket and produces a wand. EXPECTO PATRONUM

— Amy Coopes (@coopesdetat) August 18, 2014
"It's time to FREE JULIAN ASSANGE!" *wikileaks intern clicks play on boombox* *Tom Petty's Free Fallin' starts up* *Assange punches air*

— Kit Lovelace (@kitlovelace) August 18, 2014
In fact, it was disappointingly dull:
BREAKING: Journalists to leave Ecuadorean Embassy "soon" due to lack of a news story. #assange

— Stuart Hughes (@stuartdhughes) August 18, 2014
Clearly Julian Assange's last desperate plan was to bore everyone comatose at the press conference so he can then simply walk free.

— David Schneider (@davidschneider) August 18, 2014
There were several theories as to why Assange was leaving...
Bet the Ecuador embassy staff are sick of Assange taking his oversized plate to the breakfast buffet and dismantling the Corby trouser press

— Gareth (@thehandofbeadle) August 18, 2014
Julian #Assange to leave Ecuadorean embassy after finally giving up on trying to get Netflix to work.

— Newsfox (@theNewsfox) August 18, 2014
Big news from the Ecuadorian embassy pic.twitter.com/OKxktX4cI4

— General Boles (@GeneralBoles) August 18, 2014
...and theories as to where he'll go next:
Julian Assange is leaving the Ecuadorian embassy to take up residence in the International Space Station.

— Carl Maxim (@carlmaxim) August 18, 2014
But had he really been 'detained' all this time? Twitter thought not:
Assange has been 'detained' by Britain in the same way I'm 'detained' in my house on a rainy Sunday.

— Ian Dunt (@IanDunt) August 18, 2014
Julian Assange is detained by the British State in about as much the same way as I am detained by LBC from 4-8pm weekdays h/t @IanDunt

— Iain Dale (@IainDale) August 18, 2014
Julian Assange being forcibly detained in the Ecuadorian embassy reminds me of being forcibly detained in the pub the other week.

— David Whitley (@mrdavidwhitley) August 18, 2014
And of course, not everyone was happy about the news:
I'm annoyed Julian Assange is leaving the Ecuadorian embassy. That's one fewer daytime viewer for my brand new quiz Two Tribes (BBC2 6pm)

— Richard Osman (@richardosman) August 18, 2014
Although there were lessons to be learned:
Assange saying he 'only' does 1 hour of exercise per day makes me feel pretty lazy and probably unhealthy.

— Richard Moynihan (@richjm) August 18, 2014
But back to that exit from the embassy - how exactly is it going to happen?
Julian Assange has a plan to leave the embassy - walk to the door and turn the door knob?

— steve hawkes (@steve_hawkes) August 18, 2014
"What does 'Salida' mean?"

"It means 'Free stuff'. Just go through and help yourself."

"Brilliant, thanks!"

"No problem Mr Assange."

— The_No_Show (@The_No_Show) August 18, 2014
"I," Julian Assange announces sonorously, "Will leave the Ecuadorian embassy soon, via jetpack to a waiting motorboat, or maybe by minibus."

— Eel (@ncguk) August 18, 2014
Of course, when he actually leaves, this could happen:
Traditionally if, a Julian Assange emerges from hole and sees his shadow, it's six more weeks of news coverage

— Baz (@bazlyons) August 18, 2014
Still, as long as he's careful on the way out:
Meanwhile outside the Ecuadorean embassy, police prepare an Assange trap ready for in case he emerges. pic.twitter.com/qQy11rQGXP

— Phil Gibson (@philgibson01) August 18, 2014
And remember: there's always someone else who could do with holing himself up for a while...
Ian Botham just texted Julian Assange: "Hurry up and clear off. I need the room."

— Ian Hyland (@HylandIan) August 18, 2014
SEE ALSO: