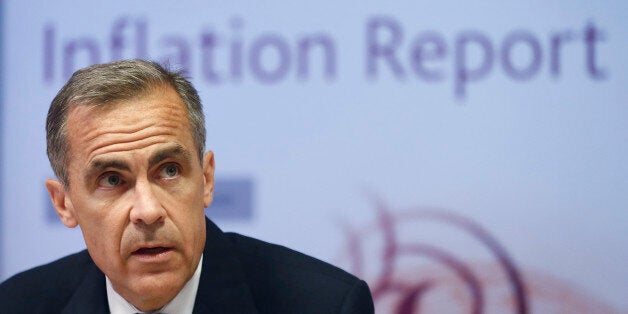 The Bank of England will not wait for Britons' wages to grow in real terms before hiking interest rates, governor Mark Carney has said.
Carney's latest remarks about when Bank policymakers would look to raise interest rates, seeing the cost of borrowing soar, come after he said last week there would be "particular importance" placed on wage growth.
Speaking to the Sunday Times, he said: "We have to have the confidence that real wages are going to be growing sustainably [before rates go up]. We don't have to wait for the fact of that turn to do so."
"As the expansion continues, rates are going to go up," he warned. "People should plan accordingly."
The Bank governor said Britain was "more than halfway" to economic recovery, but that it still faced a number of key risks, including the lack of rising wages.
"There are multiple headwinds for the British economy," he said. "A very weak Europe, the persistent strength of the pound... and British households that are still heavily indebted – not least because they haven't seen real wages increase."
Debate has raged over when the Bank of England will finally start to raise interest rates from their 0.5% historic low, which has remained in place since 2009, with expectations that the first hike could come as early as the end of the year.
Samuel Tombs, economist at Capital Economics, told the Huffington Post UK that the Carney's latest stance was a "signal that there is a fair amount of spare capacity in the economy and scope for rates to stay low".
Describing his flagship forward guidance on interest rates as "boring and consistent", Carney stressed that wages were "not a new threshold".
Fears that Carney may have to hike rates to head off a housing bubble have been eased after new figures suggested house prices and mortgage lending were falling.
According to the Rightmove property website, house prices fell by 2.9% month-on-month, with sellers' asking prices at an average of £262,401 in August, the largest dip recorded for that month since Rightmove began its study.
Meanwhile Nationwide, Britain's biggest building society, reported a 9% fall in gross mortgage lending to £5.8 billion in the first quarter to the end of June.
Its market share also shrank to 11.4% from a strong period last year when it was 15.5%. Competitors stepped up the pressure after a period when they had been more cautious as they were forced to build up their capital base by regulators.
Finance director Mark Rennison said that how long signs of cooling in the housing market would continue was "difficult to gauge".
He said it was unlikely to fall "to any really significant degree", particularly as the supply of housing demand continued to fall short.
But he said of the latest figure: "It is another installment of some evidence that the market is certainly not continuing to heat up, and there is a degree of cooling going on."