Sky News is being investigated by communications watchdog Ofcom after more than 200 people complained about one of its reporters rifling through a victim's suitcase after the Malaysia Airlines flight MH17 crash.
The broadcaster apologised after journalist Colin Brazier was filmed picking up a toiletry bag and a set of keys from an open suitcase at the scene in eastern Ukraine.
During the broadcast, Brazier himself seemed to realise his mistake telling the audience: "I shouldn't really be doing this, I suppose."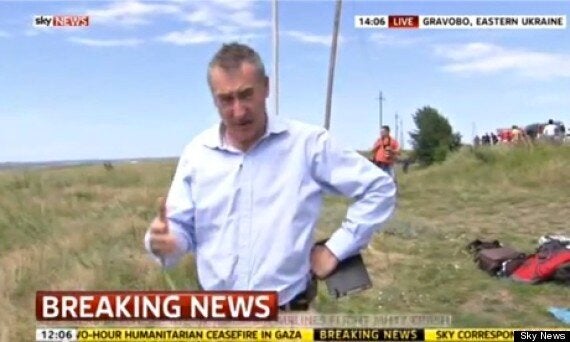 Colin Brazier reporting live from the crash site in Gravobo, Eastern Ukraine.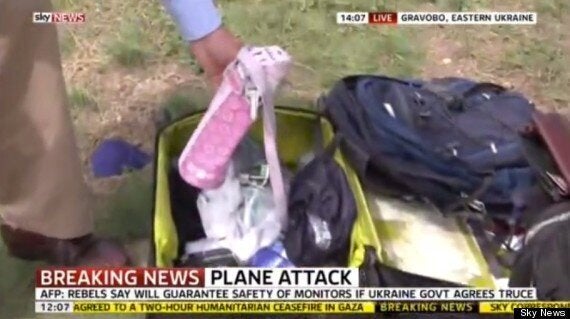 Brazier picks up what appears to be a drinks container from a suit case
An Ofcom spokesman said: "Ofcom received over 200 complaints about this news report. Having assessed these, there are grounds to investigate under our rule on potentially offensive material. As in all investigations, we will take relevant circumstances into account, including any action taken by the broadcaster, in reaching a decision."
The broadcast, on July 20, was met with an outpouring of outrage on Twitter with many viewers calling it "shocking" and "disgusting".
Speaking at the time, a Sky News spokeswoman said: "Colin immediately recognised that this was inappropriate and said so on air. Both Colin and Sky News apologise profusely for any offence caused."
Brazier is described by Sky News as one of its "most widely travelled" reporters who has previously been honoured for his reporting in Afghanistan.
Two days after the broadcast, he wrote in the Guardian about what he called "a serious error of judgment".
He said: "At the weekend I got things wrong. If there was someone to apologise to in person, I would."
David Cameron called the incident "completely inappropriate," while the family members of British victims also spoke out in outrage.
Asked if media should behave itself while covering MH17, the Prime Minister said at the time: "People are leafing through personal belongings in a way that is completely inappropriate," he said.
He said while it was "mostly separatists" doing this, there "have been occasions where mistakes have been made by members of the press".
Cameron added: "this is effectively a murder scene."
Leeds University student Richard Mayne was one of those who perished on board the Malaysia Airlines flight when it was hit by a surface-to-air missile last Thursday.
Speaking from the family home in Leicestershire, his brother Thomas told the Daily Mail: "I think it's totally out of order. It's not on.
"It's sick and the worst example of news journalism which is sensationalising an appalling human tragedy.
"On behalf of our family, I totally denounce the practice of Sky reporters looking through the victims' possessions.
"I really hope Richard's stuff isn't part of that but it's really not on. For all the families involved, they really should not be doing it."
In another example of evidence potentially being damaged at the scene, a BBC reporter was filmed handling victims documents live on air.
Popular in the Community