Gordon Brown has urged Scots to "think twice" before voting 'Yes,' in a stark warning against independence as the referendum campaign enters its final stage today with just four weeks to go until the fate of the nation is revealed.
In a fierce attack against the First Minister of Scotland, Brown argued Alex Salmond's plans would leave Scotland in a "neo-colonial" position.
Making the case for a No vote in Glasgow, Brown argued that oil cash would only pay for a "fraction" of public services if the country left the UK, and insisted Scotland must remain a part of the Union to ensure the costs of health care and welfare continued to be shared.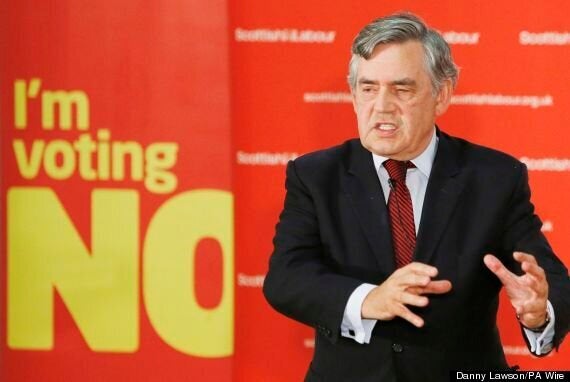 Former Prime Minister Gordon Brown delivers a Scottish referendum keynote speech
In a keynote speech, the former Labour leader said while Scotland spent some £40 billion a year on health, education, pensions and social security, forecasts had shown that, in the first year of independence, oil revenues would amount to £2.9 billion.
With less than four weeks to go until voters north of the border decide if the country should become independent or stay in the UK, Brown told an audience in Glasgow that Scots benefit from higher levels of spending per person than in England.
With NHS funding based on need, he said £950 million more came to Scotland than if health spending was determined solely by the size of the country's population.
Health has become a key battleground in the independence campaign, with nationalists claiming the only way to protect the NHS from privatisation is to vote Yes on September 18.
But Brown said the health service is too vital to throw away for independence.
"You've got to think twice about the benefits of throwing all this away with Alex Salmond's proposals for separate national health services in Scotland, Wales, England and Northern Ireland," he said.
He argued that there is "no point" in getting rid of the unified funding of national healthcare in Scotland saying it "actually benefits" from being part of the UK system of funding.
"Every year we spend in Scotland £2,115 on average for every single Scot, every man, woman and child. That's about £40 a week on average is spent for the typical Scot on health care. In England the figure is £1,912," he said.
He argued "it is time" the Scottish National Party admitted "the reason is we fund our health service because of the needs of people."
"Why should we throw all this away, especially when we can spend the money in Scotland in any way we choose?"
With health decisions already devolved to the Scottish Parliament, Brown said the only person who can privatise the National Health Service in Scotland today is actually Alex Salmond - because "it is in Scotland alone the decisions about the future allocation of resources and the private/public balance in the health service is made."
He told the audience at the Emirates Arena that 87% of English people and 90% of Scots supported having a health service that is free at the point of need.
"There is no culture clash between Scots and English on that," he said.
"The Scottish people, the English people, the Welsh people, Northern Irish people, they love the idea of a National Health Service and we should fight together to preserve the National Health Service.
"Why should we throw all this away when we know perfectly well that the SNP have not proved to us they could even fund the national health service properly?"
He said the UK Office for Budget Responsibility (OBR) had forecast that in 2016-17 - potentially the first year of an independent Scotland - oil revenues would be worth £2.9 billion.
While the Scottish Government believes these could be higher at £7 billion, Brown said these figures had been challenged earlier this week by oil expert Sir Ian Wood, who claimed that the nationalists had overestimated the amount that could be raised in oil revenues.
"Pensions cost £9 billion a year in Scotland, the health service costs £12 billion a year, education costs £6 billion a year, the rest of the welfare state from child benefit to disability benefits cost another £13 billion a year.
"£2.9 billion in oil revenues to pay for £40 billion of expenditure just on education, health, pensions and the rest of the welfare state.
"The oil revenues, to be honest, are a fraction of what we need to pay for our public services."
He also attacked Scottish Government plans to keep the pound if there is a Yes vote saying Salmond's plans for a currency union were simply "untenable."
The Labour MP, who was chancellor in Tony Blair's government, told the audience: "Decisions about your interest rates, your mortgages, the amount business has to pay to borrow, money supply, they would all be made by the rest of the United Kingdom through a UK Monetary Policy Committee that does not include Scots, through a Bank of England that doesn't have Scottish representation, through a Treasury that doesn't have Scottish representation, and through UK Parliament that will set the laws for the Bank of England and the currency with no Scottish representation whatsoever."
He accused the Scottish First Minister of "putting us in a position where we have to accept decisions we don't play any part in making, we would have to accept decisions on interest rates will be made by the rest of the United Kingdom to meet their needs and Scotland, he proposes, will simply accept these results".
Brown hit out: "That's a completely untenable position. He knows perfectly well it's an unsustainable position, but he's putting Scotland in a neo-colonial position."
It is Labour – not the SNP – he said, who have proposals which "would make our country a fairer place."
"The question we need to answer on September 18 is this," he said. "Should we abandon the idea of sharing across the UK the costs of health care, pensions and welfare when it is fairer than anything the SNP would give us?"
"The answer is no," he concluded.