Louis van Gaal, like Sir Alex Ferguson, loves versatile players. Ferguson exploited certain players' versatility to detrimental proportions in the cases of John O'Shea, Danny Welbeck and Shinji Kagawa, but Van Gaal, as Gary Neville put it, wants "round pegs in round holes", which is good news for Ángel di María.
In Di María, Van Gaal has bought a player who can play across the front three or as a central midfielder. United severely lack pace and Di María could allow Juan Mata to belatedly blossom and give United a box-to-box presence for the first time in six years.
Despite Gareth Bale's world-record transfer last summer, Carlo Ancelotti still accommodated Di María in Real Madrid's Décima-winning side. The 26-year-old started in 27 La Liga matches in 2013-14, scored in the Copa del Rey final against Barcelona and was man of the match in the Champions League final victory over Atlético Madrid.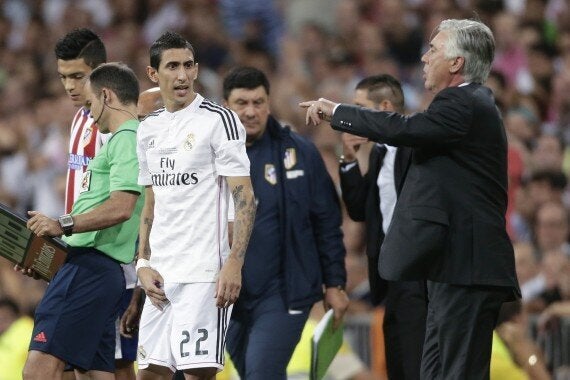 Di María developed into a world-class player under Ancelotti
Up until Ancelotti replaced José Mourinho, Di María was a flaky forward. Erratic and brittle, in a squad of Galácticos Di María stood out as one of the most dispensable players but Mourinho nurtured him. "It's your fault we play this way," Mourinho is alleged to have told Cristiano Ronaldo once. "You think that Di María is less than you?" One of the first buys of the Mourinho-Madrid era, Di María was one of the Portuguese's closest playing confidants.
Ancelotti redefined him, though and many were startled just by the level of improvement Di María displayed during the seven-goal Clásico earlier this year. United have just returned Nani to Sporting Lisbon on loan and for three years Di María could be just as maddening as the Portuguese winger. Now, he is a cultured, selfless workhorse and worthy of that abstract term; world-class.
United's players have reacted awkwardly to the 3-5-2 system Van Gaal has imposed. Carefree in pre-season, they were careless against Swansea and Sunderland and had the latter side shown more ambition on home turf United could be pointless after two matches. Even Neville, usually diplomatic in his assessment of his former colleagues, could not hide his disgust at Darren Fletcher's passing or the slow motion counter-attacks.
Van Gaal altered the Netherlands' system from 3-5-2 to 4-3-3 in their round-of-16 World Cup tie with Mexico and Di María could make a similar in-game transition seamless at United. Injuries will deny Van Gaal from experimenting such an alteration until after the September international break, however it is easy to see how Di María, especially, can thrive from the change.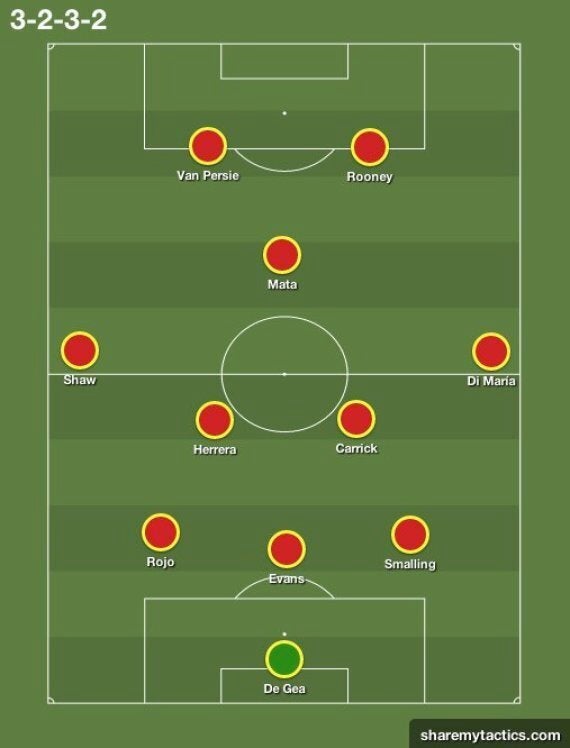 How United could line up with Di María in the team
Changing from 3-5-2 to 4-3-3, Marcos Rojo could switch to centre-back alongside Jonny Evans, enabling Chris Smalling or Phil Jones to revert to right-back, while Luke Shaw would drop deeper into a more conventional left-back role. That would leave Michael Carrick to anchor the midfield and allow Ander Herrera and Di María to support the attacking triumvirate of Mata, Robin van Persie and Wayne Rooney.
Van Gaal favoured a 4-3-3 system with the Netherlands until Kevin Strootman suffered a knee injury in March. Three at the back brought a fourth European Cup to Ajax in 1995 but that came with one of the greatest club sides to emerge over the last 30 years. Should United bring in a domineering central midfielder, a full-time switch to four in defence might be advisable. The issue, as ever, is Wayne Rooney.
United are saddled with an expensive problem after they rewarded Rooney with a lucrative new contract in February. As Roy Hodgson discovered at the World Cup, Rooney either starts up front or on the substitutes' bench these days, for he is not a mobile enough attacker to work in tandem with Mata. Adnan Januzaj is, Shinji Kagawa is and Di María is, but Rooney's best role is as the No.9.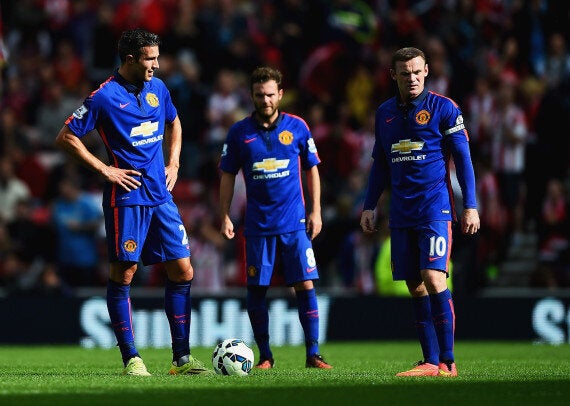 Van Persie, Mata or Rooney could be dropped to accommodate Di María
Van Gaal's decision to appoint Rooney captain has only exacerbated the problem. Even during an injury-ravaged 2013-14 campaign, Van Persie struck United's most decisive goals against Arsenal and Olympiakos and was devastating when David Moyes' side peaked on the opening day at Swansea. He has just turned 31, though, whereas Rooney turns 29 in October. Van Gaal's loyalty to Van Persie could be tested in the coming months.
Neither is Mata safe from exclusion. "Here the selection is not in balance," Van Gaal complained last week. "There are five No.9s and six No.10s and so on. And we don't have defenders." Mata was a buoyant buy after three weeks of doomlordery. United had lost to Tottenham, as well as Chelsea, and exited both domestic cups ignominiously. Moyes actually denied United were interested in Ross Barkley the previous month, citing the amount of playmakers United already boasted. The use of Mata in a wide role corroborated his thinking.
And will Van Gaal ask Di María to fulfil a role previously occupied by Daryl Janmaat, Dirk Kuyt and Antonio Valencia, players brimming with grit but lacking guile? Di María is good enough to be as destructive as Arjen Robben was at the World Cup, where he started alongside Van Persie, ostensibly as a striker, but wreaked carnage dropping deep and pulling wide.
United have £88.1m worth of talent up front but someone's ego could be about to be shattered.