Audrey Baxter and Boyd Tunnock are among a group of more than 120 business people who say they want Scotland to "keep flourishing" as part of the UK.
The group, which includes Weir Group chief executive Keith Cochrane and Victor Chavez of Thales UK, said the business case for independence "has not been made".
In an open letter signed by each in a "personal capacity", they state: "As job creators, we have looked carefully at the arguments made by both sides of the debate.
"Our conclusion is that the business case for independence has not been made.
"Uncertainty surrounds a number of vital issues including currency, regulation, tax, pensions, EU membership and support for our exports around the world; and uncertainty is bad for business."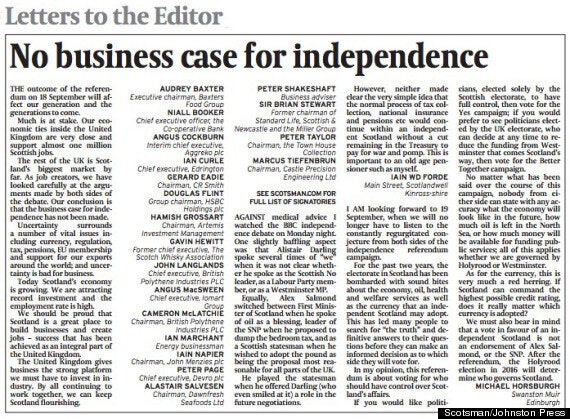 The letter in today's Scotsman
Listed as signatories are The Co-operative Bank chief executive Niall Booker, Ian Curle of Famous Grouse producer The Edrington Group and Douglas Flint, group chairman of HSBC Holdings.
Also putting their name to the letter are Peter Gordon, director of William Grant & Sons Distillers, and Cairn Energy chief executive Simon Thomson.
The group said "much is at stake" when the Scottish electorate votes in the independence referendum in just over three weeks.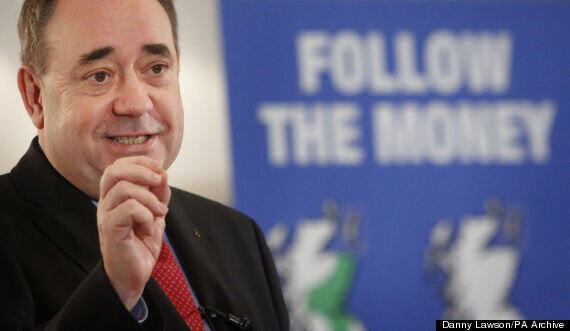 Alex Salmond has not made the financial case for Scottish independence, the businesses said
It said: "Our economic ties inside the United Kingdom are very close and support almost one million Scottish jobs. The rest of the UK is Scotland's biggest market by far.
"Today Scotland's economy is growing. We are attracting record investment and the employment rate is high.
"We should be proud that Scotland is a great place to build businesses and create jobs - success that has been achieved as an integral part of the United Kingdom.
"The United Kingdom gives business the strong platform we must have to invest in jobs and industry. By all continuing to work together, we can keep Scotland flourishing."
In response, the pro-independence Business for Scotland said: "Business for Scotland has 2,500 members who run businesses in Scotland, employ people across the country in a range of industries, and all believe that Scottish independence is in the best interests of Scotland and Scottish business.
"It's a position reached after looking at the facts and figures and realising that, from a simple balance sheet point of view as well as other considerations, our best interests lie in becoming an independent country."
Yes supporters on Twitter were unimpressed by the letter, insisting it was wrong. it also resurrected old claims that the BBC has been pro-union in its coverage of the referendum.