Douglas Carswell's Wikipedia page was altered to sarcastically reflect his new affiliation after the Conservative MP sensationally defected to Ukip.
Carswell said it would have been easier for him to "muddle along" as a Tory backbencher until next May, but he wanted to do the "honourable" thing.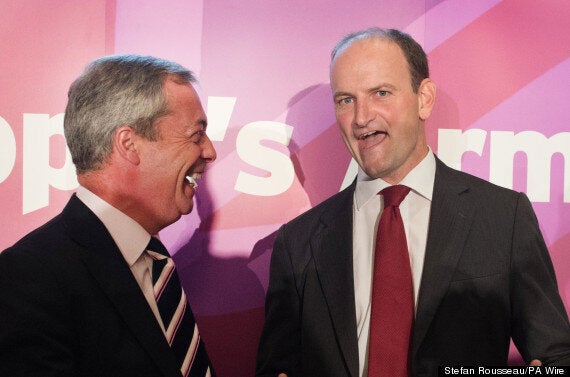 UKIP leader Nigel Farage (left) with Douglas Carswell
After the shock announcement, it didn't take long for some speedy trolls to quickly alter the eurosceptic MP's Wikipedia page.
The edited section under "Early life" described Carswell as being "the son of two medical doctors, and grew up in Bongo-Bongoland, where his parents worked amongst local communities."
"His mother always made sure that the area behind the fridge was clean," the entry adds.

The "updated" profile is in clear reference to some of former Ukip MEP Godfrey Bloom's most infamous quotes.
The Ukip MEP had to furiously deny he was racist last year after describing places that receive UK development aid as "bongo bongo land".
Carswell's Wikipedia page was quickly turned back to its original state - with an added line about the MP turning to Ukip.

Carswell won a 12,068 majority in 2010. If he is successful in holding on to his seat he will become Ukip's first ever elected MP. In 2008 Castle Point Tory MP Bob Spink defected to Ukip. He fought the 2010 election as an independent, but lost.
Carswell was first elected to parliament in 2005 and has been leading voice on the eurosceptic wing of the Tory party. His defection this morning was kept secret, with even Ukip press officers seemingly not aware of what was about to happen.
Carswell said while he thought David Cameron was a good man, the prime minister was "just not serious about the change we need", including his desire to leave the European Union.
Popular in the Community