When Noel had an enormous fight with his brother on tour in Paris and quit the band he'd formed 18 years before, Alan McGee was philosophical...
"It's obviously the worst fall-out that they've ever had, and they've had some pretty bad ones," he told BBC News at the time. "This is a pretty serious one. But they love each other, they'll come back together.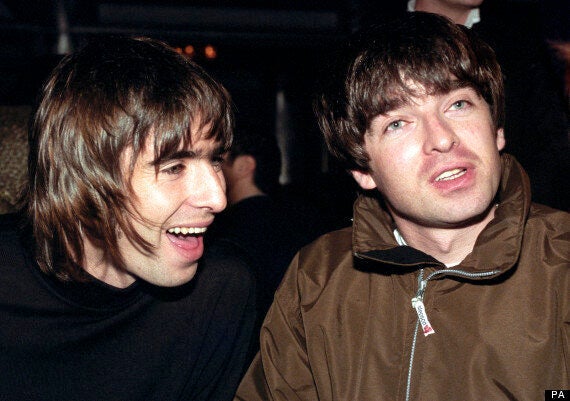 Alan McGee is predicting a reunion any time now for the Gallagher brothers, seen here getting along just fine (in 1995)
"I think you'll have a reunion tour in about five years time. They love each other. When people love each other, they'll always make peace."
However, so far, there doesn't seem to be any coming back from that eventful night in Paris, when an almighty falling out in the dressing-room led Noel to write on his website,"It's with some sadness and great relief to tell you that I quit Oasis tonight.
"People will write and say what they like, but I simply could not go on working with Liam a day longer."
The band were due to play the Rock en Seine festival in Paris that night, but cancelled at the last minute.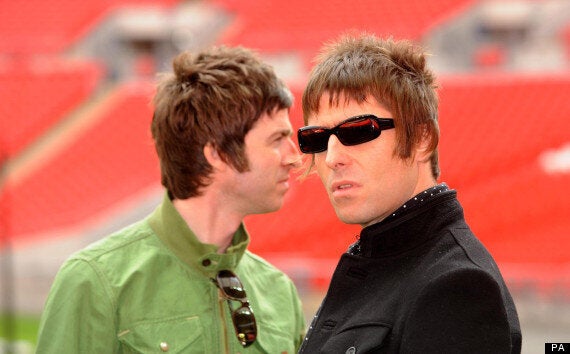 The Gallaghers were famously at each other's throats for years before finally pulling the plug on the band
When the support band said Oasis would not be performing, many fans thought it was a joke, until screens at either side of the stage revealed the understated message, "As a result of an altercation within the band, the Oasis gig has been cancelled."
For his own part, Liam told NME magazine about his brother, "He doesn't like me and I don't like him."
This signalled the demise of one of the country's most successful bands - the recipient of 15 NME Awards, five Brit Awards, nine Q Awards, four MTV Europe Music Awards and a Brit for outstanding contribution.
Noel has been more philosophical himself in recent days, claiming the songs for himself but acknowledging his brother's contribution.
He told BBC 6 Music's Steve Lamacq, "I wrote those songs myself, they are my songs.
"The more rock ones I would never attempt to do because Liam had such a great rock voice. [It] is a shame those songs will never be heard for the foreseeable future."
Whether or not the brothers ever perform again together on the same stage is in the hands of the gods. At least for now we have the suitably rock and roll image of Liam throwing a plum at his brother in that Paris dressing room, with the fruit splattering against the wall and signalling the end, for now.
As Noel mused afterwards, "Part of me wishes it did end like that - 'plum throws plum'."
Where does the permanent crack in the Oasis lineup fit in the list of all-time traumatic band splits? Well, here are our top 5...
Popular in the Community