Do not "mess with Russia" was the bellicose offering from Vladimir Putin on Friday, as the Russia President reminded an increasingly exasperated West that his country maintains one of the largest nuclear arsenals in the world.
After being excoriated by Nato and President Obama on Thursday for the invasion of Ukraine by Russian troops, Putin spoke at a pro-Kremlin youth camp on Friday, issuing a threat against Western military action, saying no country would "think" of conflict with Russia.
Reported by Reuters, Putin said: "I don't think it would come to anyone's mind today of starting a large-scale conflict with Russia," adding: "Russia is far from getting involved into a large-scale conflict... We do not want it and aren't going to do it."
The Russian leader reiterated to those assembled at a lake near the capital that the annexation of Crimea earlier this year was vital to save the Russian-speaking population from Ukrainian aggression, adding that the conflict in eastern Ukraine was the result of Kiev's intransigence.
He said: "Of course, we were always ready to repel any act of aggression toward Russia. Our partners, regardless of the situation their countries are in or their foreign policy line, have to always realise that it's better not to mess with Russia. I'll remind you that Russia is one of the largest nuclear powers.
"These are not just words, this is reality and, moreover, we are strengthening our powers of nuclear restraint." Putin continued by saying the country was transforming its armed services into a more "modern and effective" military and its "potential" would continue to be increased.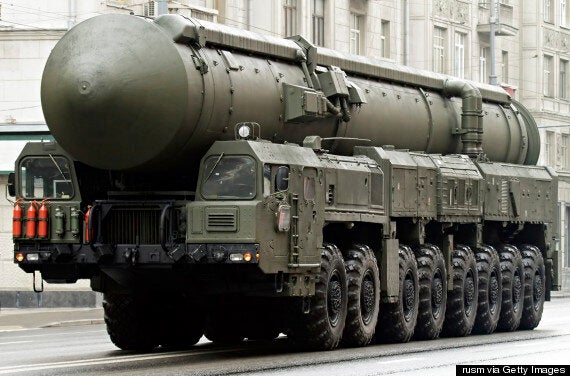 A Russian Topol-M nuclear missile
More from the Associated Press
Pro-Russia separatists, relaxed and well-equipped, held firm control on Friday of the strategic coastal town of Novoazovsk, a day after Ukraine claimed tanks and armored vehicles had invaded from Russia. Associated Press reporters saw at least a half-dozen tanks in the town of about 12,000 people, bearing the flags of Novorossiya, the would-be state proclaimed by rebels in two eastern Ukraine regions. None of the tanks bore Russian markings, but ready-made meals seen near one of the tanks carried markings that they were issued by the Russian army.
"There is no Russian equipment coming through here. We are fighting with the machinery the (Ukrainian forces) abandon. They just dump it and flee," said a rebel commander who identified himself only by the nom-de-guerre Frantsuz (The Frenchman). Although such claims of using only confiscated Ukrainian equipment are common, top rebel leader Alexander Zakharchenko himself has said Russia was supplying equipment and fighters. And Russia's consistent rejection of the allegations is hotly dismissed by the West.
"Despite Moscow's hollow denials, it is now clear that Russian troops and equipment have illegally crossed the border," NATO Secretary-General Anders Fogh Rasmussen said Friday. "This is a blatant violation of Ukraine's sovereignty and territorial integrity. It defies all diplomatic efforts for a peaceful solution."
On Thursday, NATO said at least 1,000 Russian troops are in Ukraine and later released what it said were satellite photos of Russian self-propelled artillery units moving last week. A spokesman for the rebels in Novoazovsk, who identified himself only as Alexander, said their plan was to try to eventually push westward to the major port city of Mariupol, about 35 kilometers (20 miles) away. There was no sign of imminent movement on Friday, but Alexander's statement underlined fears that the rebels' eventual aim is to establish a land bridge between Russia and the Russia-annexed Crimea peninsula further to the west.
The rebels also showed four Ukrainian soldiers and a wounded fighter from the pro-government Azov Battalion who were being held captive. The wounded fighter, Maxim, said he was taken when his vehicle was ambushed and two comrades killed. "Now I am here and there are negotiations taking place for me to be exchanged," he said. Russian President Vladimir Putin called on pro-Russian separatists to release Ukrainian soldiers who have been surrounded by the rebels in eastern Ukraine.
Putin's statement came several hours after Ukraine accused Russia of entering its territory with tanks, artillery and troops, and Western powers accused Moscow of lying about its role and dangerously escalating the conflict. "I'm calling on insurgents to open a humanitarian corridor for Ukrainian troops who were surrounded in order to avoid senseless deaths," Putin said in the statement published on the Kremlin's web-site in the early hours on Friday.
Putin didn't address the claims about Russia's military presence in Ukraine. Instead, he lauded the pro-Russian separatists for "undermining Kiev's military operation which threatened lives of the residents of Donbass and has already led to a colossal death toll among civilians."
Putin's statement could be referring to Ukrainian troops who have been trapped outside the strategic town of Ilovaysk, east of Donetsk, for nearly a week now. Protesters rallied outside the Ukrainian General Staff on Thursday, demanding reinforcements and heavy weaponry for the troops outside Ilovaysk, most of whom are volunteers.
Zakharchenko, the rebel leader, said the Ukrainian troops would have to lay down the arms before they were allowed to go. "With all our respect to Vladimir Vladimirovich Putin, the president of a country which gives us moral support, we are ready to open humanitarian corridors to the Ukrainian troops who were surrounded with the condition that they surrender heavy weaponry and ammunition so that this weaponry and ammunition will not be used against us in future," he said on Russia's state Rossiya 24 television.
A spokesman for Ukraine's national security council, Col. Andriy Lysenko, rejected that condition. "Ukraine is not ready to surrender arms and kneel in front of the aggressor," he told reporters.
The U.N. human rights office on Friday accused both sides of deliberately targeting civilians. Pro-Russian rebels in Ukraine have carried out murders, torture and abductions along with other serious human rights abuses and violations of international humanitarian law, according to the mission's field work between July 16 and Aug. 17. The report also said Ukraine's military is guilty of human rights violations such as arbitrary detentions, disappearances and torture.
U.N. Assistant Secretary-General for Human Rights Ivan Simonovic, who visited Kiev on Friday, said the death toll had reached nearly 2,600 by Aug. 27, and described the humanitarian situation in eastern Ukraine as "alarming." Simonovic condemned rebels for preventing people from leaving cities caught up in the fighting. He also pointed to reports of violations by volunteer battalions under government control.
Putin compared Ukrainian troops firing at civilians and surrounding cities in eastern Ukraine to the Nazi siege of Leningrad. He said residents of Ukraine's east were "suppressed with force" because they disagreed with what he called a coup in Kiev in February.
The Leningrad Siege comparison is a powerful one for Russians and clearly aimed at portraying the Ukraine conflict in stark and tendentious good-versus-evil terms. The 872-day siege, in which at least 670,000 civilians died, is a major touchstone for Russia's exalted sense of heroism amid suffering.
To stop the bloodshed, the Kiev government should open talks with the rebels who took up arms in defense, he said. At a meeting in Milan, several European Union foreign ministers accused Russia of invading eastern Ukraine and said Moscow should be punished with additional, biting economic sanctions.
The diplomats were expected to prepare further measures, which could then be decided by a summit of the bloc's leaders Saturday in Brussels. For the second day, Russian markets reacted nervously to the escalation of the conflict in Ukraine with the Russian ruble diving to the all-time low of 37.10 rubles against the U.S. dollar in early morning trading, but recovered later to 36.90 rubles.
In Donetsk, the largest city under rebel control, the mayor's office reported sustained shelling across town on Friday morning. No casualties were immediately reported.