Police have launched an investigation after a number of people bizarrely attempted to sell their votes in the independence referendum on eBay.
Much to the horror of those passionate about the debate, sellers' personal votes for September 18 were listed on eBay for as little as 99p because they did not "give a flying monkeys [sic] about any of this".
A Glasgow user is reported to have sold their vote for a bargain £1.04 after offering buyers a "unique piece of British history".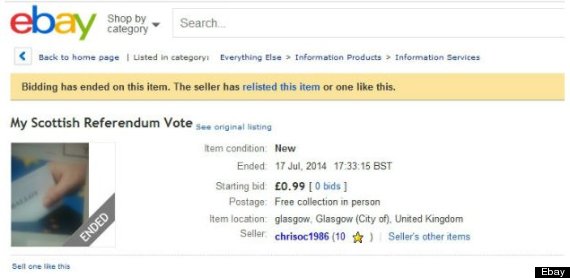 The listing from the Glasgow seller called 'chrisoc1986' read:
This is my very own unique piece of British History! It is my personal YES or NO vote for the upcoming Scottish Referendum in September.

This could be the deciding vote. Who knows? I am a hard working Scottish citizen with a house, a gorgeous wife and two beautiful kids who are my world.

This vote will not change anything in our lives so I have decided not to vote my opinion but instead….. ONE OF YOURS! Happy Bidding!
Somewhat unsurprisingly, Ebay has since removed the items and investigation has been launched into the online vote sales.
There are almost 700,000 registered postal voters in Scotland, with an estimated 20% of the 3.5 million people expected to vote in next month's poll.
Another eBay listing by 'catfez', believed to be in the Borders, placed a £10 reserve on bidding for their vote and claimed that the money raised from the bid will be donated to charity.
Many took to Twitter to despair at the political apathy of those attempting to sell their votes:
People selling their vote for the referendum on eBay! Ha ha 😆 only in #Scotland eh #Indyref

— AKA Amanda (@Holyrudegirl) August 29, 2014
Canny believe someone sold their referendum vote on eBay for £1.04, biggest vote ae yer life and you'd sell it for that, folk are ridiculous

— Lewis Gardiner (@LewisGardiner6) August 28, 2014
People selling there #indyref vote on eBay, stay classy Scotland. #nothanks

— scottishjimbo (@scottishjimbo) August 29, 2014
People selling there #indyref vote on eBay, stay classy Scotland. #nothanks

— scottishjimbo (@scottishjimbo) August 29, 2014
Also hope that guy who doesn't give a "rats" about the referendum selling his vote on eBay gets the jail. Silly arse

— Finlay Harris (@finlayharris) August 28, 2014
2 people getting charged for selling their refurendum vote on ebay. WTF? ??

— linda h (@linda8h) August 29, 2014
Someone has tried to sell their vote on eBay. Wahahahahaha. Brilliant. Love it. #indyref

— Charlie Manx (@Manx_Charlie) August 28, 2014
SEE ALSO: The Best Of #PatronisingBTLady
A Police Scotland spokeswoman said: "Police Scotland's priority is to ensure public safety and security. We will respond appropriately to any issues which arise.
"We are investigating these incidents and therefore cannot comment on the outcome of these incidents until all inquiries are concluded. Where other incidents are reported they will be investigated and appropriate action taken."
A spokeswoman for the Electoral Commission said they have an agreement in place with eBay that they will remove any items posted on their site that relate to an individual's vote where we have concerns that this could lead to the law being broken, and have "advised them to refer such matters to the police if they believe an offence may have been committed."
An eBay spokesman said: "eBay does not permit the sale of certain items. In addition to our own investigations, eBay uses reports from users and advice from third party experts to keep eBay safe and to ensure that items of concern are not listed for sale.
"The Electoral Commission has an agreement in place where we remove upon request any items posted on eBay that relate to an individual's vote where the commission has concerns that this could lead to the law being broken."
#INDYREF: