Support for an independent Scotland has received a big boost after a tough few days for the Better Together campaign, including Alex Salmond's strong performance in this week's debate.
A Survation poll for the Daily Mail, the first since the second TV debate between Salmond and Better Together leader Alistair Darling, revealed the gap between the Better Together group's 13-point lead in a previous poll earlier this month had dropped to just six, with the ballot in only three weeks.
It follows a low point for the Better Together campaign - it was attacked for being sexist and patronising over a video showing a woman who "made up her mind" to vote no, with mocking responses being shared on Twitter under the hashtag #patronisingBTLady.
Of the 1,001 Scottish residents over 16 who were surveyed for the poll, 47.6% said they were planning to vote No on September 18 - down from 50.3% three weeks ago, while support for independence rose from 37.2% to 41.6%.
The number of Scots still undecided fell from 12.5% to 10.8%. When those who are undecided are excluded from the research, support for No is at 53%, with Yes on 47%.
Scottish National Party leader Alex Salmond went head-to-head with No campaign leader Alistair Darling on the BBC on Monday and a snap poll suggested Mr Salmond took victory.
This appeared to be backed up by the latest survey, with a quarter (24.6%) saying they were more likely to vote Yes following the debate.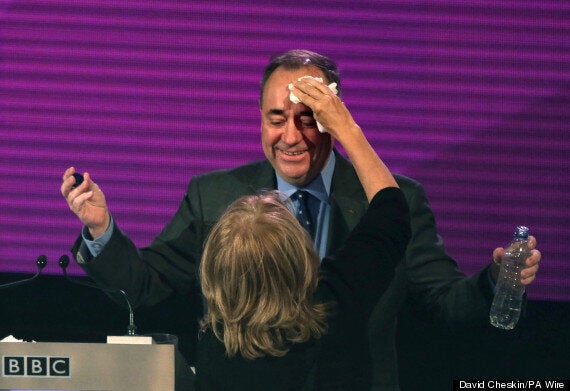 Alex Salmond was widely credited with victory in Monday's TV debate
Commenting on the results of the latest poll, Yes Scotland chief executive Blair Jenkins said: "With only 20 campaigning days before the referendum, more and more people are waking up to the great opportunities of Yes to make Scotland's vast wealth, talent and resources work better for all in a more prosperous and fairer country.
"This is an extremely encouraging poll - the Yes figure including 'don't knows' is the highest ever recorded by Survation.
"Excluding 'don't knows', Yes support is at 47% - up four points on the last month's Survation poll - and by contrast support for No has slipped 4%. Yes has achieved a four-point swing in less than three weeks, and needs only a further three-point swing to win.
"The poll underlines that the result is on a knife edge and that support for Yes continues to build, while the relentless negativity of the No campaign means it continues to lose ground.
"The result is also a clear indication that the cogent and compelling case put forward by the First Minister in Monday's TV debate has significantly boosted Yes support. The poll shows that 25% of people are more likely to vote Yes after watching the debate, compared to just 13% more likely to vote No.
"This is the fourth poll in a row that has shown increasing support for Yes, and by winning the campaign we believe we will achieve the very small swing now required to win the referendum."
Better Together chief executive Blair McDougall said: "This is yet another poll showing that the majority of Scots want to keep the UK family together.
"It's clear that despite all the heat generated by the TV debates, our lead remains exactly the same as it was. The closer we get to the vote, people are thinking seriously about the choice we face.
"We can either take advantage of the security and opportunity that comes from being part of the UK. Or we can take a leap into the unknown with separation. It's an irreversible decision that we need to think seriously about.
He continued: "As interesting as the TV debates were, the most important discussions are those taking place in living rooms, workplaces and pubs all across Scotland. These are the debates that really matter."
"It's here that people are talking about all the risks and uncertainties of independence. Postal votes are already being filled in, yet Scots have no idea what currency we would use, how our pensions would be funded or what would happen to our funding for schools and hospitals. It's a risk we just don't have to take.
"We want the best of both worlds for Scotland within the UK.
"That means more powers for Scotland without taking on all the risks. But to achieve that for Scotland we need to go out and make it happen. If you want Scotland to stay in the UK then you need to vote for it. We cannot be complacent for one minute."