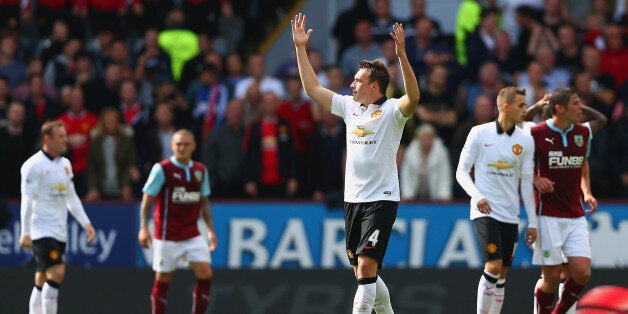 Is Louis van Gaal sure it will take three months? The Dutchman's quiff remains unruffled despite Manchester United's worst start since 1992 but they have done their utmost to depict a presentable opening three fixtures as daunting tasks. Languorous against Swansea and ponderous at Sunderland, United were overawed by Premier League newcomers Burnley in a rumbustious Lancastrian battle.
"You're shit and you know you are," roared the satisfied home supporters as they left Turf Moor. Initially, United's acerbic followers were stumped for a response before they advised their hosts to "go home and shag yer sister". Paul Scholes' name was aired uproariously. He would still get a game. The supporters were united in their verdict that they couldn't defend the team, devoid of inspiration even with the enterprising Ángel di María, who was forced off injured.
It could have been worse. Di María hadn't touched the ball when former United Youth Cup winner David Jones smacked David de Gea's crossbar with a free-kick. Seconds later, Jonny Evans almost repeated his midweek mistake when he put Lukas Jutkiewicz through one-on-one but De Gea reprieved his teammate. Di María must have felt like a public schoolboy who had switched to a state school.
The Burnley press lounge is decorated with cuttings of past glories, dating back beyond their 1960 championship title. The most recent addition, courtesy of the Daily Mail, reads: "Fergie tamed". Five years ago Turf Moor recorded a tremor when Robbie Blake's volley vanquished Sir Alex Ferguson's champions. Blake was paraded at half-time but the Class of 2014 couldn't quite emulate him.
Even with Ángel di María, the 3-5-2 United looked about as comfortable as an Ice Bucket Challenge nominee. The international break gives Van Gaal two weeks to prepare for Queens Park Rangers' visit and the £13.8 million acquisition of Daley Blind could finally convince the Dutchman to revert to 4-3-3. With wingers as woeful as Antonio Valencia and Ashley Young, three at the back is not conducive to Van Gaal's much lauded "philosophy".
Van Gaal teased a switch to four at the back when asked if Blind, Luke Shaw and Marcos Rojo could play in the same side. "That is very, very smart of the manager."
He hid his grievances with referee Chris Foy's decision not to award Young a patent penalty for handball. A successful conversion would merely have masked United's struggles and denied Burnley a merited point. It is the first they have attained back in the top flight, which will only intensify United's embarrassment.
The James Hargreaves Stand, with its deafening acoustics, provides a visceral experience that makes it seem twice as large and, with the exception of the odd sardonic song, United's followers were eerily quiet in the adjacent David Fishwick Stand. Burnley's teamsheet featured two United rejects, a City reject in Kieran Trippier and the 36-year-old Michael Duff, and yet they outplayed a timid team lacking arrogance and aggression; essential in the great United sides.
David Jones, one of the aforementioned rejects, was man of the match. Born in the same year as Darren Fletcher, starting his third successive United game, he looked far more accomplished and at ease.
"You've only come to see United," mocked the visitors. The natives were nonplussed. "They're not even a big club anymore," one remarked. Van Gaal did little to affect that opinion when he introduced the farcical Anderson for Di María midway through the second-half. "You are thinking Anderson is a defensive midfielder," Van Gaal told a journalist, "but he is thinking he is a No.10." Van Gaal hasn't lost his sense of humour.
The loudest United's supporters roared was in exasperation at the dithering Jonny Evans. Inside the Burnley third in stoppage-time, the Ulsterman took an aeon to pass to the feckless Valencia before the move petered out. Burnley defended resiliently, however this was further confirmation of several United players' inability to adapt to 3-5-2.
Di María was imploring Tyler Blackett to bring the ball further forward but the youngster was dazed by the energetic Arfield. Rooney vented his spleen at referee Chris Hoy, rather than his teammates, Valencia and Evans looked petrified, Young was shackled effortlessly, Robin Van Persie played selfishly and Juan Mata continued to frustrate. "Attack! Attack! Attack" hollered the away followers, only Burnley were the more spirited attackers.
There were flickers of Di María's brilliance. He quickly showcased his class in the 15th minute with a wonderfully pinged pass to Van Persie, foiled by an outstretched Tom Heaton. Embarrassingly for United's established players, the Argentinian was their outstanding performer in another vexing first 45 minutes for Van Gaal. "Once more than England, world champions twice," sang United fans, celebrating Argentina's triumphs as much as their team's own.
Mata dropped deeper after the pause and Di María switched to the flank. He roared down the left to create an opening for the subdued Van Persie, whose shot was hacked off the line by Jason Shackell in what was his only major contribution to the contest. Someone should have their ego shattered soon.