A British man and his Saudi wife appear to have been attacked by members of Saudi Arabia's religious police for using a women-only cash till at a supermarket.
An investigation has been launched by police - officially known as the Commission for the Promotion of Virtue and Prevention of Vice, or Mutawa - after a video emerged apparently showing a businessman being beaten in front of a mall in the Saudi capital of Riyadh.
In the video a woman appears to intervene after her husband is jumped on, while the British man can be heard shouting "that's my wife, how dare you," the Saudi Gazette reported.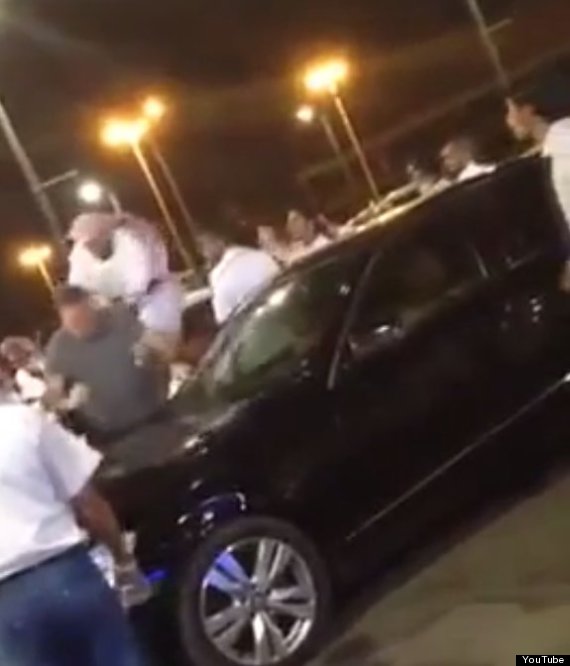 The video shows a muttawa (religious police) jumping on the back of a Briton
An investigation has now been ordered by the head of the Mutawa into the incident, it has been reported.
The couple, identified by Al Hayat as Peter Haworth and his wife, reportedly a woman from Saudi Arabia, were apparently followed inside a supermarket by the police who demanded to know why he was using a counter with female cashiers.
He reportedly responded "my wife is with me," but was attacked after members of the Mutawa followed him out of the shop, The Telegraph has reported.
A statement apparently written by Howarth-Lees described how he and his wife were attacked by the men, despite the cashier's assertion that the customers were a family.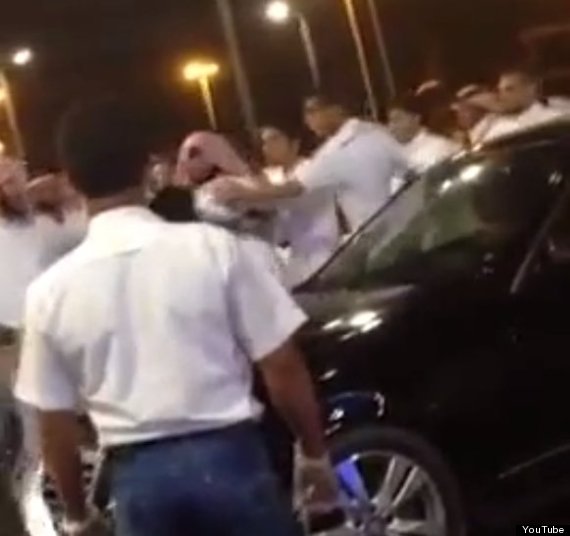 The apparent attack taking place
After being harassed, Howarth-Lees said he was thrown to the ground when he tried to take a picture of the Mutawa members as evidence for a complaint after noticing one of them taking pictures of his car.
"While I was on the ground all three of them proceeded to kick me repeatedly in the head and back and then one of them stamped hard on my face," he said.
The police reportedly arrived, but refused to intervene. Eventually, a car sent by the British Embassy arrived and drove the couple away to safety.
Howarth-Lees told The Telegraph that he had been contacted by the head of the religious police, who have ordered an investigation.
"We don't have to fight the case because they have already admitted their people are at fault," he said.