The majority of the public oppose Britain becoming engaged in any type of military action against Islamic State (IS) militants, according to a new poll.
As David Cameron announced he could not rule out the possibility of the UK joining an international air campaign against extremists in Iraq and Syria, Britons have made it clear they would not support the move.
Plans to extend anti-terrorism powers came after a weekend of Coalition negotiations following an increase in the terrorist threat to the UK from substantial to severe.
READ MORE: Islamic State Committed To Wiping Out Iraq's Ancient Minorities, Amnesty Warns
Research by ComRes for the Independent found 35% of the 1,001 adults asked thought the UK should take the military action, compared to 50% who disagreed.
The idea of committing ground troops was even less popular with those asked, with just 20% in favour and 69% opposed.
On Monday, the prime minister announced that police will be given temporary powers to seize passports from people at the British border.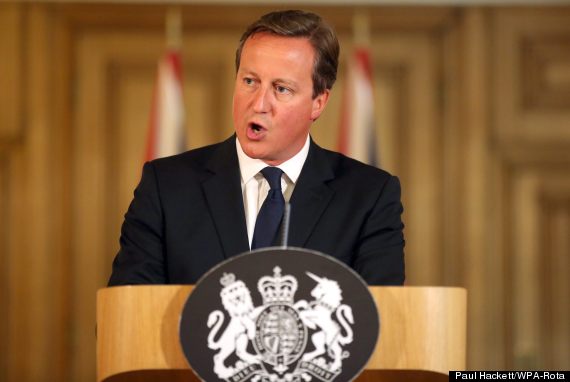 David Cameron has announced new anti-terror measures
Some 61% of those asked by ComRes supported taking away the passports and citizenship of Britons suspected of joining the extremist group.
Cameron also said the government would "work up plans" for discretionary powers to exclude British nationals from the UK.
He told MPs it was "abhorrent" that British citizens who pledge allegiance elsewhere were able to return to the UK and pose a threat to national security.
But the the PM has been warned that his plan to prevent British citizens accused of fighting with terror groups abroad from returning home offends the "basic principles" of British law.
Dominic Grieve, who served as Attorney General until Cameron fired him from the cabinet in July, said the plan to block people from returning home was a mistake.
Ed Miliband also stressed the proposals were "unclear".
Despite Cameron's moves to allay fears, the poll found Labour had extended its lead over the Tories by a point over the past month, on 35% to 28% for Cameron's party. Ukip was unchanged on 17%, and Liberal Democrats up one point on 9%.
The results of the poll came as survivors told how IS militants are committing ethnic cleansing on a "historic scale".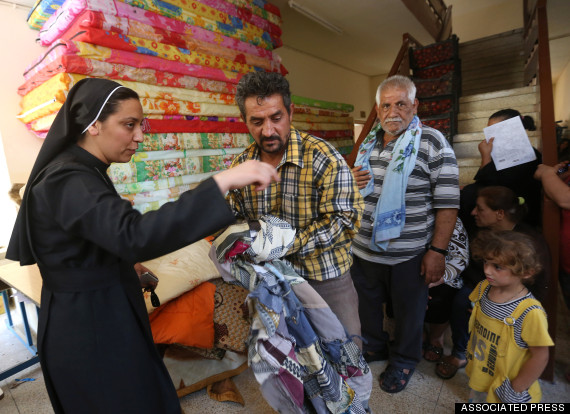 An Iraqi nun, left, speaks with a Christian man who fled with his family from Christian villages near Mosul
The tales of bloodshed, torture and intimidation from survivors are limitless, a new report by Amnesty International has revealed.
"The Islamic State is carrying out despicable crimes and has transformed rural areas of Sinjar into blood-soaked killing fields in its brutal campaign to obliterate all trace of non- Arabs and non-Sunni Muslims," Donatella Rovera, Amnesty International's Senior Crisis Response Adviser, who is currently in northern in Iraq, said.
"The massacres and abductions being carried out by the Islamic State provide harrowing new evidence that a wave of ethnic cleansing against minorities is sweeping across northern Iraq.