The Scottish independence debate has turned even more nasty, with allegations of violence and intimidation being thrown from both sides as the division over upcoming vote on September 18th reaches fever-pitch.
In a sign of how heated the debate has become, a video has emerged which appears to show a woman being attacked during an independence referendum rally, while at least three people were injured in a separate attack outside a football match on Saturday afternoon.
Police were called to Glasgow's Argyle Street this weekend amid complaints of a spat ongoing between 40 to 50 Yes and No campaigners.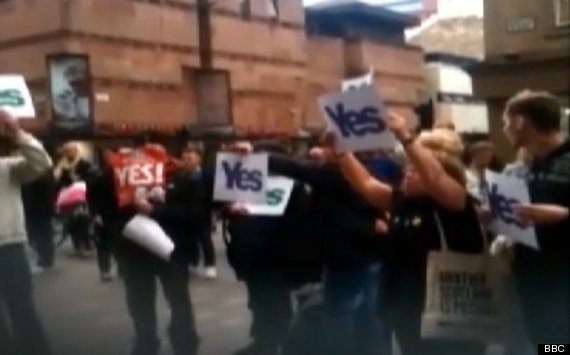 "Yes" supporters out in force
A group of "Yes" supporters apparently confronted members of a right wing organisation who were speaking in favour of the United Kingdom, the BBC reported.
Footage appears to show a supporter of the Union kicking out at a female protestor who had apparently tried to grab his megaphone.
@blairmcdougall@UK_Together Do you wish to comment?

"#No campaigner kicks woman"

#YouYesYet#Yespic.twitter.com/mQiV5UOXYQ

— VoteYes✌️ (@YouYesYetx) August 30, 2014
She can later be seen lying on the ground as members of the public crouch over her.
The BBC reported that Police Scotland initially said the event passed off peacefully, but subsequently revealed that a man had been arrested in connection with an allegation of assault.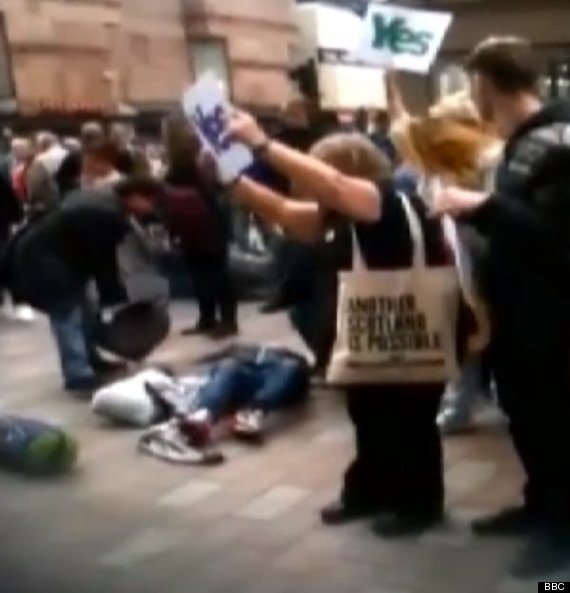 The woman appears to be on the ground in the video
In another violent attack, at least three people are believed to have been injured following a bust-up over the referendum debate outside Heart of Midlothian's Tynecastle Stadium on Saturday afternoon.
Members of the group Hearts Supporters for Independence said they were handing out leaflets ahead of their team's match against Falkirk when they were abused.
Campaigners said that punches were thrown and their leaflet table was kicked over by an angry mob intent on driving them away, the Edinburgh Evening News reported.
After the match, this was posted on the Facebook group Heart of Midlothian Fans Against Scottish Independence wrote:
The apparent attack comes just days after Labour MP Jim Murphy axed his Scotland-wide tour, citing "co-ordinated abuse" from "Yes" voters.
After Murphy repeatedly had eggs thrown at him during his campaign tour, he claimed that the Yes campaign was creating a "mob atmosphere."
"Regularly I get called a terrorist and often a paedophile too," Murphy wrote in The Spectator.
Scottish First Minister Alex Salmond, meanwhile, has said he had been involved in a "road rage" incident in which he was chased in his car by someone waving a No sign.
Online abuse - particularly by pro-independence "Cybernats" - has also dogged the campaign and is only likely to intensify in the final days ahead of the poll, with Sir Paul McCartney being the latest victim.
#INDYREF:
Meanwhile, Alistair Darling is due to talk to police about security arrangements for polling day.
Campaigners for a No vote have expressed concerns over the potential for trouble as voters cast their ballots on September 18.
Assistant Chief Constable Bernard Higgins, from Police Scotland, told the Herald newspaper: "The referendum is a significant event which is expected to attract a higher than normal turnout.
"Policing arrangements for the referendum are well in hand and will be appropriate and proportionate."
Support for Scottish independence has risen eight points in a month, according to a new poll.
The No camp is now six points ahead of the Yes campaign, down from 14 points in mid-August and 22 points early last month, excluding undecided voters.
The latest YouGov poll found that, excluding "don't knows", 53% of those questioned planned to vote No, while 47% would back Yes.
This compares with 57% for No and 43% for Yes in mid-August and 61% for No and 39% for Yes at the beginning of last month.