The Archbishop of Canterbury has joined senior Christian, Jewish and Muslim religious leaders from across the country for an inter-faith vigil to "stand together" in support of all minorities suffering in Iraq.
Justin Welby, along with senior faith leaders including Imam Ibrahim Mogra, Ayatollah Dr Sayed Fazel Milani and Rabbi Laura Janner-Klausner, held aloft a banner outside Westminster Abbey with parliamentarians like Baroness Sayeeda Warsi, declaring #WeAreAllHuman for the vigil, which was co-ordinated by World Jewish Relief, Islamic Relief and Christian Aid.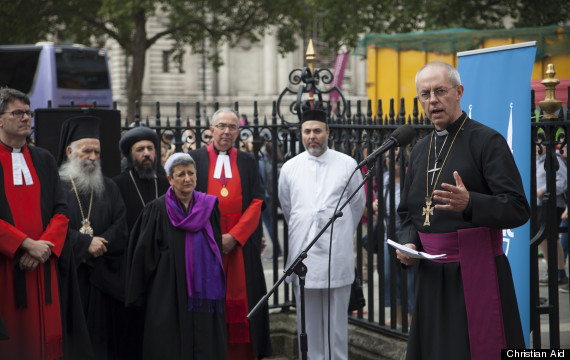 The Archbishop of Canterbury Justin Welby speaks at the interfaith prayer vigil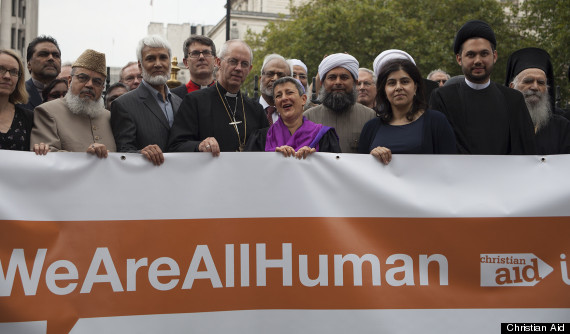 Faith leaders held up a banner together in a show of unity
The organisers said the prayer event aimed to show that "despite attempts to divide and target people along religious lines in Iraq, whether Yazidi, Christian, Sunni or Shia... we stand together, united against the gross violation of human rights in Iraq and in support of all those in need, regardless of race or religion."
T'day's Iraq Interfaith Vigil at Westminster Abbey (1130-1230) illustrates #ISIS actions have no religious justification. #WeAreAllHuman

— Charles Reed (@ethicalcomment) September 3, 2014
Heinous crimes of #IS must not be allowed to destabilise good relationships tht exist b/w faith groups #WeAreAllHumanhttp://t.co/X1P1ZlBnu4

— Qari Asim MBE (@QariAsim) September 3, 2014
3/3: As Christians we hear the cry of our brothers & sisters in the Mid-East, while standing with those of all faiths because #WeAreAllHuman

— Justin Welby (@JustinWelby) September 3, 2014
"We show our solidarity with all minorities who are suffering because of ISIS. They are against humanity," Ayatollah Milani said to the assembled crowd.
"Our rabbis taught us that no one's blood is redder than another's, that no person's life is more valuable than another's. As faith communities, we will always stand together against tyranny, oppression and the violation of human rights," said Rabbi Laura Janner-Klausner, senior rabbi for the Movement for Reform Judaism.
Paul Anticoni, chief executive of World Jewish Relief, said: "The humanitarian situation in Iraq has deeply troubled me, troubled our community and troubled all of those who have an interest in protecting those facing persecution. This vigil shows the importance of faith-based communities coming together in solidarity with people of all faiths in Iraq who are suffering."
"The Qur'an says that if you save one life it is as if you have saved the whole of mankind," said Zia Salik, Islamic Relief's National Community Fundraising Manager, saying the charity was working with vulnerable people across the region "regardless of race or religion."
Christian Aid Director David Pain said it was a "sad chapter" in history. "While there have been attacks which have targeted minorities such as Christians and Yazidis in recent weeks, all Iraqis are under threat and people from all communities in Iraq are suffering from the violence.
"All civilians have the right to protection, as set out in international law, including where people are at particular risk for practising their right to political expression and freedom of religion. All parties to the conflict have a responsibility to protect civilians and we call for an end to impunity in this crisis."
Leaders from all sides of the Christian faith, many with strong links to the Middle East, met this morning at Lambeth Palace to discuss a response to the conflict. The Archbishop said in the statement that different leaders "disagreed" over support for military intervention in Iraq and Syria where Christians continue to be persecuted.
"From the views we've had, there's a mixture of views, I don't think people are of one mind about that.
"We are aware that history has not been totally encouraging in that area," the Archbishop said. "There are a mixture of views, some people feel that there needs to be more intervention at least to buy some time. Others feel that that would be wholly unhelpful."
He added that the Middle East is in "desperate danger" of losing an "irreplaceable part of its identity, heritage and culture".
STEVEN SOTLOFF MURDER:
"We are seeing an extreme religious ideology that knows no limits in its persecution of those who are culturally or religiously different. Those who promote this intolerance must be challenged and the perpetrators of violence held to account. We must provide relief and safety for those displaced and in fear of their lives in consultation with our partners in the region. We must also bring pressure to bear on those who can provide security to those affected."
The show of unity against racism and persecution came just hours after the distribution of a video featuring the beheading of Steven Joel Sotloff - a freelancer for Time magazine among other publications.
The video featured the same jihadist, believed to be a Briton nicknamed "John" by captives, who is purported to have killed US journalist James Foley. "I am back, Obama, and I am back because of your arrogant foreign policy towards the Islamic State, because of your insistence on continuing your bombings and ... on Mosul Dam, despite our serious warnings," he is heard to say. "Just as your missiles continue to strike our people, our knife will continue to strike the necks of your people."