Ukraine and Russia have reached a tentative deal to put an end to the fighting in eastern Ukraine, though officials could not say whether in practice this would actually mean that pro-Russia rebels would stop their occupation of key areas.
The rebels previously completely ignored a 10-day unilateral cease-fire that Ukrainian President Petro Poroshenko had called in June. His office said on Wednesday that he and Russian President Vladimir Putin said "mutual understanding was reached regarding the steps that will contribute to the establishment of peace" but gave no details.
"The result of the conversation was agreement on a permanent cease-fire in the Donbass [eastern Ukraine]," the statement said.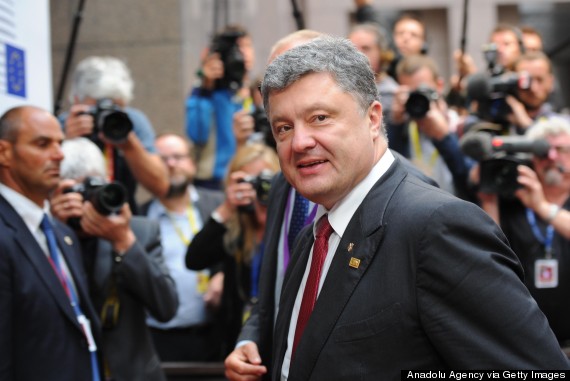 Petro Poroshenko said a deal was reached but gave no details
Vladimir Antyfeyev, a senior leader of the Russia-backed rebels whom Ukrainian forces have been fighting since April, told The Associated Press he could not say whether the separatists would adhere to a cease-fire because he was not commanding the forces. "But I definitely welcome this," he said.
But another rebel leader, Andrei Purgin, deputy prime minister of the so-called Donetsk People's Republic, said that the ceasefire was "impracticable" until Ukrainian forces withdraw. "This is some kind of game being played by Kiev. For us it's a complete surprise," he told RIA.ru. "This decision was made without us"
Ukraine and the West have accused Russia of sending its troops and weapons to support pro-Russian insurgents who have been fighting government forces in eastern Ukraine since mid-April. Moscow has vehemently denied this charge.
That denial leaves unclear how effective the truce announced Wednesday would prove to be. After a meeting with Poroshenko last week, Putin had said a cease-fire was not discussed because Russia was not a party to the conflict.
Putin's spokesman, Dmitry Peskov, was quoted by Russian news agencies on Wednesday as saying the leaders had "largely agreed on steps that would be conducive to a cease-fire," but repeated that Russia is not involved in the fighting.
Rebel leader said earlier this week that they would respect Ukraine's sovereignty in exchange for autonomy. The rebels previously have called for full independence for their regions or possible absorption into Russia. Poroshenko has spoken in favor of devolving some of the central government's power to regions, but that is far short of autonomy for the rebel regions.
Over the weekend, the European Union leaders agreed to prepare a new round of sanctions that could be enacted in a week, after NATO accused Russia of sending tanks and troops into southeastern Ukraine. A Nato summit in Wales on Thursday is also expected to approve measures designed to counter Russia's aggressive actions in Ukraine.
US President Barack Obama is currently in Estonia, a show of solidarity with Nato allies who fear they could be the next target of Russia's aggression.
Brave BBC Reporter Won't Take No For An Answer From Putin In Dramatic TV Stare-Down

Top Russian General Lays Bare Putin's Plan for Ukraine

Putin Reminds West Russia Is One Of The 'Largest Nuclear Powers'