This is the joyful moment the parents of young cancer patient Ashya King were finally reunited with their son in a Spanish hospital after being released from prison.
Brett and Naghmeh King have described how the little boy struggled for breath with joy as he was reunited with his family.
The parents saw their five-year-old yesterday for the first time since they were arrested on Saturday, having fled from Southampton General Hospital in a desperate search for treatment.
Leaving through a back door of the Materno-Infantil hospital in Malaga with his older son Danny, Mr King spoke of the first moments he saw his son.
"He couldn't breathe he was so happy," he said. "He was so pleased to see us. We're trying to be hopeful."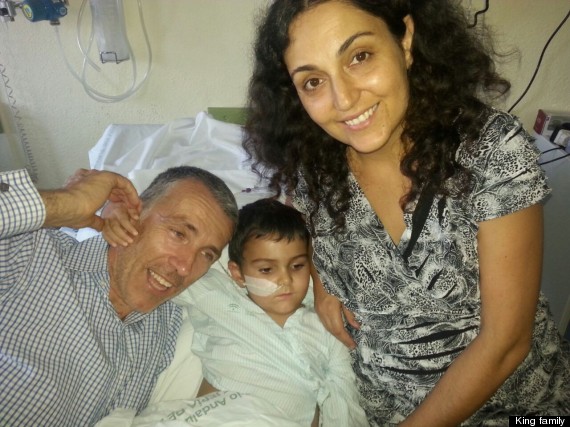 The King family in hospital
Mr King, who said he will meet a cancer specialist today, added: "He's not in such a good state as when we left him - spirit depressed since his parents left him. We'll do what it takes. Not much else to do."
Hospital officials said Mrs King was expected to stay with Ashya through the night, amid reports the Kings would not be permitted to remove the child from the premises. A Materno-Infantil spokeswoman said local authorities had received notification from British officials that the parents should not be allowed to take the boy away.
The reunion initially appeared to be in doubt when Mr King claimed he would be barred from visiting the child after Ashya was made a ward of court. But it was established that those proceedings do not stop the couple seeing him.
Mrs King said she had been "crying and crying" as she described the torment of being unable to help her son from the jail cell near Madrid where she and her husband had been detained since they were arrested on Saturday. Ashya King, who has a brain tumour
ASHYA KING:
She told the BBC: "What could I do in a prison cell? I was just praying so I could be reunited with him again. All I could do was just cry and pray."
Mr King said his heart was "aching" to see Ashya again and hit out at their treatment since they removed him from Southampton almost a week ago, saying they had been "treated like terrorists".
He claimed he had previously informed the hospital about his plans to seek proton beam therapy for his son - which he said was not available to him on the NHS - but kept the date that he intended to take him secret, for fear he would be stopped.
They couple were freed from Soto del Real prison on Tuesday night after British authorities abandoned their attempts to extradite them, amid a public backlash.
Brett And Naghmeh King Leave Prison
David Cameron told MPs meanwhile, that decisions taken in Ashya's case were "not correct".
At Prime Minister's Questions, he added: "To be fair to the authorities involved in the case of Ashya King, they all want to do the best for the child. That's what they are thinking of."
Speaking outside Southampton General Hospital, Dr Peter Wilson, chief paediatrician, told Sky News that the family had made it clear that they would like to take Ashya to Prague, but that the hospital had no idea the family had planned to leave.
He said the family were not keen on parts of the treatment which had been suggested, and that there were discussions about different forms of treatment.
He said: "We had made it very clear what could be offered on the NHS.
"While were we having those discussions, the family made it very clear they would like to go to Prague.
"At no stage did they say they were going to take Ashya and go to Prague."
Asked whether they had threatened Mr and Mrs King with an order which would have taken away their right to make decisions about their son's care, he said: "Absolutely not. We absolutely disagree with that statement."
He added: "We have said to them (the family) that we would absolutely take him back here."
Earlier the Proton Therapy Centre in the Czech Republic claimed it had been sent Ashya's medical records and believed the technique was suitable for him.
Dr Jiri Kubes, head of proton therapy at the clinic in Prague, said: "So, Ashya shall go for proton therapy to the Czech Republic. However, prior to this he will need to return to England first."
A fundraising page set up to help pay for the treatment has so far raised more than £21,000, while Charity Kids'n'CancerUK said they have agreed to pay the £100,000 needed for Ashya's treatment, plus living costs, after donors pledged £35,000 in 24 hours.
Chief executive Mike Hyman said: "I have spoken to Ashya's brother, Naveed, and he is dead chuffed."
In a statement last night, Portsmouth City Council leader Donna Jones said there appeared to have been a "misunderstanding" yesterday and called for urgent clarification about Ashya's treatment.