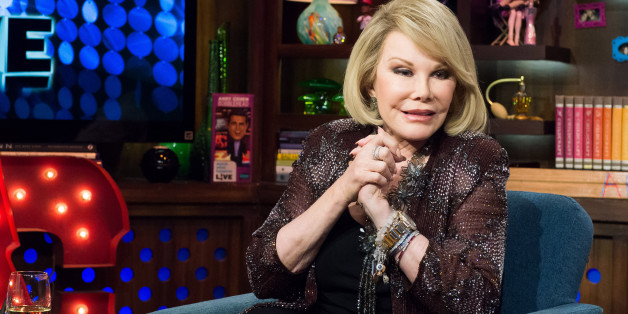 Bravo via Getty Images
Stars of stage and screen have being paying tribute to Joan Rivers following her death at the age of 81.
Her daughter, Melissa, confirmed the news that her mother had died at in a statement on Thursday.
READ MORE:
Her death comes a week after she suffered a heart attack during an operation on her throat at a doctor's surgery in New York.
Stars from both sides of the Atlantic, including Ricky Gervais, Whoopi Goldberg, Sarah Jessica Parker, Piers Morgan, Boy George and Bette Midler have all taken to Twitter to pay their last respects to the comedy legend.
My friend Joan Rivers has passed away once again to quote Billy Crystal... There are no words. Bon Voyage Joan 😢

— Whoopi Goldberg (@WhoopiGoldberg) September 4, 2014
RIP the mighty Joan Rivers. Funny & fearless. Truly one of a kind.

— Ricky Gervais (@rickygervais) September 4, 2014
"We don't apologize for a joke. We are comics. We are here to make you laugh. If you don't get it, then don't watch us." Joan Rivers. RIP.

— Piers Morgan (@piersmorgan) September 4, 2014
Was actually looking forward to Joan Rivers' black hearted caustic routine about being at death's door recently. Now this shitty punch line.

— Danny Baker (@prodnose) September 4, 2014
Joan Rivers has died. What a sad ending to a brilliant and tragi-comic life; one of the bravest, and funniest of all.

— Bette Midler (@BetteMidler) September 4, 2014
Joan rivers . Truly funny . Truly brave. 😢

— caroline flack (@carolineflack1) September 4, 2014
She was trailblazing. Hysterical. Thoughtful. We'll miss you immensely Joan.

— Ryan Seacrest (@RyanSeacrest) September 4, 2014
RIP Joan Rivers. You made us laugh and happy.

— Kristin Chenoweth (@KChenoweth) September 4, 2014
A legend, a friend, a mentor, an icon, and wildly funny. One of a kind. RIP #JoanRivers@joan_riverspic.twitter.com/jnAC5G4AQo

— Kathy Griffin (@kathygriffin) September 4, 2014
And in addition to being a trailblazer the great Joan always smelled good.Thanks for taking my challenge. I still owe you one. RIP x,sj

— Sarah Jessica Parker (@SJP) September 4, 2014
Goodbye my friend Joan Rivers. You were a huge part of my professional life and you brightened up the horizon with your Chutzpah! Sad!

— Boy George (@BoyGeorge) September 4, 2014
Very sad news about Joan Rivers passing away . A great character RIP

— Lord Sugar (@Lord_Sugar) September 4, 2014
.@Joan_Rivers was a dear & wonderful friend who I've known for 45yrs. Great guest, pal, comedian & mother. We will never see her likes again

— Larry King (@kingsthings) September 4, 2014
RIP GODDESS: Hail Hail, a GENIUS has vacated this realm: Joan Rivers has died.

— Roseanne Barr (@therealroseanne) September 4, 2014
Watching Joan Rivers do standup at age 81 was incredible: athletic, jaw-dropping, terrifying, essential. It never stopped. Neither will she.

— Lena Dunham (@lenadunham) September 4, 2014
I am devastated by the death of @Joan_Rivers If ever there was a courageous pioneer for woman comedians it was her! Thanks for the laughs! x

— Jason Gardiner (@officialJasonG) September 4, 2014
Loved your amazing spirit and Drive #RIP@Joan_Rivers joanrivers #tolditlikeitis#word 🙏🌟🙌 http://t.co/XTsvKd9AYL

— Naomi Campbell (@NaomiCampbell) September 4, 2014
Didn't know @Joan_Rivers that well, but I was one of the 481 people she followed on Twitter. So I suspect she secretly loved cricket.

— Piers Morgan (@piersmorgan) September 4, 2014
Just heard of the sad passing of @Joan_Rivers such sad sad news one of my favourite comedians. I hope she's up there telling jokes #RIPJOAN

— Rylan Ross Clark (@Rylan) September 4, 2014
we lost a great one in @Joan_Rivers - she was funny all the way to the end

— Jimmy Kimmel (@jimmykimmel) September 4, 2014
Joan Rivers!!! Oh Noooo!!!

— Queen Latifah (@IAMQUEENLATIFAH) September 4, 2014
LIKE US ON FACEBOOK | FOLLOW US ON TWITTER