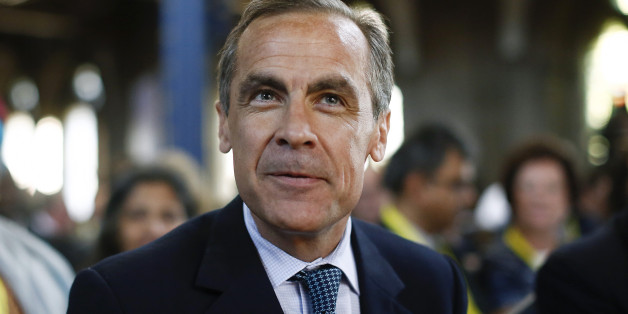 Bloomberg via Getty Images
Bank of England rate-setters have voted to keep interest rates at their historic 0.5% low, amid mounting pressure on them to raise rates as the economic growth has taken hold.
The timing of the first interest rate rise, which would raise rates from the emergency low which has been in place since 2009, has caused controversy as it would push up the cost of borrowing and pile pressure on mortgage holders and businesses.
It remains to be seen how decisively the Bank voted to keep interest rates low in its meeting this week, as minutes from the meeting will be released later in the month. The Bank's latest decision means that interest rates have been at their longest period without change since Clement Attlee was prime minister.
David Kern, chief economist at the British Chambers of Commerce (BCC) said that the Bank's Monetary Policy Committee (MPC), which controls the path of interest rates, had made the "right decision".
"While wage pressures are still weak and inflation is below target, calls for early interest rate rises are unjustified. A large number of people are working part time because they are unable to find a full time job – which contradicts the view that there is no spare capacity in the economy," he added.
Meanwhile, the European Central Bank (ECB) has continued to attempt to revitalize the ailing Eurozone economy by cutting interest rates by another 0.15% to 0.0.5%. The ECB also cut deposit rates from -0.1% to -0.2%, in an attempt to apply more pressure on banks to lend, as it will now cost them more to keep their cash with the central bank.
Last month it emerged that two of the Bank of England's rate-setters backed a rise of 0.25% from the historic 0.5% low, arguing that it could be done without putting the economic recovery at risk.
Ian McCafferty and Martin Weale, members of the Bank's Monetary Policy Committee, felt that "economic circumstances were sufficient to justify an immediate rise", according to newly published minutes from the committee's meeting in August.
This marked the first split vote among Bank rate-setters under governor Mark Carney, as the pair were out-voted by the other seven members of the committee to keep interest rates at their current level. The last time Bank rate-setters were divided over whether to increase interest rates was in July 2011.
ON THE BLOG:
McCafferty and Weale argued that the continued fall in unemployment in the UK suggested that the growth in Britons' wage "would pick up" soon and that the Bank should anticipate this by raising interest rates.
They argued that any financial shock caused by the first rate hike could be greater, rather than lessened, by "delaying that increase".
The Monetary Policy Committee agreed that improving economic conditions meant that the necessity of low interest rates "would in time diminish" as the potential risks of higher rates lessened.
Carney has signalled that Bank officials would only raise interest rates once they have "the confidence that real wages are going to be growing sustainably", which has pushed back expectations for when the first rate rise could come into next year. Previously some estimated that the first rate hike could come as early as the end of this year.
The revelation that some rate-setters are starting to back an interest rate rise has countered accusations from some MPs that Mark Carney was planning to keep interest rates at their historic low until after the next election in order to help George Osborne.
Teresa Pearce, Labour member of the Treasury select committee, told the Huffington Post UK that the Bank "must be free of political interference".
The Labour MP expressed concern that a view was beginning to take hold among some of her parliamentary colleagues that "interest rates are being kept low to advantage the Chancellor in the run up to an election".

However, David Ruffley, Tory member of the Treasury select committee, told HuffPostUK that the "conspiracy theory" was "all rubbish".
"How could he precommit to a certain posture on interest rates?" he said. "I don't think that's the way Carney would behave and I don't think he could professionally allow that to happen as he doesn't know what's going to happen to the British economy."
The chancellor announced Carney would take over from Mervyn King at the Bank of England in November 2012, praising him as the "best man" for the job
Carney's bias was previously questioned in January by Labour politicians after he dismissed the idea of a "crude" EU bank bonus cap and proposals to split up the big banks, both of which are ideas backed by the Opposition.
Some Labour MPs mocked him as Osborne's "hand-picked" Bank governor, while others, like former minister Michael Meacher, said he was a "neoliberal ideologue" chosen "because he shares in spades the free market deregulatory approach to which Osborne is such a fixed adherent."
Speaking to Channel 4 in November, Carney insisted he was his "own man" and was "absolutely independent".
He added: "I have my reputation to lose, and I will make sure -- I will do everything I can to make the series of right decisions."