Prepare to watch Gisele Bündchen kick some serious ass.
In the latest campaign for Under Armour, the Brazilian supermodel lets the world know what she's made of as she demonstrates her kick boxing skills - with gusto.
As the walls around her flash with real, and not always kind, internet comments - 'Gisele is just a model', 'She's nothing special at all' - Gisele stays focused, zoning out the voices and beating the hell out of the punch bag.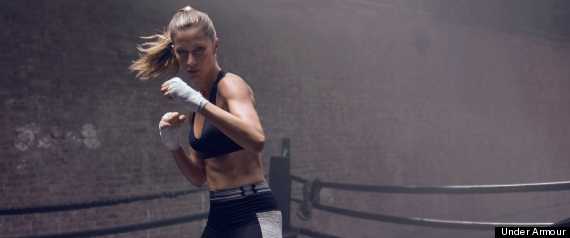 The campaign, which celebrates the inner and outer strength of women, is designed to show that willpower beats noise. And who better to highlight this than the world's most determined, highest paid and (probably) most athletic supermodel?
So what exactly makes Gisele the ideal fit for the I WILL WHAT I WANT campaign?
Throughout her life, Gisele has championed strength and has remained dedicated to her career despite being under pressure. She's defied labels and critics to build a life around her passions - with that in mind, who could be better?
"Most women at a certain point in their life encounter contradicting opinions, expectations, praise and criticism. Having lived her life in the public eye since she began modeling at 16, Gisele knows what it means to focus inward in order to beat the noise and achieve her own goals." said Leanne Fremar, Senior Vice President and Executive Creative Director for Under Armour Women's.
"Along with scaling to the heights of her profession as a model and a global fashion icon, she's an incredibly athletic woman, dedicated to her practice of martial arts and yoga."
SEE ALSO:

Model Gisele Bundchen Shows Her Support For Breastfeeding In This Brilliant Photo

How To Do Model Yoga, According To Rosie Huntington-Whiteley, Miranda Kerr And Gisele Bunchen
When asked about her collaboration with Under Armour, Gisele said: "I'm so excited. This incredibly inspirational initiative serves as a powerful reminder of all the amazing things women can do despite the pressures and criticisms we may encounter."
"Having the strength to tune out negativity and remain focused on what I want gives me the will and confidence to achieve my goals," she added.
Part of a series - the first of which debuted in July, with a film featuring American Ballet Theatre soloist Misty Copeland - the I WILL WHAT I WANT campaign has championed stories of women from various athletic backgrounds who have broken barriers to climb to the top of their respective fields.
In addition to Gisele and Misty, these athletic heroines include world champion downhill skier Lindsey Vonn, professional tennis player Sloane Stephens and US Women's National Soccer Team standout Kelley O'Hara.
We're feeling inspired by their commitment to keeping fit and showing who's boss. You go, girls.